Trudging from hall to hall in the pouring rain isn't anybody's idea of fun! OK, so it is possible to take the skywalks or the shuttle busses. Regardless, it's a long walk across the fairgrounds from Hall 6 to Hall 13  remember, the fairgrounds is almost 40 acres!
Tucked into all this space are a number parc(k)s! There is the JDF Parc and HP's VDP Park, but one parc that hasn't gotten a lot of mention, is the drupa innovation parc. Located in the plaza between Halls 1, 2, 3, and 4, drupa innovation parc was erected as a think-tank highlighting three special areas: dynamic documents, software innovations, and digital photography. Here, among twenty or so stands, we discovered XMPie, PrintSoft Group, CM4, and Press-sense Ltd.
XMPie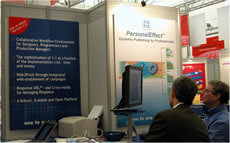 DRUPA, Düsseldorf, 6 May, 2004  XMPie, provider of one-to-one publishing software spotlighted PersonalEffect 1.7 and gave us all sneak previews of version 2.0, which will serve the transactional document market.
XMPie solutions streamline the creative phases of dynamic publishing, cross-media, and multi-lingual campaigns covering a full range of production workflows including 'pull,' 'push,' and web-enabled distributed campaign execution.
PrintSoft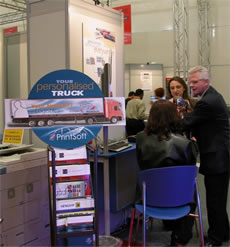 Also in the drupa innovation parc we discovered PrintSoft's PReS and NEWLEAF products.
PReS is an integrated development environment designed specifically for developing dynamic documents for 1:1 marketing applications. Documents created with PReS can be formatted for print on any high-speed laser printer and for electronic distribution.
Direktmarketing  ein genialer Einfall! Oops, picked up the German NEWLEAF brochure on the PrintSoft stand. Let's try that again.
Direct marketing comes of age! There we go! At the core of NEWLEAF is an object-oriented architecture that allows all the characters, graphics, bar codes, tables, conditions and data fields etc. that make up a document to be manipulated and placed as required within the document.
cm4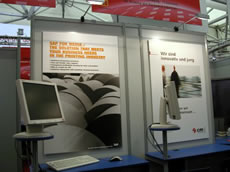 A rose by any other name In the US, we know them as Syskoplan, but in Germany cm4 is more recognizable.
cm4 was founded in 1999 as a joint-venture with Bertelsmann. In strategically important projects for the Bertelsmann AG extensive know-how was won in the areas of direct marketing, media and mail order business. For these industry sectors cm4 realizes customer-individual solutions under use of standard applications of market-leading manufacturers.
Known as as//print and as//packaging in Germany, the products are sold in partnership with SAP as print.it and pack.it.
Press-sense Ltd.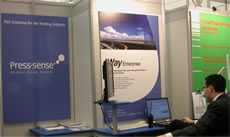 JDF workflow is alive and well in the drupa innovation parc, too! Press-sense demonstrated iWay Prime here and working with a Creo Spire color server at the Creo booth.
The Press-sense/Creo demonstration highlighted a process where iWay Prime translated a print job request into JDF intent and created a job ticket.
The JDF job ticket was submitted to the Creo Spire server and converted into a Spire Job Ticket and printed on a Xerox DocuColor.
Getting from here to there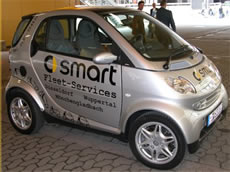 Lest we lose our sense of humor  after all 40 football fields is a lot of ground to cover  take a look at the Smart Car! What a way to travel! And parking? No problem! In fact, you can get 2 in a standard US parallel parking space  nose in!