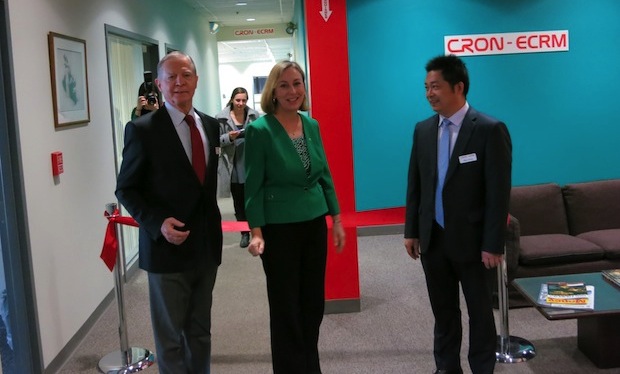 Massachusetts State Senator Barbara L'Italien prepares for a ribbon-cutting at CRON-ECRM headquarters with Rick Black (left), the company's president and CEO, and Mike Xiang, its chairman of the board
Compared with, say, high-speed inkjet printing or hybrid output on long perfectors, offset platemaking isn't the most glamorous of production processes. But, as long as offset lithography continues to represent more than half of all the printing currently being done, imaging plates in computer-to-plate (CTP) devices will more than make up in sheer business volume whatever it may lack in technical flair.
Mike Xiang, a CTP technologist and entrepreneur, had this fact firmly in mind when he started Hangzhou CRON Machinery & Electronics Ltd. in China in 1992. The company's motto, "Another Day, Another Dream," reflects his pledge to make CRON a world leader among CTP vendors—an ambition Xiang is pursuing in North America with the help of ECRM Imaging Systems, a Massachusetts-based company with deep roots in the U.S. platesetting market.
The joint venture, announced last September, is called CRON-ECRM, and it aims to unite the Chinese company's technical prowess with the Massachusetts firm's well established reputation and reach among U.S. users of CTP systems. The partnership operates from ECRM's headquarters in Tewksbury, the site of a March 17 open house in which CRON's wares and Xiang's plans were officially introduced to the U.S. market.
Xiang is chairman of the board of the joint venture. Rick Black, chairman of ECRM, is its president and CEO. Together, they will work to position CRON-ECRM as an all-in-one source for digital platemaking, including exposure units, plates, and software. Throughout the briefings, Xiang, Black, and others stressed that products bearing the CRON-ECRM brand will be competitive in quality, reliability, and value with CTP systems from any other prepress supplier.
Through a dealer network, CRON-ECRM will distribute thermal and UV platesetters configured in Tewksbury from components made there and in China. The site also will serve as CRON-ECRM's demonstration, training, and research center. Black described the arrangement as "insourcing" these functions at the U.S. site as opposed to obtaining them exclusively from China.
As a separate entity, ECRM will continue to offer the flatbed violet laser plate imaging systems it has sold for four decades to commercial and newspaper printing plants. Acquired by Black from AM International in 1983, the company has placed more than 5,000 CTP systems in 110 countries.
CRON, China's largest CTP manufacturer, is on its way to building a comparable user base with the 3,000 platesetters it has installed around the world. "R&D is our core competency," said Xiang, adding that CRON bears comparison with Apple for its emphasis on design as a key competitive advantage.
He said that as other CTP manufacturers have shifted their focus to digital printing, a leadership opening has been created for CRON. The company now feels strong enough technologically, Xiang said, to challenge the established players on their own ground with solutions engineered for world-class performance.
Black described the joint venture as a "joining of competencies" that will help CRON to extend its global footprint and ECRM to broaden its portfolio. Customers had been asking him, he said, why ECRM hadn't expanded into thermal platesetting, a product line it now will be able to make available to them through CRON-ECRM. The partnership also opens a channel for UV CTP, a technology that Black said is still relatively new to U.S. printers.
CRON-ECRM customers can order platesetters with their choice of thermal (830nm) or UV (405nm) laser imaging heads comprising 16 to 96 diodes. The idea behind the variable diode option is to give users an upgrade path in exposure speed and productivity: the more diodes in the head, the more plates imaged per hour. The devices can be converted from thermal to UV, and vice versa, in the field after installation—a capability that CRON says it is alone among CTP manufacturers in offering.
The product line presently consists of four thermal and four UV external-drum platesetters that can handle formats from 2-up through VLF (9.5" x 12.6" to 50.75" x 65.75"). Imaging quality can be up to 400 lpi with 1,200 dpi to 2,800 dpi resolution. This range of exposure enables the devices to create dots from 1% to 99% consistently and repeatably, according to the manufacturer.
All of the vibration-free units can be customized with automation features that include multi-cassette plate autoloaders and inline plate punching. Built-in CTP device management software can be paired with prepress workflows from ECRM and another CRON partner, Beijing Founder Electronics Co. Ltd.
CRON-ECRM says that its thermal platesetters will work with media from all of the leading thermal plate manufacturers. For UV units, it offers Blackwood, a line of plates and chemistry supporting both conventional and UV inks.
CRON does not make thermal plates. UV plate manufacturing, on the other hand, is an area of major expansion for the company. Xiang said that because ultraviolet plate imaging now matches or exceeds thermal CTP for quality and operating economy, he expects to see growth in the market for it. In China, CRON is preparing to take advantage of the opportunity by building a series of UV plate lines that, when completed, will enable it to produce up to 40 million square meters of UV plate material per year.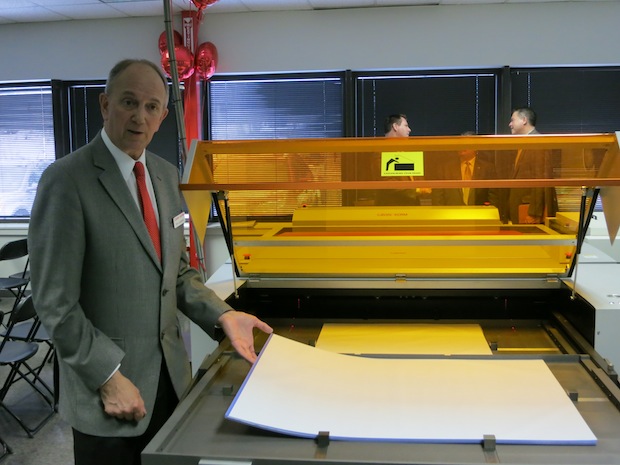 Don Langston, senior vide president, CRON-ECRM, reviews the automation features of the company's thermal and UV CTP systems
Automation is seen by CRON-ECRM as the key to making its platesetters fully competitive with systems from other manufacturers. The units can be configured for manual, semiautomatic, and fully automated operation with one, three, or five cassettes. In full autoloader mode, the devices can work with up to 500 plates of multiple sizes in a sequence that includes slipsheet removal and delivery of the exposed plates to an inline processor made by a partner.
Punching is done by means of external punch bridges that can be connected to the CTP units for plate output in up to four directions. (Xiang, who developed many of CRON's core platesetting technologies, eschews internal punching because of the metal chads the method introduces inside the machine.) What it all adds up to, said Don Langston, a CRON-ECRM senior vice president who led equipment demonstrations during the open house, is a solution that offers printers operating legacy CTP systems a way to make a "drastic" increase in platemaking productivity.
CRON-ECRM will back its products with what Langston called a "best in class" warranty for a "peace of mind investment": two years on parts and three years on the laser diodes, with an option for an additional three-year extension. Also optional is remote diagnostic and reporting capability for the CTP units.
With all of the technical firepower that CRON-ECRM now can bring to bear in CTP, said Langston, "we're never afraid to do a print test" against competitive systems. "We have nothing to be ashamed of in going against the best of the competition," agreed Black, naming Heidelberg as the "gold standard" among the CTP suppliers that CRON-ECRM will try to rival for market share.
Because plans include the assembly of systems at the Tewksbury site, CRON-ECRM has been able to promote itself as a creator of manufacturing jobs in Massachusetts—once a leading manufacturing state. Among state and local officials who came to the open house to congratulate the company on its venture was state senator Barbara L'Italien, who represents the Tewksbury area. She said that she would like to see other companies form similar partnerships to renew manufacturing employment in the Bay State.
Other notables at the event included Ralph Nappi, president of NPES, a technology suppliers' trade association to which ECRM belongs; Tad Parker, president of Printing Industries of New England (PINE); and print industry economist Dr. Joseph W. Webb, who gave a keynote talk on the changed state of the industry and its business models.