As promised, the announcements for Next Wave Production Inkjet presses are coming fast and furious. The Hunkeler Innovationdays event, as expected, was a perfect place to showcase some of these new technologies alongside the finishing equipment that will ultimately support them in a production environment. In the last article, we looked at the new Xerox Rialto 900 roll-to-sheet press. This articles looks at the new Océ VarioPrint i300 sheetfed Production Inkjet press. Additionally, we will take a quick look at the newly announced Océ ImageStream 2400 and the ColorStream 3000Z rollfed presses.
A true sheetfed production inkjet machine
The Océ VarioPrint i300 has been a while in the making. Some have been patiently waiting for this introduction since they first heard rumblings about this press, code named Niagara, over a year ago. Well, the wait is over, and it is a very unique press. It's not the first sheetfed production inkjet machine to be introduced, but is currently the fastest running at 8,700 duplex sheets per hour. We reviewed the Fujifilm and Screen sheetfed machines in previous articles as a point of comparison.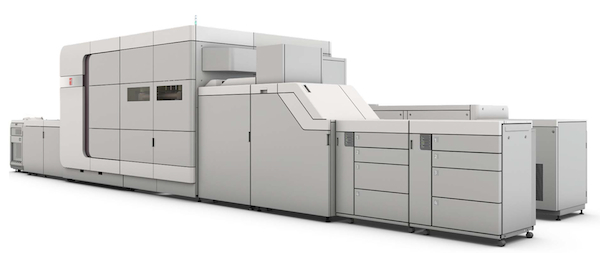 The VarioPrint i300 is designed as a duplex machine, and as such has no advantage or penalty for running single sided or duplex print. This is a differentiator from some of the earlier sheetfed inkjet presses which either slowed down on duplex printing or required sheets to be manually fed back through the single engine for printing on the second side. The VarioPrint i300 comes standard with a single Paper Input Module (PIM) which includes 4 paper input trays holding up to 4,600 sheets of 80gsm/20lb. bond. It supports media weights from 60 -300 gsm (16 lb. bond – 114 lb. cover). Optionally, you can add a second PIM bringing the total to 9,200 sheets. The standard PIM supports media from 8" x 8" up to 12.6" x 19.2". With an optional dedicated large-size input tray, it can feed media up to 13.8" x 19.7". It can run similar media types as most of the other production inkjet machines, including standard uncoated, coated and inkjet treated media.
As you can see in the diagram below, the transport is quite interesting, and somewhat unique.

Once the paper leaves the PIM, the VarioPrint i300 uses a thin seamless stainless steel print belt which has tiny perforated holes that create an air separated vacuum feed to control the sheet movement through the press. It has one set of print heads and also uses a paper reversing transport somewhat similar to that of the Screen Truepress Jet SX. The paper is transported, imaged, reversed and then put back into the sheet flow for imaging the second side. The print belt as well as the integrated humidity conditioning were designed to support the speed and prevent paper mottle. This also helps ensure reliable feeding and seamless switching between media types.
As we have previously discussed, sheetfed production inkjet transport is challenging. Just think about the front edge of a piece of media flowing through the production stream. Lots of opportunity (the leading edge of each sheet) for potential jamming and/or hitting a print head, so building a reliable transport has been one of the biggest challenges for all sheetfed inkjet press manufacturers. In addition to the transport design, Canon integrated an automated detection system into the press. It placed a "sentry unit" to monitor and inspect the media at full speed just before the print process. If it finds any sheets that don't meet the quality tolerance, it ejects the detected sheets into a top tray without stopping production.
Any inkjet system needs a good drying system to evacuate the water deposited on the sheet from the aqueous ink. The VarioPrint i300 was designed with a fairly comprehensive drying system. Canon used 4 drying constructs: induction heated drum with moderate temperature to protect paper condition; Carbon Infrared Radiation (CIR) to heat the outside of the paper quickly; circulated hot air to speed up the drying process; and finally, air suction to remove any resultant moisture. The standard drying time is 2 seconds at 300 in/min. For substrates that need a longer time to dry, the print speed is reduced to 200 in/min.
The High Capacity Stacker (HCS) has a capacity of 6,000 sheets. The press was also designed with a DFD interface for adding future on-line third-party finishing options, and should be compatible with Océ VarioPrint 6000 series capabilities. The duty cycle is suggested at between 1-10MM A4/Letter images per month (500K to 5MM duplex pages per month). The press is 31.2' x 6.5' x 8.2' with one PIM and one HCS, and depending on configuration weighs between 5500-6600 lbs.
VarioPrint i300 Imaging
The imaging is based on the existing ColorStream imaging technology. It is DoD (Drop on Demand) Piezoelectric technology using the ever popular Kyocera KJ4B 600 dpi aqueous inkjet print head, which has been designed for a long life (~3-5 yrs.) The print resolution is 600x600, according to Canon, with the same addressability offered by a 1200 dpi print head by using variable control of the drop size (12 pl drops or less). The drop sizes are defined for each media using a Media Validation Process (MVP) and stored in the DFE. It uses a print head drive frequency of 30 kHz producing up to 80 million drops per second. There are 3 print heads per color with 2,656 nozzles per print head. The press was designed to optionally support 2 additional print head stations. While the imaging system is based on ColorStream technology, the ink is designed specifically for the VarioPrint i300, which operates at a slower speed than its roll-fed cousin, affording it a much better looking image. It uses an aqueous based pigment ink designed to offer a wide gamut on each media type.
The press includes a built-in quality inspection system which is comprised of two primary systems. First, there is an inline quality inspection system which looks for nozzle failures. It automatically inspects a Nozzle Failure Detection (NFD) sheet that the press inserts into the print run on the current job media at intervals determined by the operator. The NFD sheet is then scanned and ejected to the top tray. If a nozzle failure is detected the system automatically compensates by either increasing the droplet size of a neighboring nozzle or replaces it with another color(s). The second system is an automated print head maintenance routine. While the print heads reside in a conditioned environment to keep the nozzles open and flowing, when the press is printing it ejects the smallest drop sizes from the nozzles when not being used for printing. Additionally, during printing and in between pages, the ink in the print head is "stirred" by a piezo pulse. When the press is idle, the print heads are parked in a vacuum maintenance station. The nozzles are automatically purged with a drop of ink and then the print heads are wiped by a wiper blade followed by a wet tissue material.
Front End
The i300 is driven by the Océ PRISMAsync controler platform with technology pulled from the Océ SRA® MP controller used in the Océ continuous feed inkjet systems. It uses a scalable multiprocessor system to ensure that input processing can keep up with the press at full speed. The SRA (Scalable Raster Architecture) can be configured to meet specific process requirements by adding additional memory and RIP modules. The engine natively supports AFP/IPDS and PDF. PCL, Line Data, LCDS, Metacode, Postscript, PPML, TIFF, and VIPP are supported through the Océ PRISMAproduction print manager, which also incorporates APPE (Adobe PDF Print Engine). The Océ PRISMAsync digital front end (DFE) has been one of the cornerstones of the Canon Océ front end software, and has been constantly evolving over time.
The first VarioPrint i300 has been in installed at T-Systems in Germany. Canon has already started taking orders and It is our understanding that Canon will install up to 4 of these presses in the U.S. in 2015, with one already being installed at IWCO.. The estimated base price doe the VarioPrint i300 will be under $1 MM (US).
New introductions and upgrades to ColorStream and ImageStream
In addition to the formal introduction of the Océ VarioPrint i300, Canon introduced the ColorStream 3000Z. This new model is designed for a smaller environment or one that needs simplex Z-fold stacking functionality. It uses about 30% less floor space than the ColorStream 3000. It has a 17/21.25" print width, and it prints at 48-127 m/min with pigment, premium pigment, dye and security inks in up to 6 colors.
Canon also introduced the ImageStream 2400, based on ImageStream 3500 technology. This new model is designed to support up to 20.5" media and 2-up applications. It prints at 160 m/min or the equivalent of 2154 A4/min. The first installs are scheduled for Q4 2015.
Conclusion
Inkjet has moved beyond the early adopter phase and is rapidly entering mainstream. In fact, Canon announced that it has just installed its 500th ColorStream press. HP announced that its installed customer base is printing about 4 billion pages/month at a CAGR of 34%. Add to this the recent press and technology announcements by many of the other manufacturers, the new and improved inks and wider range of media, and I believe production inkjet it is poised to explode into mainstream commercial print in the very near future.
This Next Wave of Production Inkjet presses, so far, has not disappointed. The quality has improved significantly, and the innovation has been inspiring. However, with all of these new announcements coming on the heels of each other, and more on the way, it's probably time to take a breather and put it all in context. In the next article, we will look at the current state, drivers, and future of Production Inkjet.