"Six Points of Precision" is the name that Mossberg & Company gives to the comprehensive quality assurance program that governs every manufacturing step at this 85-year old commercial printing business in South Bend, IN. Machine-mounted cameras, double-sheet detectors, barcode and OCR scanners, and scrupulous proof-checking routines are among the tools employed to guarantee product integrity before, during, and after production, no matter what printing process is used or what the particulars of the job may be.
James W. Hillman, Mossberg's president and CEO, notes that adherence to these strict standards is mission-critical for the company's labeling and packaging solutions business, which now accounts for about 20% of revenue. Targeting applications that have tight quality requirements and may also be subject to regulatory oversight, Mossberg's label and packaging division relies on the six-point approach to "maintain accuracy all the way down to the pixel level" when producing these items, Hillman says.
Mossberg prints and finishes pressure-sensitive, film, and expanded-content labels for healthcare and pharmaceutical products and a variety of consumer goods. The company also has found an interesting niche in labels applied to packages for the water-testing industry, a market that calls upon all of its skills in by-the-numbers quality control.
Take as an example, says Hillman, the label for a container of reagent strips used to test the pH of water in swimming pools. Color blocks on the label have to make an exact spectrophotographic match to the colors the strips take on when immersed. Keeping up with this requirement was part of the reason why the company recently acquired an HP Indigo WS6800 digital press, a web printer with a seven-color gamut that is broad enough to deliver a consistent match.
HP Indigo liquid-toner digital printing complements Mossberg's offset and flexographic capabilities, which together account for most of the label production the company does. Three flexo presses currently turn out about 70% of the labeling volume, with offset yielding 20% to 25% and newly-installed digital the remainder. Hillman says that over time, he expects to shift as much as 35% of label production to digital, primarily to accommodate an increasing demand for short runs.
A "short run" can vary in quantity from 2,000 to 20,000 labels, depending on the size of the piece being printed. So far, says Hillman, there hasn't been much demand for variably-printed labels with unique content, although versioned short runs—jobs made up of different batches of one design—have been produced on the digital press.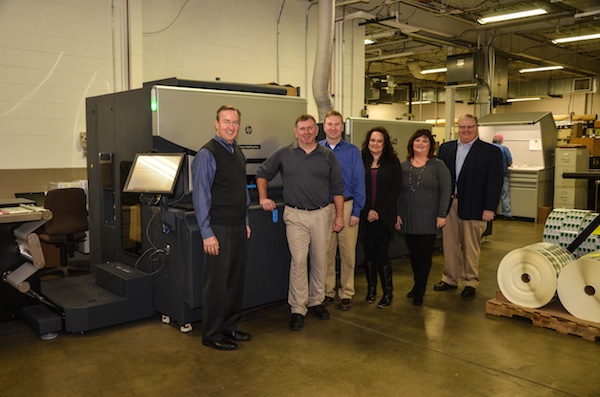 From left, James Hillman, president and third generation owner, Mossberg & Company; Shawn Welch, plant manager; Tony Selcz, customer service manager; Pam Doorn, flexographic division manager; Rhonda Perry, vice president - sales and marketing; Mark Alstott, manager of new business development.
Hillman ranks his investments in equipment for expanded-content labels among the most important he has made. Expanded-content labels multiply a package's information-carrying capability by appending printed peel-back surfaces, folders, and even miniature booklets to a label carrier medium.
At Mossberg, expanded-content material printed on sheetfed offset presses is married to carriers printed flexographically—one of the flexo presses was modified specifically for this purpose. Expanded-content labeling is both a marketplace differentiator and a growth opportunity for the company, says Hillman, who also foresees growth in high-quality pressure sensitive and shrink film labeling.
Label production for pharmaceuticals and healthcare products complies with benchmarks set by the good manufacturing practices audits that the Food and Drug Administration requires Mossberg to undergo. Always in place are guidelines for operating quality that the company observes in keeping with its ISO 9001 and ISI 9002 certifications. A quality steering team that includes a regulatory compliance manager oversees Mossberg's multi-pronged effort to meet the highest achievable standards of product integrity.
The emphasis on excellence can be traced to the founding of the company in 1930 by Hillman's grandfather, Herman Mossberg, a letterpress printer who also held patents for some of the earliest solutions for offset lithographic platemaking. Hillman, who has a degree in printing from Rochester Institute of Technology, joined the family-owned business in 1983 and became its president in 1997. He notes that Mossberg is one of six Midwestern printing companies taking part in the Roundtable Alliance LLC, a peer-group network of mutually supporting print communications services.
Mossberg's label and packaging division has been in operation since 1990. The mainstay of the company is its offset-dominated printing division, which generates about 70% of revenue. The offset pressroom has three 40" machines including a 12-color perfector and a six-color press that can print up to 30-pt. board.
A fulfillment operation launched in 2005 is housed in a 65,000-sq.-ft., climate-controlled warehouse where Mossberg stores labels and other products that it delivers to customers on a just-in-time basis. Inventory management, order processing, pick-and-pack shipping, and contract packaging are among the services provided by this division, which Hillman calls one of the fastest-growing segments of the business.
Mossberg also offers an extensive selection of technology-based marketing solutions for campaign development, monitoring, and measurement through its custom solutions division. The impetus here, according to Hillman, comes from a desire to help customers succeed in e-commerce and multichannel marketing campaigns. He says that those in need of help with campaign design, cross-media integration, CRM, online storefronts, and related services can source them from the "incredible programmers" within this division of Mossberg, which helps to drive the company's traditional business by building printed matter into the design of the campaigns.
Hillman acknowledges that while no part of the printing industry is invulnerable to economic downtrends or competition from other media, the labels and packaging segment is as "technology proof" as any print-based form of manufacturing can get. That underpins his faith in the growth potential for label and packaging production at Mossberg & Company, which has been in business long enough to witness the disappearance of annual reports and many other printed products that fell victim to digital displacement.
"You can't do that to a label," he says.