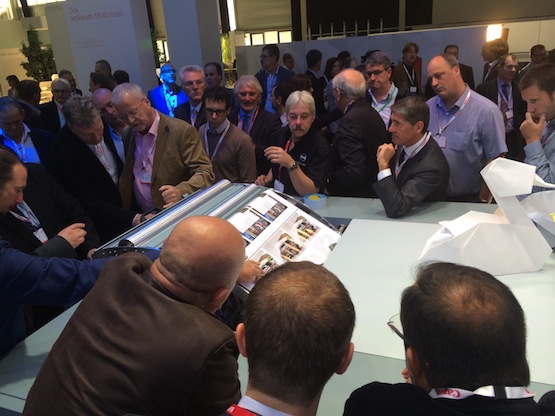 Customers inspect the print quality off the ImageStream 3500 during Océ's Global Commercial Printing Business Days.
The week before Graph Expo, I was invited to Océ's Global Commercial Printing Business Days at its Customer Experience Center in Poing, Germany. This event include in printing company executives, press, and analysts from all over the world for a preview of Océ's new and upcoming products as well as insight into its market strategy. It also served as the launch for the ImageStream 3500 production inkjet system that Océ unveiled in May.
ImageStream 3500 Update
The ImageStream has had a few technology tweaks since it was unveiled in May. The biggest change is the system now defaults at a dpi resolution of 1200x1200 at 525 fpm. When the system was initially unveiled its was running at 262 fpm at a resolution of 1200x1200 dpi or 525 fpm at a resolution of 1200x600 dpi. The ImageStream 3500 is now generally available with one installation in progress in Germany at a book printer. The first system will have inline book binding and will be used to print automobile manuals. A second system has been ordered by a printer in Mexico.
InfiniStream Update
The Océ InfiniStream is Canon's liquid toner system for the packaging market and was unveiled at drupa 2012 as proof of concept. The system now uses 7 colors (CMYK plus orange, green and violet) for extended gamut printing. Océ strategy with colorants is to use these 7 colors. The system will not support special spot color mixes like HP Indigo. According to Canon, the system is able to hit most brand colors this extended gamut and adding spot color support adds unnecessary complexity. Extended gamut color management is handled within the RIP using Esko technology.
Canon admitted they still have work to do before the system is ready for the market. Primary R&D focus for the next 9-12 months will be on stability, speed, substrates, operations (number of people required to run the system), and paper handling automation.
While the InfiniStream won't be generally available until 2016, it does have a beta site in Germany (Leupold GmbH) that is using the system to produce "sellable prints". Canon says there will be additional beta sites in 2015.