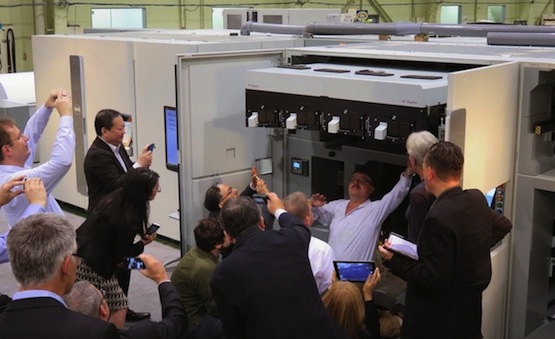 Crit Driessen from Canon reviews the new Kyocera printheads in the Océ ImageStream 3500.
At the end of May, Canon invited a small group of customers, media, and analysts to Japan to see a demonstration of the Océ ImageStream 3500. The ImageStream is a new production inkjet platform for the publishing and commercial printing markets. This new production inkjet system can print on any paper including coated papers without requiring separate paper treatment with a primer or bonding agent. This new development is the result of new Kyocera printheads and new ink chemistry.
The ImageStream will print at 525 ft/min (160m/min) using its default resolution of 1200 x 600 dpi. The system is able to print at 1200 x 1200dpi at half the normal speed.
The print samples we were shown coming off the press looked good for a system in this stage of development. Press side scratch and rub resistance tests did not show any defects. The 1200 x 600 dpi images lacked some density. The 1200 x 1200dpi samples have were able to hit a higher density due to heavier ink coverage. The system we saw had not been color managed yet so I'm expecting better color once the system has been married to the RIP. Canon is still making adjustments to the ink pigmentation as well.
This development provides Canon with a production inkjet platform to handle commercial print applications including books, magazines, and high-quality direct mail. This focus provides an opportunity for Canon to increase its customer base in the graphic arts market. The company believes the ImageStream will not affect sales of its ColorStream, as that platform is focused on other markets and print applications. The first ImageStream (the one we saw in at the Miyakoshi plant outside Akita, Japan) has been purchased by a printer in Germany (a new customer for Canon) and will be installed later this year. The first US look will either be at a customer site event or at the Boca Raton Customer Center. Canon says it will have print samples at Graph Expo.
The Océ ImageStream 3500 will be commercially available worldwide in early 2015. Price should be about US $4 Million. Watch for additional analysis from David Zwang to appear Friday, June 6, 2014 on WhatTheyThink.