Outbound marketing is promotion-based; spread the message about my company, my products, and my services to as many people as I can interrupt in the hope that some will find the message relevant. Print examples of this are blasting out huge direct mail campaigns to strangers, newspaper advertisements, and billboards. The majority of outbound marketing messages get ignored – we filter mass e-mails, we fast forward through commercials, we ignore billboards, we throw away junk mail.
Inbound marketing is attraction-based; give something away, create compelling content in exchange for the permission to market to a prospect who has already found your message relevant. The message in inbound marketing isn't about you; it's about your customer's challenges – that's what makes it relevant and compelling to them. We also ignore some of this marketing, not because it interrupted us but because it wasn't relevant to us. When it is relevant, we consume the content and give "permission" to send further marketing messages.
The digital economy, the vast online infrastructure, and social networking are making outbound marketing less and less effective – even if companies spend millions of dollars. You just can't effectively buy attention anymore. Whereas inbound marketing – the marketing of attraction and permission has a growing body of examples where companies have spent very little and achieved great results. Inbound marketing is the democratization of marketing – I love it because it levels the playing field, rewarding creativity over budget.
I spent last week at HubSpot's inbound marketing conference in Boston. Thanks to Andre Soriano from Tower Litho, Toronto, Canada I was able to collaborate with a colleague from our industry about the whole inbound movement and how it impacts print – thanks for lunch and a great conversation, Andre. I wish there would have been a whole group of printers at this conference; this is where you can learn how to become a marketing service provider!
I counted at least twelve times where "print" was portrayed as marketing of the past, outbound, interrupt driven, ineffective. I spoke with both founders of HubSpot about this topic – print is a medium, it is used both for outbound and inbound. The blind direct mail with no personalization, no investment in learning about the recipients, just a "spray and pray" approach to marketing is an outbound tactic that we all know is less than ideal. We've known for a long time that personalization drastically increases response rates but outside of the print industry, the medium of print is being portrayed as outbound only and on its way out. Did you see this recent Onion headline; Print is Dead at 1,803?
I thought I would compare two excellent conferences I attended this year and see how they used print. The inbound conference didn't use print at all. There was nothing handed out at registration, you got a lanyard and instructions on how to download the mobile app for the event (a very cool and helpful mobile app, I might add). I came home from the HubSpot conference with no handouts, in fact no paper at all. There is nothing wrong with that but I do think they missed an opportunity to use multiple mediums to extend their message beyond the conference.
In July I attended a conference in Portland, Oregon called the World Domination Summit. When I arrived I got the typical lanyard and this really tasteful set of books that included an agenda, speaker bios, and separate notes in an easy to carry, terrifically designed package. I have attended this conference three times now and have kept the notebooks from every year.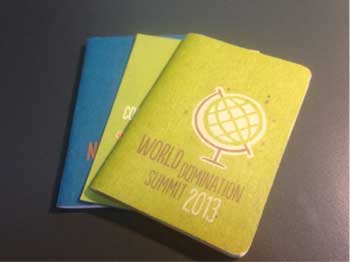 A few weeks after the World Domination Summit which was attended by thousands of people, I received this in the mail.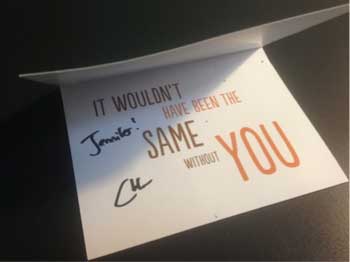 The signature is from Chris Guillebeau, the founder of the World Domination Summit. He signed 2,000+ of these personalized thank you cards. The holes in the card are the multiple places I pinned it on my bulletin board and re-pinned it after showing people. Chris and the World Domination Summit extended their brand, their message, and their culture offline and beyond their event. I personally found this very effective. I can also say that at least three of my friends intend to register for the World Domination Summit in 2014 because of the conversation that was initiated from this personal card hanging on the bulletin board in my kitchen.
Print can and should be part of the inbound marketing movement. In order for that to happen we have to encourage more personalization and less interrupt driven marketing. Do you see where we are mis-aligned in our business models? Most printers think; print more, make more money. We need to think print more effective communication in order to make more money. In order for this to happen we have to understand that pricing shouldn't be based on manufacturing costs anymore. Think about it, nothing in the digital world is based on costs. If Google charged you the real costs of that pay-per-click, it would be very close to free. They charge you the value of the click based on what it potentially delivers to you. You do cost calculations on your cost per qualified lead.
As long as print remains in the mindset of pricing based on manufacturing costs, we will stay in the outbound marketing world – encouraging people to print more, spray their message wider in the hopes that the 2% it's relevant to will respond and the 98% won't be too pissed off.
One more example about old school marketing vs. the new age of inbound marketing, this time from the non-profit sector; when I returned from Boston I had a letter from the March of Dimes charity, it included a dime (in the letter), with a note from the president mentioning the risk she was taking sending a dime in the mail. It also included a set of return mailing labels with my name and address on them. This is outbound, interrupt marketing. Let's compare it to a new inbound approach to marketing by Charity: Water. An organization that in just seven years has reinvented giving, raised 100 million dollars, and provided clean drinking water to 3+ million people. Where is my money going? Our company is starting a campaign called print4water. We want to raise $10,000 before December 31, 2013 to bring clean drinking water to at least 500 people of Orissa, India. Web2Print Experts, Inc. will be donating a portion of the proceeds of their upcoming Software Boot Camp for Printers to the cause.