Perched on the northern quay of the Royal Victoria Dock in the Docklands of London is the ExCel Centre, an exhibit space constructed in 2000 but retooled and overhauled for the 2012 Olympic Games, where weightlifters, fencers, boxers, and wrestlers grappled for the gold. Next month, the Centre will host competitors of a different sort, culminating in the crowning of the Wrap Cup Masters Champion of the World. It's just one of the many events that will comprise FESPA London 2013, coming June 25–29.
FESPA comprises 37 national associations around the world, predominantly in Europe, and engages with hundreds of thousands of printers around the world. FESPA events are a moveable feast, with FESPA Mexico coming up in August, FESPA Eurasia coming to Istanbul in October, and FESPA China slated for November.
According to the organization's vision statement, "FESPA intends to be the leading global screen and digital imaging brand and connected community. We will achieve this by delivering world class, value added, inspirational, innovative, unique and high quality events and solutions, to enable effective re-investment of knowledge and resources. We aim to do this in a financially and environmentally responsible, supportive and efficient manner."
As you may have gleaned from many of the features in this space, the business of wide-format today is not just about equipment specs, about print speeds and maximum widths. It's about applications, it's about exploration, and the ferreting out of unique products and services to offer clients. And, more than that, how to market and sell those new applications, products, and services.
WhatTheyThink covered FESPA Americas 2011, and the emphasis was not just on showcasing technology—although, like any self-respecting trade show, there was rather a lot of that—but also on providing ample educational programming, whether it be hands-on printing techniques, or sales and marketing sessions, or workshops on maximizing sustainable printing. FESPA London also has a full slate of educational programming to help printers maximize their investment in wide-format equipment. Some of the features of this year's show include:
Jet Set Conference—The theme of the show is "Destination London," with an accompanying airline motif (let's hope the analogy doesn't include anything TSA-related), and the "Jet Set Conference" comprises a suite of presentations and case studies delving into such topics as textile printing, sustainability, industrial screen printing, and "business building."
Wrap Cup Masters Series—Since 2010, various FESPA shows have included regional competitions in what they call the Wrap Cup Masters, or a vehicle wrapping competition. At FESPA London, the regional winners will square off in the finals and on Saturday, June 29th, the winner will be crowned "Global Wrap Cup Masters Champion." Vehicle wrapping newbies can also avail themselves of training sessions to be held in conjunction with the Masters series.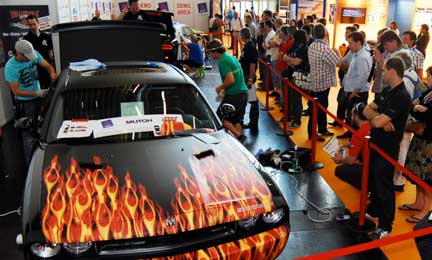 The Wrap Cup Masters vie for the regional title at FESPA Americas 2011. At FESPA London 2013, contenders from around the world will compete for the title "Global Wrap Cup Masters Champion."
Print Inspiration Runway—It is often said that the best way to learn is by example, and the Print Inspiration Runway is a gallery of the most creative print applications produced by show exhibitors, including full case studies and a feature on FESPA TV, the show's video feed. Examples are sorted into 10 categories, ranging from outdoor, to POP, to interior design, to fine art...and more.
Promotional Product Business Academy—One hot area in the specialty printing market is "promotional products," which cover the waterfront of printed materials large and small, and this show feature will discuss the practical business of promotional objects, including case studies, examples, and demonstrations.
Pilot's Briefing Zone—There's probably a joke about preflighting to be made here, but this is part of the FESPA Fabric sub-show colocated within FESPA London, a show dedicated to the fineries of textile and garment printing and decorating. The Pilot's Briefing Zone in particular comprises leaders from the textile printing community who will demonstrate advanced garment design and decoration with hands-on workshop sessions, which will even give attendees the opportunity to print their own T-shirts.
Creative Corner—For those on the design side of the equation, the Creative Corner offers sessions targeted toward advertisers, exploring ways they can take fuller advantage of digital wide-format printing. Highlights of the Creative Corner will include a keynote presentation from Peter Souter, Chairman and Chief Creative Officer, TBWA London. Execs from Coca-Cola, Ogilvy, and McCann NY will also contribute to the program.
European Sign Association—We at WhatTheyThink are still fresh off a trip to the International Sign Association's expo, but the European Sign Expo is colocated with FESPA London this year, and will demonstrate the latest in both printed and dynamic digital signage for those who'd much rather visit London than Las Vegas (and one could hardly blame you).
On the show floor, more than 650 exhibitors will be demonstrating their latest and greatest, complementing and supplementing the educational sessions with the specific applications and capabilities of their equipment.
WhatTheyThink will be reporting live from the show, both in words and moving pictures.