For the first few weeks of we featured articles focused on the corrugated packaging and folding carton sectors. For the next few weeks we will be focusing on the flexible packaging sector.
To help us introduce the various packaging sectors to the growing WhatTheyThink Labels & Packaging readership we asked PRIMIR if we could pull excerpts from their 2012 study that Karstedt Partners was commissioned to write titled Packaging: Evaluation of Vertical Markets & Key Applications. This study was unique to many industry studies in that it looked at the force being placed on Brand Owners, the originator of packaging orders. Taking this focus a step further the study looked in-depth at the major vertical markets of food, beverage, household, personal care and healthcare to see what will be driving packaging demand in these verticals and thus driving the supply chain. Following are some of what we brought to PRIMIR members surrounding the folding carton sector. The full table of contents for the report can be downloaded here.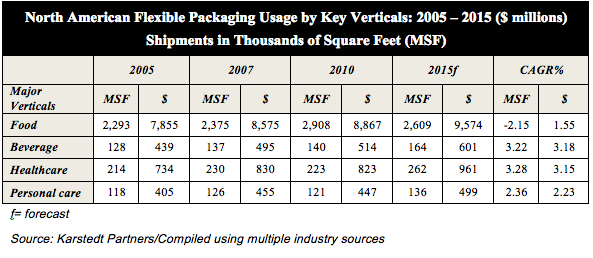 Flexible packaging converters have been leaders in active and intelligent packaging for the past decade. The Freedonia Group projects growth in active packaging to be 6.5% per year to $1.9 billion in 2015. Advances in gas scavenger technology in food and pharmaceutical packaging are the drivers. There are also continued opportunities in self-venting substrate usage of the type used in microwave popcorn. An example of how pervasive these capabilities are, can be seen with the adoption of microwavable, steamed vegetable packaging. Originally developed for premium brands just a few years ago, it is now used for a very high percentage of products in the frozen vegetable and entrée section of grocery stores for national and private brands. Consumer preferences for more natural products with no or less preservatives are creating opportunities for packages that offer longer shelf lives for both fresh and processed foods.
Intelligent packaging, that is more a marketing and sales enhancing tool, currently comes in the form of QR codes and 2D barcodes that aid the brand in communicating with the customer. Freedonia projects expansion of this group now at 20% annually to $370 million in 2015. It is hard to quantify how much activities in this group will affect packaging converters, as much of the implementation is done through communications infrastructure, web sites and databases. Converters add the printed QR codes, barcodes and other graphic components. Intelligent packaging require frequent package design changes to keep their promotions 'fresh and engaging' for the consumer. Heavy users of flexible packaging will us these active measures for better tracking and trace capabilities for food and other perishable products. This is significant in light of the passage of the Food Safety Modernization Act (FSMA http://www.fda.gov/food/foodsafety/fsma/default.htm) introduced in January 2011. FSMA is contamination prevention legislation that will have a large impact on food processing and packaging over the next few years.
Brands and retailers are pushing for packaging and materials that help food products stay fresher longer. Source reduction initiatives are becoming increasingly valuable with initiatives taken by major retailers and brand owners to evaluate supplier packages for eco-friendliness and cost reduction.
Increases in the application are also driven by continued conversions to standup pouches and flat pouches in a number of markets including sauces, dried foods and spices. Flexible packaging converters also benefits from the increased use of convenience features such as zippers and spouts integrated into pouches and the emergence of new applications and products such as flat-bottomed, side-gusseted pouches and hybrid pouch/folding carton products.
Growing efforts by retailers and brands to demonstrate their commitment to sustainability may lead to a renewed interest in paper, for its perceived benefits: renewable, recyclable and compostable.
Growth in food applications targets eat-on-the-run consumers that will drive more costly film and barrier coatings to extend shelf life. These trends boost the demand for food in smaller package sizes and more convenient foods designed to reduce food preparation time. Trends toward healthier eating will encourage food manufacturers to expand their offerings of products, especially snacks, baked goods and beverages, in single serving packages. Such products require more packaging than standard packages of similar items.
The fastest growing food packaging markets for flexible packaging are: beverage, meat and related products and snack foods. In non-food applications, advances will be led by pharmaceutical and medical product markets based on heightened barrier requirements, cost and convenience advantages.
New developments in barrier resins, bio-plastics, recyclability, biodegradable films and compostable films will also drive market expansion.
Other factors influencing the flexible packaging application include considerable cost and material reduction programs by major food manufacturers, brand owners and retailers. Packaging waste reduction initiatives at the local and government levels also impact flexible packaging producers.
Lean manufacturing programs are present at all levels of the flexible packaging segment. The goal of most converters is produce less waste, reduce setup times, maintain consistency within and between jobs, and gaining overall efficiency.
There are industry efforts to expand the acceptance and use of digitally imaged flexo plates. In-the-round imaging has limited implementation to-date. Other industry technologies that are in the 'ramp up' mode are extended color gamut printing, G7 near neutral calibrations and in-line full web defect detection systems. One of the great successes of recent years in flexographic printing is the relative acceptance of High Definition Flexography (HD Flexo).
While pre-recession growth rates of 4.5% per year are unlikely to be repeated for some time, industry associations and experts expect growth of around 1.8% per year for the next five years.
As part of the study Karstedt Partners interviewed 122 Brand Owners in multiple vertical sectors as well as 60 converters and industry leaders to compile comprehensive trending information that will be affecting buying decisions for the next few years. For more on the study and to become a member of PRIMIR visit them at http://www.primir.org.
About Karstedt Partners:
Karstedt Partners, LLC offers a variety of consulting services to participants all through the packaging and consumer product supply chain. Their clients include Brand Owners, Packaging Converters who are looking at process improvements in their packaging operations and OEMs and Service Providers who are looking to develop products and services for Brand Owners and Packaging Converters. For more in-depth analysis and research visit http://www.karstedt.com or contact Kevin Karstedt at [email protected] or Jeff Wettersten at [email protected].
About PRIMIR:
The Print Industries Market Information and Research Organization (PRIMIR) is the premier market research association of the graphic communications industry. It was formed in 2005 when GAMIS and the NPES Market Research Committee merged. Both had a long history of producing quality market research about the industry.
Members are from diverse segments of the industry (manufacturers and distributors of equipment and supplies, printers, trade shops, publishers, and paper companies), and are foremost in their area of specialty. Annual dues range from $416 to $8,100 depending upon a company's sales volume. NPES members receive a 50% discount on PRIMIR dues.