We recently had the opportunity to catch-up with Kristi Ledbetter, the Converting Division Manager for Tappi, and had the opportunity to get an update on what is happening at Tappi.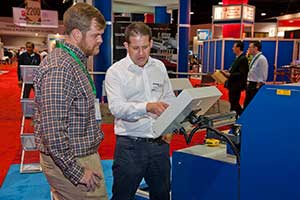 Karstedt Partners: Our audience may not be familiar with Tappi, will you tell us a little about your organization?
Kristi Ledbetter: TAPPI has been around for quite some time! We were founded in 1915 so we are very close to celebrating our 100th Year Anniversary. TAPPI was originally formed to gather and disseminate information as well as share best practices for the industry. Fast forward 98 years and we have evolved into an International Center of Excellence for the forest products, pulp, paper, packaging and related industries. Our global community is comprised of more than 7,000 members in 66 countries and we have a reach to 40,000+ professionals who rely on us to provide access to news, networking and knowledge. Our members have access to approximately 30 conferences and courses each year, online training, Standards, Technical Information Papers (TIPs), magazines, journal, newsletters, 300+ book titles and a host of networking opportunities to learn from experts and peers.
Karstedt Partners: What are you hearing from your membership related to how 2012 finished, and the outlook for 2013?
Kristi Ledbetter: Last year, TAPPI hosted the largest corrugated trade show and conference in the Western Hemisphere, TAPPI/AICC SuperCorrExpo. The conference included keynote addresses from some of the leading thought leaders in our industry and most discussed their outlook for 2012 and beyond. Jim Porter, Corrugated Packaging and Recycling for RockTenn, Tony Smurfit, Group Chief Operations Officer for Smurfit Kappa Group and Michael R. Harwood, President of World Containerboard Organization & Deputy Chief Executive Officer, Pratt Industries just to name a few provided expert insight on the outlook of the industry. The recurring theme seemed to be conservatively optimistic and lots of excitement around innovation for our industry. Video interviews from this event are available at http://www.supercorrexpo.org/ShowDaily.asp. We encourage your readers to join the conversation at 2013 CorrExpo.
Karstedt Partners: What issues/problems are your members concerned about for 2013?
Kristi Ledbetter: Many of the challenges our industry faces are the same ones most industry struggle with such as developing sustainable solutions for customers, remaining competitive with global markets and continuing to find ways to add value for customers/brand owners while also removing cost.
Karstedt Partners: What are the top three issues that Tappi and your membership are focusing on for 2013? Why are these issues important and how is your membership addressing these issues?
Kristi Ledbetter: Three important issues: finding ways to continue strengthening the corrugated industry, prioritizing investment in innovation, and heavier promotion of the industry (i.e. highlighting the impact we have on the economy, communicating how the products we develop are important to our customers/end users and showcasing the advancements that are being made in areas such as smart packaging).
Karstedt Partners: What do your members see as opportunities for 2013?
Kristi Ledbetter: There are a number of opportunities for our industry but at the core we have a renewable, sustainable resource and helping to educate the public is key for our entire industry. Helping customers sell more of their products and becoming more of a partner than a product provider is a growing initiatives for many companies in the packaging industry. This is a shared goal for manufacturers, converters and suppliers across the industry.
Karstedt Partners: What are the top three opportunities that Tappi and your membership are focusing on for 2013? What makes these opportunities important, and how is your membership addressing these opportunities?
Kristi Ledbetter: Three important opportunities: developing partnerships with brand owners, leveraging technology and advancements to help customers sell more of their products and continuing the emphasis on creating sustainable products for the industry.
Karstedt Partners: How would you advise suppliers and others interested in learning more about TAPPI approach your organization?
Kristi Ledbetter: Simple, just get involved. TAPPI provides a number of training, education and networking opportunities but to truly leverage our resources, we invite suppliers and other professionals to join TAPPI and then get involved. This could be as simple as participating in an online community forum (coming soon!) or maybe sharing your knowledge as a subject matter expert at one of our conferences. The connections our members make have a lasting impact on their careers, their companies and the overall industry. As a supplier, being involved with TAPPI is a unique opportunity to get to know your customers, build relationships and better understand their needs in a collaborative environment. To learn more about TAPPI's efforts in the Corrugated Packaging Industry, please contact Kristi Ledbtter at ([email protected] or 770-209-7319), visit our website www.tappi.org, follow us on Twitter at TAPPITWEETS, join our LinkedIn group or if you our in the Atlanta, GA USA area stop by and see us!