A walk down the street, a drive on the highway, or a trip on mass transit today provides ample opportunities to experience one of the hottest specialty graphics growth areas: vehicle graphics. From personal vehicles with custom graphics, to commercial vans and tractor-trailers, to buses, rail cars, and even planes, fleets of all kinds are becoming more picture-esque than ever.
Vehicle graphics can take many forms. The most common and most prosaic is the bumper sticker. Not surprisingly, the bumper sticker is literally as old as the automobile bumper. Whilst the Ford Model T lacked bumpers, the Model A, introduced in 1927, added them, and the invention of the bumper sticker is often attributed to Forest P. Gill, a Kansas City screen printer who started producing bumper graphics in the 1930s, first on canvas and later on adhesive paper. Bumper graphics were then—as now—designed for conveying short, simple messages, preceding Twitter by about 75 years.
Everybody loves bumper stickers, but they are a bit old hat—though still valuable—and these days when we think of vehicle graphics, we think of more elaborate applications, from "simple" door/hood signage to full-vehicle wraps displaying elaborate messaging.
A Growth Opportunity
It's not difficult to see why vehicle graphics have become such a hot niche since the application began in earnest in the 1990s. Other drivers, especially when caught in traffic (and not talking or texting), are a captive audience. At the same time, splashy vehicle graphics are still a bit of a novelty, and like any such novelty attracts attention in and of itself. And also like any novelty, it will need to keep evolving lest viewers become blasé about the whole thing and tune it out.
It is for this reason that municipalities—New York City, for example—had banned things like mobile billboards, in the belief that they contribute to traffic congestion and road accidents. (See an oldish story here.) These ordinances may or may not apply to more conventional vehicle graphics—to the extent that vehicle graphics are conventional—but if you are interested in adding wrapping services, it may be worth your while checking out the local laws. In fact, some state laws have helped the growth of vehicle graphics; see below.
The same factors that are driving growth in other types of specialty and wide-format output—new substrates (simulated fur!), inks, colors, finishing processes, et al.—are driving the growth in vehicle graphics, as cutting-edge wrappers are developing some creative and eye-catching, and hopefully not accident-causing, applications.
One Wrapper's Story
Douglass Screen Printers (DSP), founded in 1939 and with three locations in Lakeland, Fla., is a combination screen and digital printing facility that offers a full array of weather-durable graphics such as decals, posters, banners, signs, tags, wraps, and nameplates. They also recently achieved certification by the Sustainable Green Printing (SGP) Partnership.
DSP has achieved growing success with vehicle graphics, driven in large part by Florida's very strict signage laws. In fact, says Steve Hurly, head installer for DSP, vehicle wraps "are a cheaper form of advertising." It is also more timely; while getting approval for a new sign can take months in the Sunshine State, DSP can wrap a vehicle in at most a few weeks.
(Whilst it is a bit off-topic, information on Florida's Outdoor Advertising Control Program can be found here [PDF].)
DSP has wrapped everything from golf carts, to buses, to boats, to semi trailers, to even airplanes. The company uses Mutoh and Mimaki roll-to-roll wide-format printers to print on almost exclusively 3M substrates, which are then cut and applied to (or installed on) the vehicle. "3M is the best," says Hurly, "the way you can position it and go around curves. It's more flexible, if you will." Although vehicle wraps still comprise only a small part of DSP's overall product and service mix, the application has been growing over the past several years "as more and more people become familiar with it," says Hurly.
As you can imagine, there are myriad challenges to offering vehicle graphics services. "Every vehicle is different," says Ryan Gierman, art director at DSP. "Even the same model will have small variances."
As a result, adds Hurly, "artists and installers need to work together and be on the same page."
Different types of vehicles also have different requirements. Graphics that will be mounted on the fuselage of a plane (decidedly a niche application) need to be able to handle the extremes of temperature and pressure, while graphics for boats need to be water-resistant.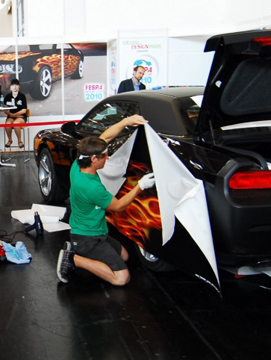 WhatTheyThink covered FESPA Americas 2011 and the Wrap Cup Masters series.
Developing a concept and design is the first step, and often involves some degree of back and forth with the customer. "Sometimes they come in with a different idea, and then they see what the possibilities are," says Hurly. "Customers can be very naïve about what you can and can't do."
The phrase "moving billboard" is especially apt, as many commercial vehicle graphics are changed and updated regularly as are, say, city bus wraps that advertise a new movie that is opening. Like many specialty graphics applications these days (remember our feature on magnetic media?), many users intend vehicle graphics to be temporary and swapped out with newer graphics fairly regularly.
The most important part of the process, however, is to take careful measurements of the vehicle that will be wrapped. The DSP Web site offers guidance for customers doing their own measurements, and Giesman advises installers to remove everything on the vehicle—mirrors, door handles, even model identification emblems. The vehicle surface should also be thoroughly cleaned and prepped prior to installation. "Otherwise the graphics won't stick," says Hurly, "and you'll have to redo them on your own dime." All printers hate remakes; remakes in specialty graphics are especially time- and cost-consuming.
DSP's Gierman recommends that commercial print facilities thinking of offering vehicle wrapping services, "seek training, seek advice, and research as much as you can."
"Don't short-change yourself with your equipment," adds Hurly, "and do your homework."
Competitive Wrapping
Didn't think there was such a thing as competitive vehicle wrapping? Think again. If you have ever attended a FESPA show, you may have seen "The Wrap Cup Masters" in action. The Wrap Cup Masters is a daily competition at each FESPA show in which participants vie against vehicle wrapping superstars to wrap a variety of vehicles using the latest and greatest materials and techniques. Each regional FESPA show attracts would-be vehicle graphics installers from around the world to vie in regional competition, culminating in the finals at FESPA London (this year, to be held June 25–29, 2013) where the global Wrap Cup Master will be crowned. The competition is open to anyone who thinks they have what it takes—and FESPA shows also offer hands-on training for those who may someday wish to compete against the masters.
Driving Away
At present, vehicle wrapping is a competitive business, but as vehicle graphics become more conspicuous, and the equipment and substrates continue to evolve and improve, creative companies will be able to offer unique and eye-catching applications for companies and individuals.