This is the time of year when I am reminded of a brace of quotes:
"The only function of economic forecasting is to make astrology look respectable." —John Kenneth Galbraith
"It's tough to make predictions, especially about the future." —Yogi Berra
When I give presentations and use these quotes, the Yogi Berra one invariably gets a bigger laugh than the Galbraith. Go figure.
Anyway, back in the day at TrendWatch, The Industry Measure, and even for a time here at WhatTheyThink, Dr. Joe and I used to collaborate on special reports that both looked back at the year that was while looking forward to the year that will be (or, given the caveats involved in predictions, the year that may be). In next week's feature, Brother Dan will provide some recent SGIA data to look at a perhaps archetypal specialty imager, but this week, we'll again take a macro look at the printing industry as a whole, and use that—as well as some qualitative information—to make some general statements about where wide-format has been, and where it is likely to go in the new year.
Printing Shipments
If you follow our Dr. Joe Webb, you know that, at first blush, the latest printing industry shipments—November—looked encouraging, or at least not too far behind recent years' shipments:
Current-dollar U.S. printing and print services shipments, 2007–2012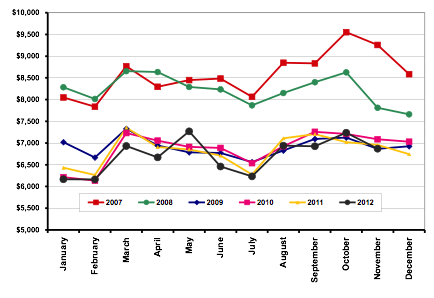 Source: WhatTheyThink Economics and Research Center
In current-dollar terms, the total value of printing shipments in November was $6.87 billion, slightly down from $6.96 billion (-1.3%) a year ago—but far from the $9.26 billion back in 2007.
Ah, but when we inflation-adjust, as we needs must:
Inflation-adjusted U.S. printing and print services shipments, 2007–2012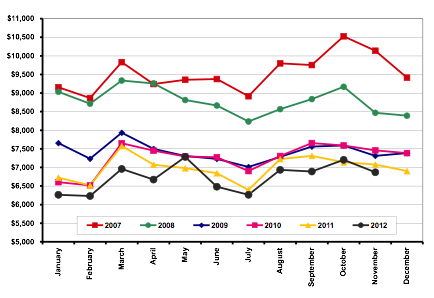 Source: WhatTheyThink Economics and Research Center
So, on an inflation-adjusted basis, November's $6.87 billion doesn't look quite so hot, and is down from $7.08 billion (-3.0%) from November 2011.
Dr. Joe has helpfully projected out the last month, so for completeness' sake, here is what we are likely to see as the full 2012 dataset:
Inflation-adjusted U.S. printing and print services shipments, 2007–2012 (with December forecast)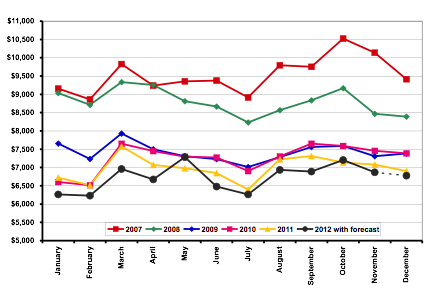 Source: WhatTheyThink Economics and Research Center
Looking at how this year has shaped up compared to the recent past in a slightly different way, we see some good news and some bad news:
U.S. Commercial Printing Shipments for January to November 2007 to 2012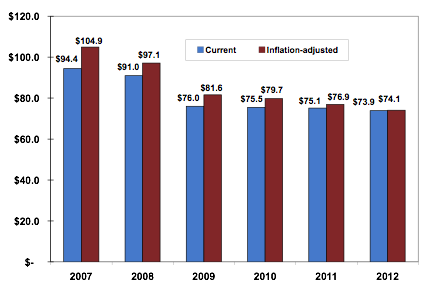 Source: WhatTheyThink Economics and Research Center
January-to-November shipments are down compared to previous years, but the decline is becoming less pronounced.
There are a few limitations to this data series, one of which being (and I have argued this point with Dr. Joe in the past) that this data series only comprises NAICS 323, which is the commercial printing manufacturing classification used by the Census Bureau. It does not include companies that primarily focus on services (so-called marketing services providers, perhaps) that don't consider themselves commercial printers, but who do offer commercial printing services. Companies are assigned NAICS codes based on what their accountants tell the Government, which in turn reflects how the companies choose to be identified. It may be as a manufacturer of print, it may be as a services provider, in which case they may end up in a completely different NAICS and thus not be included in the figures above. And one might be inclined to conclude that the healthiest companies—or at least a healthy chunk of the more successful—might not actually be in NAICS 323. How many? Enough for these data to dramatically underestimate the size and health of the industry? Difficult to say (and I confess that this whole discussion may seem a bit too "Inside Baseball"), but as the industry changes and transforms and "assimilates" other things beyond print (recall our excellent PODi-sponsored Webinar in December, Assimilate Or Die!), we may at some point have to rethink how we approach data collection and analysis. We are probably not at that point yet, but it may be looming on the horizon. One of these days we will come to our Census.
This conversation is especially relevant to those of us both in and looking at the digital printing—and specifically wide-format digital printing—slice of the market. I have written before that it's difficult to get Census Bureau data specifically on wide-format, as the numbers are strewn amongst a variety of categories, be it digital printing, signage, advertising, and other end-use categories. Our friends at InfoTrends and SGIA have been compiling their own data series specific to wide-format, and our contributors from those two organizations will be presenting highlights of their findings in future features.
Go Big Or Go Home
Despite what looks like a continued decline in shipments for the printing industry as a whole, 2012 was a big year for wide-format—and not just wide-format, but specialty imaging in general. The key evidence for this was the record attendance at last October's SGIA show in Las Vegas, in excess of 22,000. I admit that Vegas itself can be a draw for some people (this writer not included), but the opportunity to trek to Sin City alone didn't explain the improbable masses of people that showed up at the show—and showed up to play. On the show floor and in the halls, there was a palpable sense of urgency and excitement not seen or felt since—oh, probably since Print 97, when digital printing itself was new, urgent, and exciting.
2013 looks poised to take wide-format printing to the next level. Whilst we likely will not see any dramatic new technologies, we will continue to see refinement and improvement in some of the technologies that have been bubbling up over the past decade or so. UV wide-format printing will continue to be adopted by more and more shops, and look for LED-cured UV wide-format to become more prevalent. New and improved inks and substrates will also expand the range of products and applications that can be printed.
And here is where we see the biggest trend in wide-format for 2013: the continued "nichification" of the industry, as creative companies develop new and exciting print products. Lest this sound like a kind of commoditization—and in a way it is—the focus will increasingly be on devising creative new customized products and applications for customers, rather than mass-produced printed materials. The emphasis will be on creativity. Think of it as on-demand 3D printing. It also bears mentioning that all of these "hard copy" applications will need to exist alongside non-print applications—think apps, mobile media, social media, and other electronic applications. And even perhaps printed electronics and electronic signage.
2013 will be an exciting one for the specialty graphics industry. Companies just need to stay alert, stay creative, and not be afraid to take chances and explore unique applications. We at WhatTheyThink look forward to coming along for the ride—and helping navigate that ride.