Since the advent of the wide-format printing market in the late 1980s/early 1990s, the vast majority of the output devices on the market have been rollfed devices, printing on flexible substrates like paper or canvas that unfurled into the device, rather like a web press. The finished graphic was then often mounted onto a rigid material for display, installation, or other end use.
It's not difficult to see the disadvantages of this kind of workflow. Print-then-mount adds an additional step (taking more time and reducing productivity) and uses more materials (the printed substrate plus the mounting material and adhesive), incurs more consumables costs, increases waste, and decreases productivity. So the solution seems obvious: cut out the middleman and print directly on the rigid material itself. Enter flatbeds.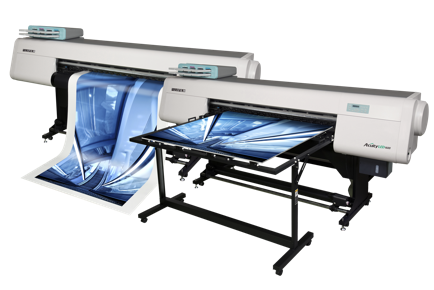 The Fujifilm Acuity LED1600 (Image courtesy Fujifilm)
Flatbed wide-format printers seem like a new technology, but they are actually more than a decade old and their evolution has been swift but stealthy. A seminal entry in the flatbed printer market was the Inca Eagle 44, and early limitations of wide-format flatbeds were the usual trinity of speed, quality, and cost. The fourth member of that trinity was versatility. As with most things technological, those limitations were quickly conquered. "Today, the quality of [those initial models] would be subpar," says Jeffrey Nelson, business development manager, high productivity inkjet equipment, Fujifilm's Graphic Systems Division. "Ten years ago, the top speed was four beds an hour. Now, it's 90 beds an hour." Fujifilm offers the Acuity and Inca Onset series of true UV flatbed printers.
("Beds per hour" is a standard measure of print speed in the flatbed printing world and is essentially equivalent to "prints per hour.")
The improvements to flatbed printers were largely a combination of printhead design and development and the evolution of ink technology, as well as effective ways of moving the substrate past the printheads—or, conversely, moving the printheads over the stationary substrate. Other challenges have involved the physical size of the printers; large flatbed presses dwarf rollfed wide-format printers and have a substantial footprint. "Manufacturing, shipping, and installation have been significant challenges," says Oriol Gasch, category manager, Large Format Sign & Display, Americas, for HP. "Such as how to move one to the second floor of an industrial space." The analogy is to offset presses, particularly web presses, which often had to be installed first, then the building constructed around them. The Bigfoot-esque footprint of flatbeds is one consideration for any shop hoping to acquire one—and it's not just the size of the equipment. There also needs to be room to move large rigid prints around. HP's flatbed offerings include the entry-level HP Scitex FB500 and FB700 series and the high-end HP Scitex FB7600.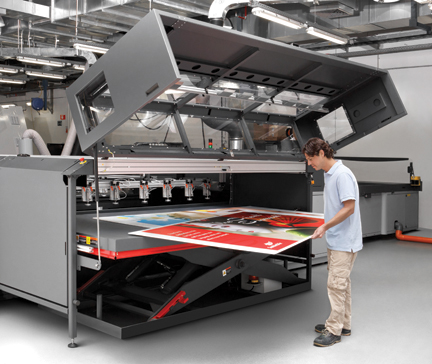 HP Scitex FB7600 (Image courtesy HP)
Many Materials, Many Applications
So the killer app for flatbed wide-format printers has been the ability to print directly on a wide variety of materials without having to print-then-mount or print on a transfer sheet, common for printing on 3D surfaces that can't be fed through a traditional printer. "Golf balls, mittens, poker chips," says Nelson, are some of the objects his customers have printed on. "Someone went to Home Depot and picked up a door to print on."
"What's growing is specialty applications using diverse and unique substrates," says HP's Gasch, "such as ceramic, metallic, glass, and other thick, heavy materials."
Here is one, shall we say, unique application: customized printed coffins. Truly a technology to die for...
This substrate versatility have led flatbeds to be adopted by screen printers, as well as packaging printers and converters. "What is growing is printing on corrugated board for packaging, either primary or secondary packaging for impulse purchases," says Gasch. "A unique item is wine boxes." It's all very intoxicating.
UV or Not UV, That Is the Question
It was advancements in ink technology that helped the flatbed printer market grow, and inks need to be versatile enough to print on a wide variety of substrates without a shop needing to stock myriad inks and swap them out between jobs, which would increase expense and decrease productivity. Some inks require primers or pretreatments to be applied to the surface to help improve ink adhesion, while others use a fixer added after printing. Most of the printing we're accustomed to uses a liquid ink that dries by a combination of evaporation and penetration into the substrate, but many of these specialty substrates have surfaces that don't allow ink penetration, hence the need to give the ink something to "grab onto." UV inks are especially helpful for these surfaces, as they dry by exposure to ultraviolet light, so they don't need to evaporate/penetrate the way more traditional inks do.
Much of the available literature on flatbeds indicates that "flatbed printer" is synonymous with "UV printer" and, although there are solvent ink-based flatbeds, the majority of units on the market are UV devices. There are myriad advantages to UV printing—no noxious fumes, the ability to print on a wider range of materials, faster drying times, the ability to add spiffy special effects, etc.—but switching to a UV workflow is not a decision to be made lightly. (See an upcoming feature for a more detailed look at UV printing.)
Combos
All the new applications that flatbeds enable are great, but there is still a substantial volume of work best handled by rollfeds. So for true versatility, a shop can use a single device to produce both rollfed and flatbed applications thanks to so-called combination or hybrid printers. These devices can help a shop tackle a wider variety of work than can be handled with a single type of printer, but be forewarned that a combination printer isn't always as versatile as, and may lag the production speed of, a true flatbed. Specs sometimes refer to the rollfed speed of the device, while the speed of the "flatbed mode" may be substantially slower. Always look for footnotes—and always get demos.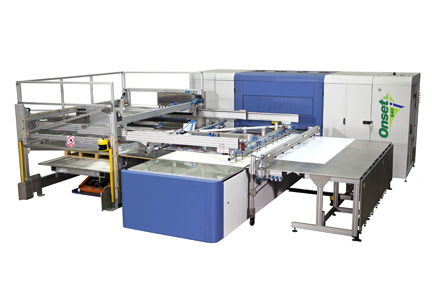 Inca Onset S40i (Image courtesy Fujifilm)
Looking into the Future
As ever, technology improvements will expand the capabilities of flatbed printers. This will include the usual trinity of technology—higher quality, faster speed, higher reliability—as well as improved material handling and a continued expansion of the number and types of materials they can print on; improvements in inks; improved ease of use; and better integration with front ends as well as postpress finishing equipment. As a result, the range of applications will increase. HP sees expansion of vertical markets as a growing wave of the future, "Targeting signage, and packaging is growing in importance," says Gasch.
Fujifilm is also bullish on commercial printing. "Our largest growth area is commercial printers," says Nelson. "They're expanding into wide-format graphics, or they started with a rollfed printer and are looking to move to something like an Acuity."
It's Not Just About the Printer
One of the recurring themes throughout all of these wide-format feature stories is that the choice of printer is merely a means to an end; wide-format imaging is less about a printing process and more about manufacturing end-use products, and the choice of printer is really about what is the best way to make those products. And it's not just the printer, but also the front and back ends of the process. "Think about the entire ecosystem," says Nelson. "How are you going to manage your colors, how reliable is the press, and look at the finishing equipment. Most of our printer customers also have cutting and routing equipment. There are great revenue opportunities on the finishing side." (For more on finishing, see our recent feature, "End Game: In Wide-Format Printing, Finishing is Where the Real Work Begins.")
It's not just the productivity ecosystem, but also the physical ecosystem. "You're dealing with large sheets and moving large sheets of material around," adds Steve Cutler, marketing product manager, mid-range inkjet, Fujifilm's Graphic Systems Division. Ultimately, Cutler says, "Wide-format is about the final output, it's the finished product."
"Scalable technology is also important," adds HP's Gasch. "Adding more features, add a roll-to-roll option, add beds, add white ink, it needs to be flexible and scalable."
As in any aspect of printing, there is inevitably a tradeoff between speed and quality. "Customers are asked, 'Do you want better quality or better speed?'" says Nelson, "And the answer is always 'Yes.'"
Still, there is more to success in wide-format than just getting the fastest device out there. "It's not about top speed but the entire workflow," says Gasch. "You need to be continuously printing."