With fanfare equaling the rollout of a new car, the management of Xeikon announced a new high-speed dry toner digital press  the Xeikon 5000  on February 19 at company headquarters in Lier Belgium.
Designed by Belgian industrial design company Achilles, the Xeikon 5000 targets high volume direct mail, transaction, and graphic arts markets.
The Xeikon 5000 uses One-Pass-Duplex technology with 5 color stations to add spot color or special security or MICR toner. With speeds of 7800 full color A4 pages per hour, the Xeikon 5000 is rated at up to 3,000,000 pages per month.
Driving the Xeikon 5000 is a new digital front end, Swift that processes PostScript, PDF, PPML and PPML/VDX files at rated speed and will support future JDF-based digital printing job tickets. The controller can handle graphically complex variable data print jobs of more than 1 million records per job.
Xeikon UV Toner Under Development
Andrew Tribute (WhatTheyThink.com's own) and Caryl Holland of Production Journal in Surry, England, tested Xeikon's new UV-curable toner, see photo below. Andy and Caryl folded, heated, and applied solvents with no resulting damage to the image!
Andrew Tribute, Attributes Associates, Cornwall, England, Caryl Holland, Deputy Editor, Production Journal, Surry, England, and Lode Deprez, Xeikon's VP, Toner and Development Group.

Most toner systems can't withstand temperatures above 65°C (149°F) and Xeikon's new toner can withstand more than 230°C (446°F)! After applying heat and pressure to the new Xeikon toner, folded images easily came apart; the toner did not melt together as did other toners tested.

The new Xeikon toner is based on low molecular-weight resins that can also resist many organic solvents. A variety of solvents can be applied without affecting the image.
The new UV-curable toner is more elastic and less brittle resulting in fewer problems with folding and creasing, especially when more than one toner layer is applied to the paper or board surface.
Strobbe Graphics Adds Two New Platesetters
Strobbe Graphics, a member of the Punch Group as is Xeikon, announced two new platesetters from the headquarters of Monti, a large forms printer located Xeikon's offices.
PSA 33MV
The PSA 33MV is a fully automatic platesetter that can stock 2 different plate sizes per cassette, from 2-up to 8-up formats, in as many as 10 cassettes. As many as 20 different plate sizes can be preloaded into the machine, and the system can output 25 850 x 1050 mm plates per hour at 2400 dpi.
PS 36
The semi-automatic PS 36 is a manual loading 8-up flatbed system using either 3-point FleX register or customized pin registration. There are no limitations to plate sizes or gauges.
Creo Introduces the Magnus - VERY Large Format CTP Device
From the floor of Thijsen Rotatiedruk, in Buren, The Netherlands, Creo introduced the Magnus VLF CTP device. Stretching more than 40 feet from end to end for the complete system, the Magnus is the fastest fully automated VLF device on the market imaging 15 80.7 x 59.4 plates per hour at 2400 dpi. When smaller plates are loaded two at a time, the Magnus can image 31 28 x 39.3 plates per hour at 2400 dpi.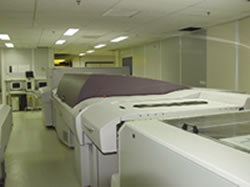 Improvements include:
• Higher power heads and new electronics
• Portrait-plate and dual-plate (two plates side-by-side) loading
• Multi-cassette automation  up to four cassettes of 75 plates per cassette
• Automatic slipsheet removal
• Cassette-reload during operation
• 63 x 83 drum
• Plates can be rotated on the unload table to exit through the back as well as the side
Veris Proofer from Creo to Process Third-Party PDF and PostScript Files
The new version of the Veris proofer includes a RIP and provides complete ICC workflow support including spot color. Through the use of hot folders and new virtual printer functionality, the files supported include PostScript Level 1,2,3; PDF 1.2-1.4, x-1.a; DCS Level 1-2; and EPS.
Creo Eases into Digital Printing
Through a hybrid prepress workflow that integrates Prinergy® for offset printing with Xerox DocuColor® digital color presses, Creo offers commercial printers the ability to add digital printing to their prepress department as easily as adding a new proofer. Operators can instantly direct print jobs to either a digital or an offset press, or changed from one press to another with minimal time and cost for changeover.
Last But Certainly Not Least  The Heidelberg Sunday 3000/32 Press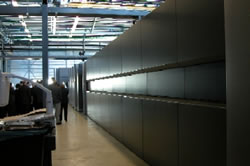 Installed at Thijsen Rotatiedruck, the gapless Heidelberg Sunday 3000/32 press went into live production in early February and includes the new Heidelberg PCF-3 pinless combination folder. With a unique eight-pages-across (1830 millimeters) cylinder configuration, the single-web press prints 32 magazine pages per impression at speeds up to 15 meters per second. The paper is moving more than 33 miles per hour!!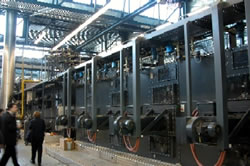 Thijsen, a family-owned printing company founded in 1896, is one of the largest printers in The Netherlands with revenues of more than €70 million (a little over $87 million).
The Sunday 3000 is long, dark and sleek. However a quick look at the back shows that this machine is clearly all business!