Agfa-Gevaert Group develops, manufactures, and markets analogue and digital systems for the graphics industry, health care, micrographics, motion picture and photography markets. February 18, from Agfa's headquarters in Mortsel, Belgium, the company made a number of announcements about technology, products, and services that will be highlighted at Drupa 2004.
Management Presentation

Albert Follens, Managing Director, Graphic Systems, lead off the day's presentations with a review of the Agfa's vision and performance. Commitment to the Power of Print and extending the company's reach from pre-press to digital presses, will help Agfa grow from its projected 2004 revenues of €8.0 billion to revenues in 2010 of €10.0 billion. How will that be accomplished? By increasing revenue from equipment and service from its current level of €1.0 billion to €3.0 billion.
To get there, Agfa committed €75 million to research and development in 2003, broken down as follows:
40% to CtP systems
20% to software solutions
20% to inkjet systems
20% to systems integration
By targeting the Graphic Enterprise which is a networked organization that is customer focused and project and process centric, Agfa can shorten manufacturing cycles, minimize submit-review-approve-distribute cycles, and support just-in-time manufacturing.
CtP Systems
Violet  Agfa's Color for 2004
Two new platesetters for the newspaper and web commercial printing segments have been added to the :Advantage line of DL violet platesetters, the :Advantage CL and :Advantage CLS. Both feature a multiple cassette option; the CL delivers up to 160 plates per hour, and the CLS can reach speeds up to 220 plates per hour. Both systems support the Silver plate, LAP-V, and Agfa's photopolymer plates.
Adding to the :Palladio and :Galileo violet systems are high-energy 30mW laser diodes; current systems use 5mW lasers. We expect that 30mW violet laser diodes will become the de facto standard for violet imaging, said Theo De Keersmaecker, Agfa's director of CtP.
The :Palladio system is a 4-up flatbed platesetter, and a new lower cost, manual version running 17 plates per hour has been added to the line. The :Galileo line comes in 4- and 8-up versions.
Keeping Warm with Thermal
There are companies who prefer thermal technology and for them, Agfa announced the addition of a new 4-up thermal CtP imager  the :Acento. :Acento comes in a variety of configurations a 16-channel platesetter producing 10 plates per hour and a 32-channel unit producing 20 plates per hour. There are also three companion plate loaders: L-300 which keeps 300 plates online in three cassettes (including slipsheet removal), L-100 keeps 100 plates in a single cassette (including slipsheet removal), and the L-50 with manual slipsheet removal keeps 50 plates online.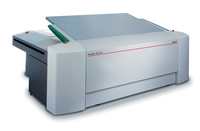 For printers needing higher speeds, the :Xcalibur XXT comes in 45-inch wide/8-up and VLF formats and features a higher power laser, more beams, a faster drum speed and faster loading/unloading cycle time. The :Xcalibur 45 XXT delivers up to 40 plates per hour.
And to service these thermal platesetters, Agfa will deliver a chemistry-free thermal digital plate before Drupa. The :Azura is an aluminum plate that uses a physical rather than a chemical process. Based on the same technology used in the :Thermolite Plus plates, :Azura is a non-ablative plate that offers wide exposure ranges, wide press latitude, and run lengths up to 100,000 impressions.
New Presses
Following the acquisition of dotrix from Barco, Agfa will be demonstrating Direct-to-Press inkjet printing at Drupa on the single-pass digital inkjet press  the.factory  (pronounced the dot factory), which can print up to 907 square meters per hour on substrates up to 63 cm wide. That's more than 9500 square feet per hour!!
And for something really different, Agfa and Thieme  producer of screen-printing machines  are working together to develop a flatbed digital press for screen-printing applications. Think variable data printing combined with traditional screen-printing processes!
Proofing Products
New proofing products that will be demonstrated at Drupa 2004 include the :Grand SherpaMatic, a large format, double sided imposition proofer, and soft and remote proofing capabilities. The :Grand SherpaMatic is the large format version  a 50-inch width  of the :SherpaMatic double-sided imposition proofer, and delivers both 360x360 and 720x720 dpi.
Agfa will also showcase :ApogeeX WebApproval + CM for soft proofing and hard copy remote proofing capabilities using the :Sherpa 24m, :Delano, and :ApogeeX supported by PDF and JDF workflow standards.
Agfa Software and Workflow Solutions
A major upgrade of :ApogeeX, Agfa's prepress workflow solution, is now available with increased JDF functionality extending automation to content creators and facilitating the distribute and print model. :ApogeeX is available in three product configurations - :ApogeeX Light, :ApogeeX Commercial, and :ApogeeX Packaging.
:Delano, Agfa's project management system, adds new features resulting from collaboration in various standards-based initiatives, including CIP4. :Delano's new features include:
Integrated file upload into the print project and product view
More status information in the project dashboard view
Ability to manage and track production components of different products on one press sheet
Sorting and filtering
Event logging including time stamps and operator actions
Watch for :Arkitex Courier, a newspaper workflow solution. :Arkitex Courier is a transmission solution based on J2EE application server technology, supports a full range of TX system network topologies, and can be integrated with a number of external planning systems.
A new color conversion application for packaging, :Alterno, based on PDF and Agfa CMS/QMS technology, supports multiple color processes and offers spot color simulation. The application accepts original PDF files and uses color profiles to convert spot colors to the appropriate color combination during the prepress stage. A new PDF file is then generated which means existing packaging designs do not need to be reworked.