Last week I had a rare opportunity to get a bird's eye view of the entire print value chain by attending two separate events at O'Neil Data Systems new Plano, Texas facility.
The first event was HP's Inkjet First Look event. Long time HP customer O'Neil Data Systems hosted and was gracious enough to allow their supplier to invite dozens of their competitors to see new HP technology and how O'Neil is using it to grow their business. Founded in 1973, O'Neil has been a lead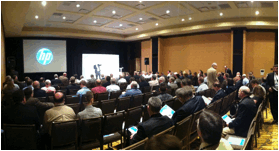 er in data and technology driven marketing communications services. They are headquartered in Los Angeles but have recently taken on an aggressive growth plan that made looking for a new location a necessity.
The trip began with a great dinner with HP and 160 of their best friends - customers - at Chamberlain's Steak and Chop House in Addison. We were packed in good and I do believe had the entire restaurant that night! This is always a great opportunity to spend time in casual conversations with attendees. The next morning we met for the formal program.
Kicking off the event at the Westin Stonebriar was Yishai Amir, HP's Vice President and General Manager for HP Americas Indigo & Color Inkjet Web Press Solutions. I was able to spend a few minutes later with Yishai and got him to condense his message into a short video segment.
Chris Morgan, SVP of the Graphics Solutions Business followed with a great session covering the analog to digital transformation. Their host, O'Neil, has invested heavily in digital and continues to do so. They have 6 Inkjet HP systems, including the T400, T350, T200, as well as several HP Indigo presses.
My favorite part of the day was a panel session moderated by HP's Avi Basu and featuring the leadership team of O'Neil: Jim Lucanish, President; Mark Rosson, VP of Sales & Marketing; Steve Ellithorpe, VP of Operations; and Annie Gayou, Plant Manager. The group shared many insights about the growth of the company and how they are leveraging digital. The most telling comment for me was from Mark Rosson who said O'Neil doesn't consider themselves printers. They are an IT company who happens to print.
This is driven mainly from the company having a strong history in data management. I commented to several during the event that I thought this positioned the company well. It seems the successful printers I meet today have a solid background in either information technology or marketing. They see print as an extension of this core skill set and allows them to be more flexible in their thinking and their offerings to their clients.
I was also able to get some time with Steve Welkley of HP who shared some insight into their theme of driving the transformation from offset to digital for their customers. He was also kind enough to let me put a mic on him and shoot a short video.
Wrapping up the day was a tour of the new O'N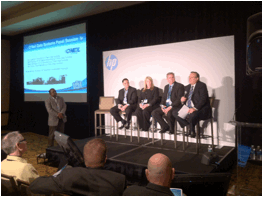 eil facility in Plano, Texas. The 275,000 square foot facility currently contains an HP T400, T200, and Indigo 7500. There is also a large area that will become a data center. The company's commitment to growth required O'Neil to look at a production facility located farther east. Texas provides that and more. Both sites will use a central system giving them the flexibility to service customers from whatever location is best suited to fastest turnarounds. I'm told the data centers will work together seamlessly and will not create duplicate silos of data management.
The tour also included a look at finishing as well as tables with HP Solutions Partners available to answer questions and demo products and samples. One very cool thing I saw here was Aurasma.
HP acquired the technology behind Aurasma when it acquired information management software vendor Autonomy for $10.3 billion in September. Aurasma is an augmented reality technology that overlays a web layer on top of the physical. You must have the Aurasma app on your device to use it, but once you do there are no codes. Aurasma recognizes specific images previously encoded and sends whatever multimedia (typically video) is mapped with that image data. The effect is very neat. One image of a Harley Davidson motorcycle was overlaid by a motorcycle that sped off the page via an iPad. A video about that particular model of bike then played. Another example made an entire car magazine cover page come to life.
HP seems to be really well positioned for the digital transformation and is helping customers like O'Neil transform their businesses into more profitable and reliable sources of ongoing revenue. Some of the things I saw are still under wraps until their pre-drupa press event in Israel later this month, but suffice to say they are exciting advancements and I'm sure DSCOOP attendees will be eager to see them as well as those attending drupa where HP will be exhibiting as well.
I was lucky enough to stick around for another event at O'Neil. Their official grand opening and customer event at the new Plano facility. Rarely do I get a chance to meet and talk with the customers of printers. We are typically focused on the vendors and printers. Print buyers offer a chance to see what end users think of new technology and what their jobs demand in terms of speed, quality, data management, and other issues essential for good campaigns and projects.
Several came to check out the new facility and learn more about what this new facility and O'Neil can offer their busin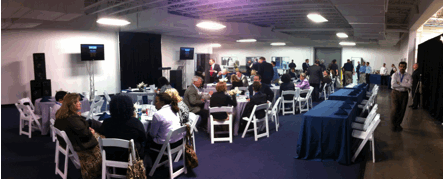 esses. Many of them have very data heavy applications for both print and digital communications. Among those in attendance was a contingency from Humana and WellCare Health Plans. Because of their expertise in data management and their IT competency, O'Neil is able to offer a wide variety of services to these types of customers with high data demands.
I also met two existing O'Neil customers. Lynor Romer, the Print Production Manager at Universal Health Care Group and Caleb Atkinson, Print Production Manager at masterworks. They both took the time to shoot a short video for us to share with our readers.
It's an exciting time to be innovating in the printing industry with the drive to digital, the advancements in inkjet technology, and the increasing integration of data into the process. HP and O'Neil Data Systems are at the forefront of that innovation and both seem very well positioned for great success.