By Elizabeth Gooding
On Friday August 29, we lost one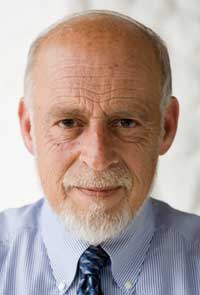 of the last true gentlemen in our industry, Harold L. Morrow, to cancer.
Hal Morrow was one of those rare professionals introduced as a friend first and colleague second by most who ever had the privilege to work with him. Though born in Yonkers, NY, Hal always maintained a disarming trace of Alabama drawl that was most pronounced when telling a joke or sharing a story. Hal had many stories to tell from his many years in the industry and often used them as a way to build consensus or diffuse conflict between his peers, staff and even the most senior management. When Hal headed marketing for Art Plus Technology where I was the CEO, I can remember any number of subtle yet effective conversations that caused me to change direction for the better.
Darryl Dobin of Ricoh Americas Production Printing Business Group worked with Hal continuously for over a decade across many organizations: NEPS, Insci, Avolent and GMC software. He also remembers Hal's ability to stay calm in the midst of conflict and chaos reflecting, "If Hal ever lost his temper with you, you knew you had really done something very wrong." However, even the most difficult conversations were more likely to end with Hal's infectious chuckle – shoulders shaking and eyes twinkling.
Hal was a prolific writer of collateral, press releases, articles and white papers which leveraged his Master of Arts in English Literature and were notable for their readability among the reams of marketing fluff that most firms publish. While Hal's sense of marketing direction was always spot-on, we often teased him about his complete inability to navigate in a car. One trip that should have taken less than an hour from New Hampshire to Boston took several hours, multiple trips over both the Tobin and Charlestown bridges and ultimately a cab ride from Somerville to Boston's North End. This was particularly ironic given that Hal served with the US Navy during the Vietnam War – something he rarely if ever spoke about.
Hal had a great and positive impact on our industry and the personal lives of most who knew him. When the announcement came that Hal had finally succumbed to his long fight with cancer, many people wanted to share their memories. Here are a few: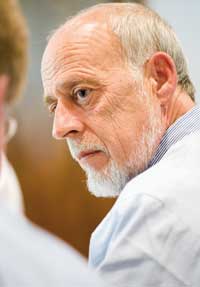 Hal was the guy behind the scenes who helped carry the banner for the industry and the companies he worked for. Everyone who knew Hal loved Hal. There will always be something missing at industry shows – he was quite simply a very nice guy who had the love and respect of everyone he came in contact with.
Denise Miano, NEPS
I first met Hal more than a decade ago when he was with NEPS. He had a very gentle way of suggesting changes in direction or strategy that left you feeling like you were part of the decision when he was really the one that was right all along. It is rare to find executives, in any industry, who have such a unique blend of leadership and humility. When I learned of his illness, I asked whether certain friends knew about it, and he stated, "I don't want to burden people." Yet his friends rallied around him to the end, and were glad to do what they could to share that burden with him and his family. I valued Hal's friendship and his professionalism; I learned a great deal from him over the years. I will miss him terribly.
Cary Sherburne, WhatTheyThink
Hal was unfailingly cheerful throughout his illness, he seemed to brush it aside and just get on with his life, no matter what it threw at him. He was a fine example of the strength of the human spirit.
Amarylis Midgley, UK business contact.
I don't think I've ever known a person as gentle and soft spoken, yet so brave, fierce and determined when it came to fighting his illness. I will miss Hal as a friend and fellow professional, as well as his knowledge, experiences and guidance he freely shared.
Mark Bonacorso, president, Media Ink
The first thing that comes to mind when I think of Hal is that infectious chuckle referenced above. The next thing I think of is a man who was always well-grounded and had insightful perspective on the things that really matter - most of all his family. For me, Hal was always a great confidant. I'll miss our conversations and Hal's industry knowledge that is perhaps more aptly described as "industry wisdom." I cannot express the depth of my gratitude for having known Hal; he is truly one who has left the world a better place for having been here.
Bob Wickham, NEPS
Know that Hal lived for his family. That is what I will remember. He was passionate about everything in his life including his friends and his work… but he spoke with the most depth and emotion when he was discussing his family. I remember how – when he spoke about his children – about their school, athletics or general activities… how anyone could see his absolute parental pride and love… And beyond that… he showed profound admiration and respect for the people they have become.
Goodbye Hal. We will miss you.
Steve Graziani, Gartner Group
Hal Morrow was one of the goood guys. While I onlyhad the pleasure of Hal's acquaintance for a dozen years, and was only able to work with him peripherally some years ago, he was always the consumate gentleman and a true professional in our industry and an advocate for digital print. He will be missed.
Noel Ward, WhatTheyThink
While all of us will miss Hal, none will miss him more than the family he held so dear; his wife Wendy, his son Geoffrey and his daughter Sarah. Hal showed an incredible work ethic, but enjoyed nothing more than time spent with his family. His wife and children clearly inspired him and if any good can possibly come from his passing, perhaps it will be in his family knowing how much Hal inspired others through his life.
Following cremation, a celebration of Hal's life will be held on Wednesday September 3, 2008 at 6:00pm in the Peabody Funeral Homes and Crematorium, 15 Birch St., Derry. Burial will be at a later date in the NH State Veteran's Cemetery, Boscawen, NH. In lieu of flowers, memorial contributions may be made to Dana Farber Cancer Research, 10 Brookline Place West, Floor 6, Brookline, MA 02445-9924.
If you have any memories or stories you would like to add, please do so here