About Thinking Creatively
Thinking Creatively is about taking a step back... when you want or need to think strategically and creatively about your business... or about your customer's business... or about a solution to a challenging business problem. The goal is to be one part inspiration and one part motivation. We hope to provide - over time - thought-provoking advice, tools, ideas and company profiles that help get you to your next breakthrough. Your feedback and interaction is invited, welcomed and encouraged.
Thinking Creatively is made possible by the support of GMC Software Technology. Normally such features are for "Premium Members" only. However, because the topic is so timely and essential to all executives in the industry we asked GMC Software Technology to provide support for this series. Their support allows us to to present these articles free for all WhatTheyThink.com members.
In part one of this article, we talked extensively about what makes Pro-Sourcing an extraordinary strategy to get project work done by professionals from all over the U.S. and the world. We'll do a quick review here, and then move into some useful techniques for getting Pro-Sourcing projects completed efficiently, reliably and successfully.

What is Pro-Sourcing?

It is the act of putting your project out for hire – and tapping the hundreds of thousands of independent, professional contractors who have signed up to offer their services -- through online talent banks like elance.com, guru.com, crossloop.com or odesk.com.

Here is a list of some of the projects I've personally completed, either for my own business or for my clients (e.g. you can source this work and resell it to your own customers):
I've had a new PowerPoint template designed for a client…and then had a company overview presentation designed in that new template (using one contractor in Chicago, one in Atlanta).
I've had software specifications written for a new service to be sold over the internet (contractor was from Argentina).
I have had my own company's website redesigned; vendor is from India.
I have had a marketing planning tool created for a client, using a resource in North Carolina and Pakistan.
I have had an Excel database tool created by a resource in Missouri.
I have had viruses removed from a PC expert in California.
I've consulted with an intellectual property attorney in Silicon Valley on the pros and cons of patenting a new online service.
Just how big is this Pro Sourcing phenomenon? Here are statistics from the first quarter of 2011, at elance.com: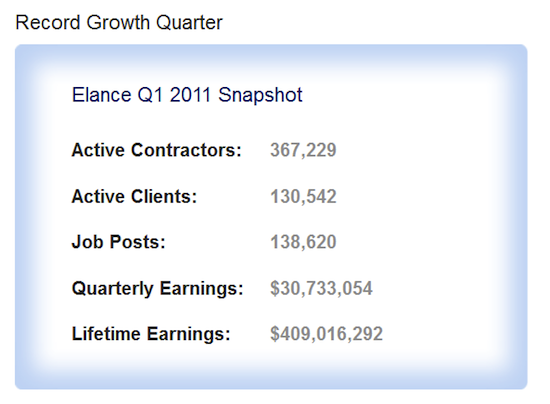 Yes, that says over 138,000 projects being posted, and over $30 million in earnings.

The numbers on a competing service, odesk.com, are equally compelling:


And, for those who think this is an "offshore only" opportunity, consider the narrow gap in hourly rates being charged by contractors at odesk.com: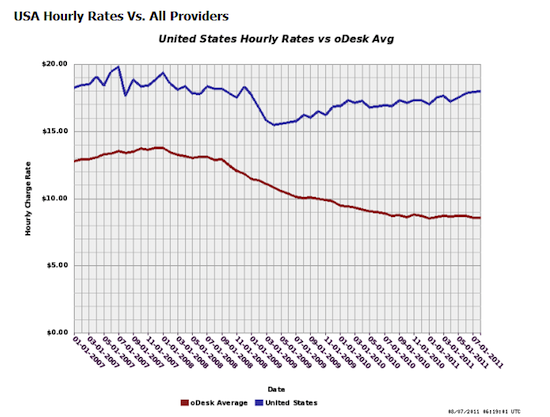 What I do to increase the likelihood of finding great contractors.

My best success to date has been with the service elance.com. In my own experience, I have found a few techniques that helped me increase my odds of finding a match – someone with the skills, at the right price and service orientation to work collaboratively with me:

1. Select the right search parameters when trying to locate contractors. You can specify individuals or businesses. You can select location…by country or state. You can restrict your search to those with a certain amount of reviews…or satisfaction ratings. You can even save your searches or put contractors on a "watch list" with your notes about them. The key here is, while you can put your project out to bid to "everyone", it is worth it to invite those contractors who you've previewed in your search.

2. Scrutinize your invited contractors carefully. I almost always stick to contractors with high rankings and lots of completed jobs. This ensures that people know how to satisfy lots of different buyers, and have mastered the ways of understanding a buyer's needs. I read the types of projects they've completed, the prices paid for them and the reviews that buyers have written. Subtle clues can be discerned from a careful reading of reviews…look out for those who've missed deadlines, or had trouble in communications.

3. Be sure to look over a contractor's portfolio. Each contractor has the opportunity to display their work right on elance.com. This gives you a chance to evaluate the factors that are most important to you. Is one contractor's work more creative? Clearer? Intricate? Impressive? The portfolio review should give you another way to compare one contractor to the next.

4. Don't forget to make notes. If you do like I do – and look at lots and lots of contractors before you pick one – it is easy to forget what you liked or disliked about each. You have the opportunity to do this if you add them to your watch list. It is also important to do this as you evaluate each contractor's bid. This is essential to keep your process efficient.
5. Spend time writing a great project description. Be clear and complete in listing who you are, what you need, when you need it done and what you expect from the winning bidder.

6. If you can, create a "pre-project" project and hire two contractors. This has been beneficial for me, when I've had a critical deadline for a project and I'm working with someone for the first time. It is also useful if I'm looking for specialized expertise, or really creative output. I put out a multi-stage job…and have two people -- who look good enough to hire -- create an interim output. I can evaluate how we work together and whether they are on top of the work and the deadlines. Then, I usually put out a second project to complete the job with the contractor I feel best about. I've actually expanded my network of people this way…saving some for more creative, but less rushed projects, and others who can be counted on in a pinch.

7. Write great reviews for those contractors you work with. The system for facilitating pro-sourced work includes a review mechanism. This allows you to grade and comment on your contractor – and vice versa. So good contractors continue to get positive reviews…and bad ones are exposed. Likewise, if you are not a good buyer, you will get dinged by your contractors. And all is online for people to see. So this is a self-policing system that helps maintain quality work and satisfaction all the way around.

Hopefully you're now convinced of the legitimacy and the opportunity that exists for you to employ Pro-Sourcing in your business. For anyone with specific questions…or for anyone who would like a bit more explanation on how this might work for their own business and projects, feel free to write to me.