FontShop, an online font vendor, has for years published a wonderful book available called FontBook. It's about 6x12 in. and three inches thick, and it costs about $100. I have bought two editions of this book over the years, and it's a fabulous reference to the world of digital type. The current edition is 1,703 numbered pages of fonts!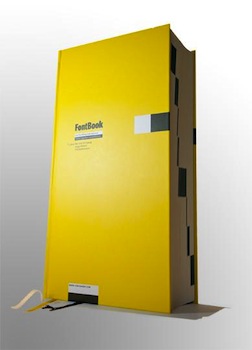 The current printed edition of FontBook, a 1,700-page cloth bound book from FontShop.
With approximately three fonts per page, that's over 5,100 fonts in the book.

What I like best are the origins, the designer's name, the foundry, the historic references. The FontBook is my able assistant, my go-to book for almost everything typographic. Font Shop does not sell every font on Earth, but it does sell a large number of them.

In mid-July FontShop sent an announcement of the latest edition of their Font Book, announcing that it would be selling later the same day, that it was much larger, and 80 percent lighter! How? They put it on the iPad.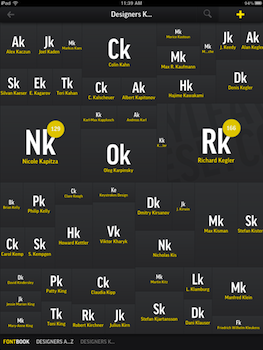 This is a typical page in FontBook. This one is for finding fonts designed by people whose last name begins with K. Other categories include foundry, year, alphabetical, and category listings.
And, wow! They did it right.

There are now hundreds of thousands of fonts represented in the Font Book (they say it's 610,000) and it has a most intriguing interface that is unlike anything I have seen before. You can choose from designers, foundries, categories – serif, sans-serif, blackletter, etc. – and then you can see the font, see its complete character set, compare it to other fonts, sample lettering set in a specific font, then send samples to your friends as e-mails, Tweets, Facebook comments, and more.

If you have any interest in type, and if you have an iPad, this is a completely new experience. You'll find on opening it that it draws you in, and doesn't easily let go. You'll find yourself finding fonts designed the year you were born (mine is Palatino), fonts that are made by a particular font foundry – most of the foundries are well represented – or fonts designed by your favorite designer (mine is Hermann Zapf).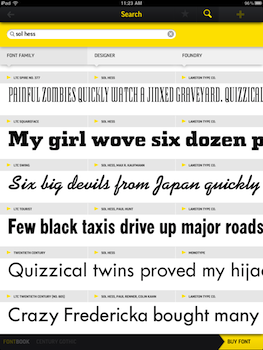 In this example I am searching for fonts designed by Sol Hess, a 20th century designer who worked for Lanston Monotype, Linotype, and other foundries.
I have owned my copy for more than a week, and I still find myself getting lost in its delightful interface, which I think is more like Alice's Adventures in Typography than any actual book. I fall down rabbit-holes in the book, and find my way back out again, each time discovering something new, something delightful or something clever.

Being a commercial entity, FontShop has a little button at the lower-right of every font example page that says, "Buy Font." This book becomes a reference, an encyclopedia, and a catalog from which one can find and purchase digital fonts.

But, even with over 600,000 fonts, there are still some missing. I couldn't find one of my all-time favorites – Parsons – in the book, and I don't know why. Parsons was originally designed by Will Ranson at Barnhart Brothers & Spindler in the early 20th century. I own a digital family of Parsons, purchased a few years ago from Alphabets, Inc. and credited to the work of Inna Gertsberg and Susan Everett.

The fact that I can't find this particular font in the FontShop book is not a surprise. It is impossible for these innovative developers to get every font in existence into this new book/app, and it might be that Font Shop does not have marketing agreements in place to display or sell all of the fonts from all of the font designers in the world.

Meanwhile, back at my iPad, I find this new application/book/experience so compelling that I recommend it to anyone with an interest in typography. It's nothing short of amazing. And, it's cheap – just $5.99 at the iTunes Store.