About Thinking Creatively
Thinking Creatively is about taking a step back... when you want or need to think strategically and creatively about your business... or about your customer's business... or about a solution to a challenging business problem. The goal is to be one part inspiration and one part motivation. We hope to provide - over time - thought-provoking advice, tools, ideas and company profiles that help get you to your next breakthrough. Your feedback and interaction is invited, welcomed and encouraged.
Thinking Creatively is made possible by the support of GMC Software Technology. Normally such features are for "Premium Members" only. However, because the topic is so timely and essential to all executives in the industry we asked GMC Software Technology to provide support for this series. Their support allows us to to present these articles free for all WhatTheyThink.com members.
In a recent column titled "How Well Is Your Business Positioned for the Future?" , we listed six questions that can help any business get to the best positioning for their company going forward.
In this article we go in-depth on question #4: What are the trends that are "in the air"…trends that will influence how we live and work over the next several years?
So, why are macro trends such a crucial input into your company's positioning strategy?
Once you've figured out who your customers are…their deep needs…what industry you operate in…and what you do best that's unique, it is time to look "outside". This means understanding the world your strategy will have to plug into.
And the world has never been more volatile or dynamic. Technology, socioeconomic, cultural and geopolitical events are creating great opportunities and significant risks to every one of us.
For this article, we're going beyond trends in the printing and graphic arts industry. I'm sure many of you read the trade publications and the great blogs and contributions here on WhatTheyThink.com. We'll also not talk about the obvious trends like mobile, wireless and social media.
We're going to focus here on five big, global, macro trends – the trends that will affect how and where people live and work. We'll look at general business trends and general consumer trends. We'll conclude each section with a probing, strategic question for you to ask your management team so you can integrate these trends into your own planning.
I've selected these five trends after reviewing the work and predictions of dozens of futurists, thought leaders and strategy organizations. You'll find longer lists of trends that I've pulled from – lists that I've found particularly compelling -- sprinkled throughout this article.
Trend #1: The Barbell Economy
Industries are moving to a barbell-like structure, with a few giant global corporations on one side and lots of smaller businesses in niches on the other end. The number of mid-sized businesses – in the middle of the barbell – will continue to decline, often acquired by the giants. The good news is that small businesses will flourish and grow in importance due to their ability to service niche markets. It will take little to no capital to enter these niche markets. Expect partnering with giant entities to be on the rise, helping little guys gain global reach.
• Probing/Strategic Question: How can you envision partnering with the biggest companies, be they customers, suppliers or competitor…and are there related micro businesses you might enter now, as an "experiment", costing little to no capital?
Trend #2: Data Insatiability
Technology, socioeconomic, cultural and geopolitical events are creating great opportunities and significant risks to every one of us.
We are in the era of data proliferation. Data will be (or arguably already is) critical for competitive advantage. Just in the world of marketing, there is almost a limitless amount of behavioral data close at hand. According to the World Future Society predictions, human knowledge capability will continue to double every year. "Human knowledge capability" is the quantity of available knowledge multiplied by the power of technology to process that knowledge. And with the popularity of cloud computing still expanding, access won't be a problem. Statisticians and data analysts will be in strong demand.
Organizing data…helping to visualize it…and interpreting data's meaning will be high value work. Anyone working in marketing services today has a platform to make the leap into data services. Also, if you find you have customers that cluster in specific industries, you can look to acquire databases and analytical tools to provide new services to those customers.
• Probing/Strategic Question: How can you hone your company's data skills, start to invest in databases and find a niche of expertise in data analysis and presentation?
Figure 1: The Intuit 2020 Report: Twenty Trends that Will Shape the Next Decade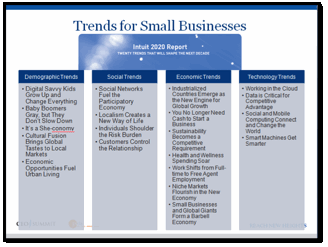 Trend #3: Urbanomics
While this phrase was coined by trendwatching.com, most futurists and prognosticators forecast increased opportunities fueled by the growth of urban areas. Intuit forecasts that almost 60% of the world's population will live in cities and suburbs by 2020, with more than 50 cities inhabited by over 5,000,000 people. This "new localism" will create a new way of life; people will have a reason to invest in the places they live. Futurists predict that people will be establishing stronger ties with family, friends and community, creating local economic development in new ways.
Urban consumers also tend to be more prone to trying out new products and services.
• Probing/Strategic Question: How can you continue to invest in your local community in new and interesting and long-lasting ways?
Figure 2: Part one of Trendwatching.com's (http://trendwatching.com/trends/11trends2011/) Top 11 Consumer Trends for 2011.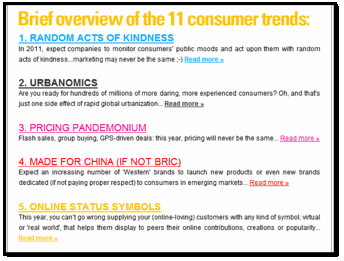 Trend #4: Owner-Less
You may already be feeling this, but we are rapidly moving from the "Ownership Society" to the "Rentership Society". The key here is giving people maximum flexibility in their lives. There's a great book that covers this and many other trends that emerged in a study of historical economic downturns. It is called "The Great Reset" http://www.harpercollins.com/books/Great-Reset/?isbn=9780061992995, by Richard Florida. If you are interested in big socio-economic shifts and how they have and will play out, I highly recommend this book.
The business opportunities that emerge from this trend include business models like fractional ownership and interesting leasing alternatives. For those of you familiar with Zipcar (http://www.zipcar.com/ -- a membership service in big cities that give you access to vehicles for hourly or longer rentals -- you have a sense for how this trend could play out.
This trend is also playing out via sharing websites that facilitate renting and sharing between consumers, with everything from homes to fashion, to cars (and car parking spaces).
· Probing/Strategic Question: How can you streamline your business and become more nimble by owning less and sharing more?
Trend #5: Pricing Pandemonium
The flurry of special offers and socially-communicated price discounting is only going to increase. With more consumers constantly connected via mobile devices, the diversity of opportunities to distribute promotional offers will be explosive. Several related trends plug into this megatrend: Mobility, group buying, local-ness, flash sales, review sites, price comparison engines and dynamic pricing will all contribute to this discounting rage.
If you haven't used – or been sent – a "Groupon", check out the website http://www.groupon.com/learn.
Also, check out figure 4, from a research study (http://www.marketingprofs.com/charts/2010/3882/facebook-users-like-brands-for-discounts-social-badging on why consumers choose to "like" a specific company or brand on Facebook. The number one reason? "To receive discounts and promotions."
· Probing/Strategic Question: Is there room to become an expert – for your customers -- in this new arena of distributing offers and pricing promotions?
Figure 3: Why Consumers "Like" a Company or Brand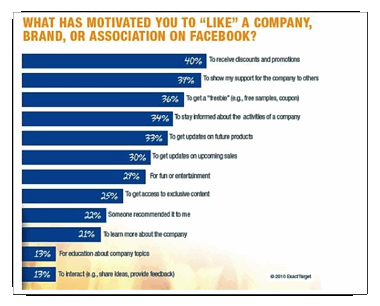 Figure 4: Part Two of Trendwatching.com's (http://trendwatching.com/trends/11trends2011/) 11 Crucial Trends for 2011: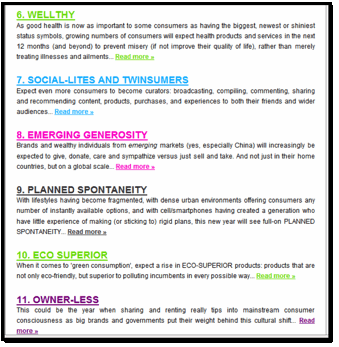 Summary
With the shifts going on in business models, in socioeconomic factors and in technology, now is a great time to ask yourself: "How well is your business positioned to be a net gainer – and to be a growth company -- in the years to come?"