This post is a continuation of a post from last week where I asked: How Unique is Your Business?
About Thinking Creatively
Thinking Creatively is about taking a step back…when you want or need to think strategically and creatively about your business…or about your customer's business…or about a solution to a challenging business problem. The goal is to be one part inspiration and one part motivation. We hope to provide – over time -- thought-provoking advice, tools, ideas and company profiles that help get you to your next breakthrough. Your feedback and interaction is invited, welcomed and encouraged.
Thinking Creatively is made possible by the support of GMC Software Technology. Normally such features are for "Premium Members" only. However, because the topic is so timely and essential to all executives in the industry we asked GMC Software Technology to provided support for this series. Their support allows us to to present these articles free for all WhatTheyThink.com members.
GMC Software Technology helps businesses implement high impact, personalized communications programs that increase customer satisfaction and loyalty, drive new customer acquisition, improve productivity and cut costs. Their award-winning PrintNet software is an easy to implement, end-to-end solution that provides full data integration and processing, design and composition, collaboration and approval, distributed output management and process automation for highly targeted print and electronic communications. www.gmc.net.

I shared a process to help you get to a Differentiating StrategySM…to help you focus the direction of your business.
In this post we're going to talk about a tool/process to help you tap the power of a clear strategy: The next step is to create a Unifying Business IdeaSM.
What is a Unifying Business Idea (UBI)? And why is it potentially the most powerful strategic tool you can develop for your business?
A Unifying Business Idea is the articulation of your strategic focus for your business. Developing a great UBI will allow you to:
Occupy the biggest possible mind and market space where

you are credible

(i.e., your idea must be anchored in credibility);
Paradoxically, narrow your focus (on a rich idea) to actually expand your opportunities over time;
In the end, answer the question: "Why my company," in every conversation you or your employees have about your business.
Characteristics of a Great UBI
What defines a really potent UBI? It must be:
A defining idea that encapsulates what you do;
A governing idea that guides important strategic and daily decision making;
An aligning idea that makes sure everyone "inside" is on the same page;
An energizing

business

idea that brings excitement, clarity and opportunity to all.
Ideally, it is 3-7 extremely well chosen words
Once created, you should be able to talk to ten levels of meaning
Your UBI represents what your company stands for, going forward
Most importantly, what you do matters just as much as what you say.
Later, we'll talk about some examples of UBIs that have lasted at least ten years. Here are a few that are clear and in the mainstream:
Apple: "Think Different" (and prophetically, from the 80's: ""Soon there will be 2 kinds of people. Those who use computers and those who use Apples.")
Amazon: "The Earth's Most Consumer-Centric Company"
TD Bank: "America's Most Convenient Bank"
One editorial note: There is often confusion about whether the UBI is also a tagline. I have had this discussion with clients literally hundreds of times. A tagline is typically associated with advertising campaigns and companies use taglines differently.
The purpose of a UBI is to help govern a company…to help guide what new products to develop…to help create customer service policies…to build employee training programs so that EVERYONE in a company can make daily decisions. A UBI is the "container" for your company strategies, practices and values. The goal is to have a UBI that summarizes the very essence of the company.
With that said, some will use their UBI as a tagline, because it portrays to the world who they really are. Note that Amazon does not use their UBI in consumer communication, but does in investor relations and other B2B outreach. TD Bank does use their UBI as an advertising tagline. It is important to develop the UBI first for internal purposes; employees should all know and understand it.
How to Create Your Unifying Business Idea
The "formula" that I have used consistently considers three domains of input. See the chart below.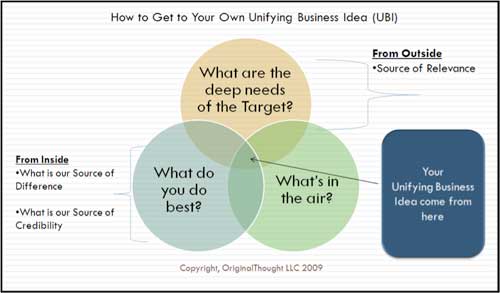 Your UBI will emerge from a combination of these elements:
What you do best (or your real competencies as a company)
Deep needs of your target…what is at the root of your customers' needs and wants?
What's in the air…the trends, the social conversation, the general mood or tone
The best process is to make a list of answers to each question and let it all "simmer". Then you can start to create a list of potential UBIs.
Let's take each of these important elements and break them down.
What You Do Best
Every company has strengths, things they do better than anyone else. You hopefully discovered some of this when you were working on your Differentiating Strategy and your "unique point of difference." What is the source for that? Is it rooted in a unique philosophy? Or, is your difference based on an approach to managing people? Use of technology? Creativity? Craftsmanship? Specific products, services, solutions? Whatever is in your company's DNA, is what goes in this box. Make your list of these items and be sure that you are really credible when asserting these strengths (or you have solid plans to acquire them).
Deep Needs of Your Target
Next, make a list of things your target customers really value, things they truly need and want from you (or your competitors). Now, it is easy to say, people always want the highest quality, at the lowest price, with the fastest delivery and the best service. Don't fall into that trap. These are clichés in a strategy exercise. Try getting deeper. One exercise I find helpful is called "laddering". Start with a need, like "great quality". What is really behind the need for great quality? Perhaps it is helping your customers stand out from competitors. What is the need behind that? Is it to prove that the buyer did a great job, to receive accolades for doing something that turned out extraordinarily well? So a deep need is to make sure your direct customer looks good to their peers and their boss.
What's in the Air
This element attempts to capture the context in which you operate. Make a list of the key trends in the industry? What are people talking about? What are the topics in the relevant trade magazines? Try to pick things that are not just about "today" but might have some applicability for the next few years. Examples today include dialogue around transpromo activity…mobile marketing…social media.
Finding Your UBI at the Intersection
Once you've got your three lists, the fun begins. Landing just the right words is a blending of creativity and strategic focus. Get started. Make a long list. Move the various words around. Always test your ideas against your Differentiating Strategy. Have a small group of internal people in the company input with ideas and with feedback. Keep tweaking, reworking and improving until the "gears lock" and the words just feel right. Believe me…you'll know when you've nailed it.
UBIs from the Past and Present, from Inside and Outside the Industry
Here are a few UBI examples, for reference and to provide inspiration and guidance, including a few from my earlier days. Hopefully this will inspire you to start the process in your own company.
The Document Company, Xerox
I was fortunate to be involved in the development and implementation of this UBI. And I want to use this space to acknowledge an old friend, a mentor in the area and the "father" of the concept of the UBI, Len Vickers. At Xerox, when he recommended and then launched this, it was nothing short of a revolution for Xerox. It ushered in the digital transition and lasted nearly ten years. No nuance was left undiscussed…including the idea that the name "Xerox" would come AFTER the moniker, The Document Company. The full expression of the UBI was: Nobody knows more, does more or cares more about documents than Xerox.
Casio: The Unexpected Extra
One of the first UBIs I was ever involved in. The trick was to try to unify the activities of a company that was quite diversified. They make watches, digital cameras, PDAs, calculators, electronic keyboards and more. The secret though, was each individual product had something unique, unexpected. There were watches for deep sea divers, golfers and pilots. During it's nearly ten year run, this UBI was deployed companywide in the US, from packaging to customer service protocols. "The Unexpected Extra" for each product was highlighted on product packages…and reps in customer service took this UBI as their promise to fulfill with each caller.
Inside Today's Graphic Arts Industry
DME: Personalized Targeted Marketing, Trackable Results. There is no doubt when you enter their website; this company is all about personalization. Once there you confront this one single, compelling phrase: "Personalization Works."
FreckleBox: Personalized Gifts for Kids. This division of Progressive Solutions is crystal clear about what they do and how they go about it.
So now you have the two bookends on the road to making your business unique; your Differentiating Strategy and Unifying Business Idea. By grappling with a six key strategic questions, you can be on your way to not just surviving, but thriving.