I presented this question to a group of over 50 executives gathered in Chicago for the Print CEO Forum late last year. Many saw this as a provocative and timely question, worthy of serious thought.
About Thinking Creatively
Thinking Creatively is about taking a step back…when you want or need to think strategically and creatively about your business…or about your customer's business…or about a solution to a challenging business problem. The goal is to be one part inspiration and one part motivation. We hope to provide – over time -- thought-provoking advice, tools, ideas and company profiles that help get you to your next breakthrough. Your feedback and interaction is invited, welcomed and encouraged.
Thinking Creatively is made possible by the support of GMC Software Technology. Normally such features are for "Premium Members" only. However, because the topic is so timely and essential to all executives in the industry we asked GMC Software Technology to provided support for this series. Their support allows us to to present these articles free for all WhatTheyThink.com members.
GMC Software Technology helps businesses implement high impact, personalized communications programs that increase customer satisfaction and loyalty, drive new customer acquisition, improve productivity and cut costs. Their award-winning PrintNet software is an easy to implement, end-to-end solution that provides full data integration and processing, design and composition, collaboration and approval, distributed output management and process automation for highly targeted print and electronic communications. www.gmc.net.

So I ask you: Have you gone through an honest process to land on a differentiating strategy –and taken a more focused approach to your business? If yes...congratulations. It's a great feeling, isn't it?
For the rest of you...
maybe you've not yet taken that long look in the mirror and charted your new course...
maybe you've decided you need to break away from the competition but don't yet have "the big idea"...
or maybe you're looking to get into growing market space but don't know how to reconcile the "old world" with the "new world"...
I'm going to devote this post to help get you going.
I'm going to share two great tools to help you develop your differentiated business proposition. The good news is: Those of you who commit to differentiating your business will come out the other side feeling renewed, revitalized and re-energized...and on a much more focused path to sustainability, growth and profitability.
It's also good to know you're not alone facing the challenges in front of you. As an analogy...what if you were in the construction business? It is hard for a builder to stand out today? Thousands of contractors can build the exact same structure from a set of plans. There's always intense competitive bidding. And the main sources of differentiation are price, quality, service and personality (or likeability). Sound familiar?
And just think about the retail banking business...or airline business...or the PC manufacturing business. All offer "commodity" products and services...and all are riddled with "me too" players. But there is always someone like TD Bank – America's most convenient bank, open 7 days a week (that means Sundays and evenings, too). Or Southwest Airlines...a more fun, more flexible and often less expensive airline. Or Dell Computer...who decided that "the direct model" of selling computers wasn't just for mail order buyers...as they made their way to becoming a $60 billion company.
How do you get to real differentiation for your company? Well, there are literally hundreds of approaches, processes and formulas for differentiating a business. I'm going to introduce you to two key tools that have worked for me throughout my career, working with companies in the print/document industry like Xerox, Indigo and IKON...in financial services with JPMorgan Chase, Citibank and MasterCard...health care with Pfizer, Abbott and CIGNA...and world class brands like Mercedes-Benz and Coca Cola.
So...how do you get to that true differentiation?
Diagram #1 shows the two tools – your Differentiating StrategySM and your Unifying Business IdeaSM – and the final step to align your organization to your new focus.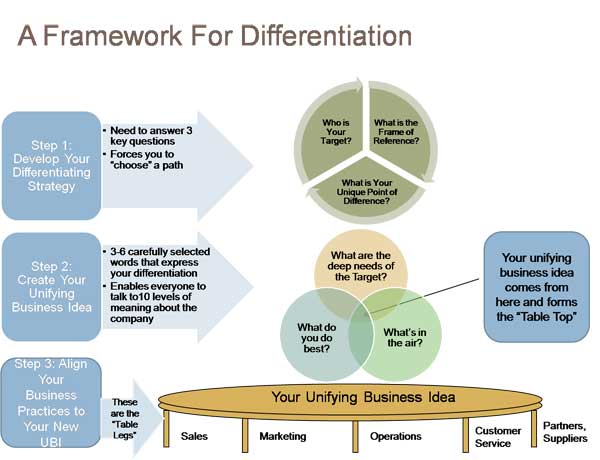 I'm going to break this down, step by step. Today's post will cover the first step: Creating Your Differentiating Strategy. This requires you to wrestle with, and answer, three fundamental questions: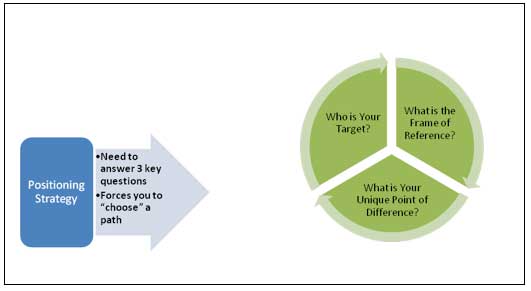 First question: Who is your target...how do you define your core customer? It could be:
...entire industries, like banks and insurance companies
...departments within companies, like corporate marketing;
...specific businesses like ad agencies and their management;
...specific titles like marketing directors; or
...need-based groups like people focused on turnaround time.
Once you've landed on who you serve, you can assess and delineate what special needs you can uniquely fill.
Second question: What business category do you choose to operate in?
This frame of reference question is often ignored, but often leads to the breakthrough you need for differentiation.
More simply put: What business are you in?
There is a classic example from history. Imagining answering this question 100 years ago: Are you in the railroad business or the transportation business? The answer led some to a future of growth, some to antiquity. For those in the graphics arts business, think about the difference if you picked one of the following. Are you in the:
Information business?
Marketing communications business?
Advertising and promotion business?
Printing and direct mail business?
Sheet-fed printing business?
Imagine how your competitive set changes and how capabilities would have to change, depending on where you choose to play.
The third and final question: What is your unique, differentiating benefit or promise? Answer this: What is your unique point of difference... the big benefit you deliver to your customers where you can say, we are:
The best at__________?
The only one to_________?
The first company to________?
The answer to this can come from what you now do...or what you aspire and commit to doing. Be sure: a) you are credible when making this promise, and b) you know how you are going to deliver.
So how does this 3 question-tool work in real life, in your business? Here are three companies who arrived at differentiating strategies who have been covered on WhatTheyThink.com
After 118 years as a general printer, Fetter decided to specialize on an industry. After 60 years serving the paint and coatings industry, they knew it well and were great at it. Their point of difference? "Nobody knows paint in the can like we do."
From being a printer, they are now an "information management company with production services." They maintain an asset and content management platform and the data for paint can labels that change as government regulations or formulas change. Reportedly, they gave up 40% of their customers to focus on this specialty, but have revealed that they are much more profitable.
This is an incredible growth story. VistaPrint's target audience is clear; it is small businesses. Their frame of reference: They offer "everything a small business needs to market their business."
Their point of difference: "We deliver high-quality printed products in low volume for a great price like no one else can." Their proof? They claim to offer "jaw-dropping customer value propositions." Who wouldn't want that as a small business? And who can argue with their success. As of Print '09, they showed a 22% increase in sales for the 2nd quarter 2009; a 42% YOY profit growth...and a 1.4 million new first time customers, with a 67% repeat order rate.
In 2001, QuickPrint, Inc., offered two-color quick printing in Saline, Michigan. After seeing lots of work from the self publishers of books, they went national with DiggyPod.com. The business meets the short-run publishing needs of authors who bypass traditional publishing.
Authors upload their manuscripts and Diggypod prints the book blocks and full-color covers, laminates the covers, binds the books and ships the specified number of copies to the author. Owner Tim Simpson says: "We are not really a quick printing operation anymore. Our previous bread-and-butter -- business cards and stationery-- represents less than 10 percent." This is a unique target in a great category, offering all the services to make customers successful.
Now you have the essential elements to develop your Differentiating Strategy. In our next post, we'll cover the second step in the process of differentiating your company: Creating your Unifying Business Idea.