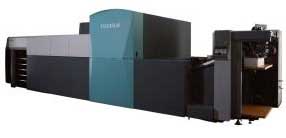 Last week I wrote in the Print CEO Blog about Fujifilm's announcement of its new sheet fed inkjet commercial printing press. The following taken from the blog is a brief description of the press.
'Fujifilm Japan has announced a breakthrough technology digital sheet fed inkjet printing press aimed at the commercial printing market. This press that is currently called the JetPress 720 images at 1,200 dpi with 4 gray levels on a sheet up to 720 x 520 mm (28.35 x 20.47 ins) in size. This is twice the size of any other sheetfed digital color press allowing up to four A4 pages in one pass in four colours. Fujifilm claim that the 1,200 dpi with 4 gray levels will give offset quality of printing. This is a higher resolution than all the new inkjet continuous feed presses being launched at drupa. The speed of the press is stated to be 2,700 B2 format sheets per hour. This works out at 180 A4 sheets/minute. The new inkjet printhead technology was developed by FUJIFILM Dimatix (FDMX) a leading company for industrial inkjet printheads, and a wholly owned subsidiary of Fujifilm. The wide printhead with a print width of 720mm was newly developed incorporating high density, long-life piezoelectric element arrays with high precision and can print high resolution images using single-pass inkjet technology at the high speed of approx. 180 sheets (A4 size equivalent) per minute.'
I see this as a very important announcement as it shows that Fujifilm is really moving its business into inkjet based digital printing. As a company it has invested heavily in the acquisition of inkjet technologies and companies including Sericol and Dimatix, but up to now has not manufactured any inkjet printing equipment. As a company it is already a major player in digital printing with its 75% ownership of Fuji Xerox. It is interesting to note that Fuji Xerox was involved in the development of this press. The press fits into a unique space in the market where there are no equivalent presses. This is as a sheet fed digital press of B2 format. Up to now the largest format sheet fed digital press has been the Xerox iGen3 with a maximum sheet size of 14.33 x 20.5 inches. It has always surprised me that no supplier has introduced a wider format digital press. I have predicted that perhaps Kodak Nexpress, Océ or Xeikon with their experience in building LED imaging arrays would produce a 20 inch wide sheet fed press, but nothing every happened. Assuming the quality of output and the pricing are acceptable I think that there will be a major opportunity for the new Fujifilm press.
The fact that Fuji Xerox has developed this press poses some interesting questions about how this product will go to market. Will it be sold through the Fuji Xerox channels alongside the Xerox iGen3 and Docucolor products or will it be sold through Fujifilm's graphic arts channels, many of which already sell Xerox products. There is also the question of how this affects Xerox and whether they will handle the product. Xerox has stated that it will be outlining some of its developments in inkjet printing at drupa, but I know that this is not one of them.
The move by Fujifilm into manufacturing its own inkjet equipment as well as supplying consumables such as ink and print heads to other developers confirms the company's move to be a major force in the future of inkjet printing. The other major film companies have already moved into this area. Agfa has been working with inkjet technology for many years and is now supplying ink as well as printers. Kodak has been a key player for a long time with its Versamark high-speed transactional printers and to a lesser extent with its Encad wide format products. It is now moving ahead with the development of its next generation STREAM continuous inkjet technology and this will be demonstrated in the STREAM Concept press at drupa.
Fujifilm already sells a number of wide format and UV flatbed printers through its Sericol operation. This operation has the exclusive distribution of the Dainippon Screen owned Inca flatbed printers. Fujifilm has very close working arrangements with Dainippon Screen in distribution of its thermal CtP engines. Dainippon Screen however is also establishing itself as a major player in the inkjet business with both high-speed and wide format printers. On must wonder if there is the possibility of further consolidation between these two companies in the inkjet area.
I will certainly be looking at the new Fujifilm sheet fed inkjet press at drupa. I first heard rumors of an inkjet press development within Fujifilm more than two years ago before the company had acquired Sericol or Dimatix. The company appears to have identified a unique market slot with a B2 format press and I predict this will be one of the hottest new products at drupa. I also predict that Fujifilm will be seen in future as one of the key players in the inkjet printing business alongside HP and Kodak.