The general projection from many analysts and the press is drupa will be the 'Inkjet drupa'. Already there have been major announcements of products for this area and there will be many more to come. Inkjet printing is already very well established in the wide and super-wide format markets but the area where I am sure most interest will be shown is in the high-speed production color printing area. We already have products operating in this area from Agfa, Dainippon Screen, IBM, Kodak and Miyakoshi, and Océ and Impika have announced products already for showing at drupa. All of these with the exception of the existing Kodak Versamark printers use drop-on-demand (DOD) technology, Kodak's Versamark printers use continuous inkjet (CIJ) technology. Up to now for the highest speeds products use CIJ technology, whereas for higher quality and more flexibility with ink types, but slower speeds, DOD technology is used. Recent announcements however have tended to blur this definition with the latest Miyakoshi and Océ printers that use DOD technology are achieving imaging speeds of up 500 ft/min (150 meters), the same speed as the fastest color Kodak Versamark printers.
In terms of installed base the leading supplier of high-speed inkjet high-speed color printers is Kodak with its Versamark range of printers. Kodak and its predecessors have been making CIJ printers for 40 years and Kodak has a substantial installed base of these printers. Today Kodak is announcing some of its new inkjet products for drupa, but in particular it announces a whole new strategy and technologies that should significantly enhance its position within the market. In many ways the announcement could indicate a whole new way the printing industry could develop. What the announcement shows is in reality the future of the Eastman Kodak Company and the success of what is announced will determine the position of Eastman Kodak in the future. The new technology is that important to Kodak.
Ink drying is a mixture of conventional and new technologies and Kodak is at this time not indicating what these are.
At drupa Kodak will have available a number of new products for delivery in 2008, plus a working demonstration of concept of its future color printing technology. This demonstration of the future is the STREAM Concept Press and this will be on show on the Kodak stand for all to see. Kodak Stream Inkjet Technology is Kodak's new generation of CIJ technology that will move CIJ from being an average quality high-speed transaction and direct mail technology to a technology that will challenge offset for speed, quality and cost of printing. Kodak Stream Inkjet Technology has been under development for many years within the Kodak laboratories and is now moving into production. (An outline of STREAM technology is covered later in this article).
"Our inkjet strategy is based on our belief that inkjet will have a dramatic effect on the printing industry over the next 10 years," said Antonio M. Perez, Chairman and Chief Executive Officer, Eastman Kodak Company. "Kodak has made the commitment to invest in inkjet, based on our unmatched expertise in digital imaging and materials science. This combination today allows Kodak to provide our customers with best-in-class technologies for the consumer market. In May, at drupa, we will again apply our unique knowledge of printing to present a breakthrough advance in high volume production inkjet through our revolutionary Stream Inkjet Technology."
The first major new product announcement from Kodak is its first high-speed color printer that uses DOD technology. This is theVersamark VL2000 printer and it uses DOD inkjet printheads. Kodak is not disclosing the supplier of their printheads in a similar approach to Océ who do not disclose that Brother/Kyocera is the printhead supplier for the Océ JetStream. From my understanding of the technology in the Kodak Versamark VL2000 printer it would appear to me that Kodak is using the Panasonic Page Width Array heads. The printheads Kodak use are very interesting as the head comes as a wide format array with a print width of 18.6 inches. Each array can print two colors at a speed of 75 meters/min (250 ft/min). This equates to 500 Letter size images/min in simplex mode using a web up to 20.5 inches wide. The unit has two of these print arrays to provide four colors. The Versamark VL2000 can print either a full width web in simplex mode or a half width web can be run in a single width duplex configuration. This means that it runs a single width 9.5-inch web and by using a narrow web the system can print on one side, then turn the form and print on the back side using the same engine without a loss in speed or performance. Two Versamark VL2000 engines can also link together to provide duplex printing of the full width web giving a speed of 1,000 Letter size pages/min. The Versamark VL2000 can be run from either a Kodak CS300 IPDS controller or the CS410 for IJPDS data. The printer also has an open architecture to allow for connection of a range of standard pre and post press finishing equipment.
This is a very interesting move for Kodak to have a DOD inkjet press. For years Kodak have decried the capabilities of DOD technology but have now decided to adopt it to allow them to keep up with developments of their competitors. The current color Versamark range (VT3000, VX5000, VX5000e) offers high-speed but the output quality is not as good as either the new high-speed DOD printers or Xerox's xerographic technology 490/980 Color Continuous Feed Printing System. The Versamark VL2000 provides a very attractive press to complete against the competitors in terms of both speed and quality. It is not as fast as the Océ JetStream but it is also not as expensive. It is however interesting to look inside the Versamark VL2000 and one can speculate that it allows for future expansion for speed or increased quality. There is a space beside the two printhead arrays that is obviously designed to take two additional printhead arrays. If the printheads are those from Panasonic, among the functions of the Panasonic printhead is it can operate in three different modes. In that case I would speculate that the first mode is as used in the Versamark VL2000 printer where two colors are printed from the printhead array at 600 dpi by 1 bit at 75 meters/min. The second mode is where the two printing elements in the head are used for the same color and the printheads then work at 150 meters/min. The third mode is single color with different gray levels at speeds between 75 – 150 meters/min. It could be a relatively easy upgrade or perhaps a different model of the VL2000 that could use four printhead arrays, one for each color, and print at a speed of 150 meters/min. Kodak obviously is not making any comment of this potential and is probably waiting to assess how well the Versamark VL2000 operates in the field before committing to any ongoing developments.
What I believe will be one of the highlights of drupa will be the STREAM Concept Press. This is a demonstration four-color press that will show the real potential of Kodak Stream Inkjet Technology. Kodak claim that will show offset class color printing on a variety of substrates including coated paper. I have seen this press operating at Kodak's Dayton facility and have to say it is likely to be the digital printing highlight of drupa. For a press that is perhaps up to three years away from commercial implementation the quality was really excellent and already close to offset quality. The press prints a 9-inch web at a speed in excess of 500 ft/min. To put that into context that is substantially faster that the Kodak Versamark VX5000 and Océ Jetstream 1100/2200. Unlike the other printers it prints on a wide variety of substrates including coated stocks with a variety of different inks. Kodak claim that the production costs will be very low and competitive against offset for many types of work.
"Stream Inkjet Technology and scaleable expansions to our portfolio set us on a course to bring inkjet printing to new markets and customers within the segments we currently serve," said Isidre Rosello, General Manager, Inkjet Printing Solutions, Kodak. "As we move forward with our long term strategy, we will continue to serve our core transactional market by continually enhancing and expanding our market leading high speed, color, roll fed and imprinting inkjet solutions."
Kodak Stream Inkjet Technology
The Kodak Versamark operation started out as a Mead company in 1967, before being acquired by Kodak, who then sold it to Scitex where it operated as Scitex Digital Printing, before it was re-acquired by Kodak. It has pioneered high-speed CIJ printing for many markets. The current technology used has been continuously developed for forty years and has just about reached the end of its potential for ongoing development. STREAM technology was invented within the Kodak laboratories before Kodak bought back the Versamark operation seeing this as a suitable vehicle to make STREAM a product and to take it to market.
The CIJ technology as used in the current Versamark products can be explained in the following text. Ink is pumped as a continuous stream through the nozzles of the printhead and this ink is broken into droplets via a piezo acoustic actuator. Some of these droplets are charged and as they pass over the high-voltage deflection plate the charged droplets are deflected to hit the paper. The uncharged droplets are caught in the gutter and are returned to the ink supply. The system is very fast because it is non-stop and there is no major restriction to speed apart from how fast the ink can be pumped through the printhead nozzles. The negative aspects of the technology are ink has to be aqueous of low viscosity and cannot have any metallic or other elements because of the high-voltage deflection system. The printhead manufacturing technology is also limited in terms of minimum nozzle size and the number of nozzles that can be manufactured in the printhead.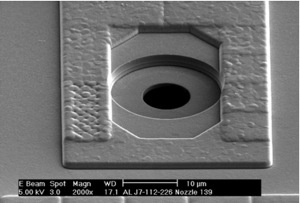 Kodak Stream Inkjet Technology uses a different approach with no electrostatics. Instead it uses a new principle of inkjet printing based upon thermal 'pinch-off' of continuously jetted fluid streams. By applying a regular pulse to heaters surrounding each nozzle orifice the ink is stimulated into breaking into fine droplets. Ink drops not required are deflected away from the substrate and re-circulated to the ink supply. Drop size and pinch-off is regulated by the time between heat pulses, thereby creating a variable drop or grayscale capability.
The Stream printheads are manufactured using MEMS technology and the nozzle area is created from silicon. The following images show the heater part of the printhead and the nozzle. This nozzle image is at 2,000 times magnification and this shows the nozzle orifice having a diameter of around 8 micron.
Kodak indicates that the image quality of the STREAM Concept Press at drupa will be 600 dpi with grayscale but the technology is capable of going to 1,200 dpi in future together with a very small drop size. The placement accuracy of STREAM is higher than that of the current Versamark technology.
Two of the key aspects of STREAM are in both the type of substrates that can be handled and the type of inks. Kodak has a number of new ink developments that it has intellectual property for. The benefits of these technologies are that STREAM inks can have pigment particles ranging from 10 – 60 nanometers in size. These micro particles cause less damage to silicon nozzles and clogging should become a non-issue. They also show improved color density and gamut compared with dye-based inks. The color gamut is also enhanced by there being less ink absorption into the substrate. Ink drying is a mixture of conventional and new technologies and Kodak is at this time not indicating what these are.
STREAM printheads can be 'stitched to make wide page arrays. The STREAM Concept Press will be shown with printhead arrays made up of two printheads. In earlier presentations on its Kodak Stream Inkjet Technology, Kodak has indicated that it envisages at some time in future being able to build a press with 30-inch wide printhead arrays in order to compete with 40 inch offset presses.