By Jean-Marie Hershey, Senior Editor
If proof were needed of the rising demand for innovative paper-handling and finishing technologies, it was present in abundance at drupa 2008. From vendor to vendor, the focus was on in-line, off-line and near-line production solutions designed to deliver the economic benefits of more and more sophisticated automation, including shorter makereadies and reduced labor costs. Due to the prevalence of shorter runs and higher press speeds, vastly improved postpress automation in cutting, folding and stitching, as well as conveying, buffering, jogging and palletizing - among the myriad sub-processes occurring after the press - is now the key to increasing quality, lowering costs, reducing waste, and achieving superior efficiency and flexibility: in a word, to adding value where the customer needs it most.
Beyond Automation
But while postpress automation by itself is capable of producing significant increases in speed and productivity, it is when production data can be used to preset cutters, folders and stitchers that automation yields the most dramatic results in terms of changeover time, error reduction and the elimination of operator injury. Not surprisingly, therefore, a theme of postpress workflow integration wove itself through and among the solutions on display.
It is when production data can be used to preset cutters, folders and stitchers that automation yields the most dramatic results
Finally, there was evidence of a growing interdependence between digital device manufacturers and conventional postpress vendors, whose solutions were mixed and matched with various digital printers throughout the drupa halls. It was also true, however, that new and enhanced in-line systems for coating, laminating, foiling, die-cutting and other value-added processes applied to conventionally printed products could be shown to produce the unique effects and high-quality, high-value products customers crave, and which most digital output devices cannot yet match.
In this and two subsequent articles, we'll give readers a glimpse of the broad range of postpress advances evident at drupa 2008, beginning here with selected manufacturers of traditional offset, digital and hybrid bindery equipment for the folded- and cut-sheet markets.
Cutting and Folding and Stitching – Oh My!
Duplo Corp. brought its line of off-line collating and booklet making; near-line sheet feeding and booklet making; in-line booklet making; as well as folding, binding and slitting/cutting/creasing products to drupa 2008. The company unveiled the automatic Ultra 205A UV Coater, which adds gloss, matte and satin finishes to offset and digitally printed documents. The Ultra 205A is well suited to applications like book covers, calendars, business cards, brochures, posters and mailers, the company reports. Also new was the DuWrap, a polybagging unit for mail fulfillment connected to Duplo's Digital System 5000, demonstrating the complete production of a booklet and mailing solution in one. The company also previewed its DFC-100 and DFC-210 friction-fed mini-collators designed for the entry-level market. Both mini-collators can be linked to a second tower to make a 20-station or 24-station model, as well as to a Duplo DBM-120/T Dynamic Bookletmaker to enable full inline bookletmaking. drupa also marked the launch of Duplo's new closed-tank PUR DuBinder as well as the launch of the new mid-range bookletmaker DBM-350/T. The company has added a knife-folding option to its versatile DC-645 slitter/cutter/creaser, enabling users to finish greeting cards, folded business cards, brochures, leaflets and photo-finishing applications. Finally, Duplo showed the UJ-500AS anti-static ionized jogger, in addition to the intelligent DSF-5000 modular high-speed dynamic document sheet feeder. The DSF-500 reportedly handles the output from multiple printers and offers reliable feeding of a wide range of substrates. The new feeder was displayed at drupa in configuration with a new twin bin cover feeder, a DBM-500 bookletmaker and trimmer. The company's products were ubiquitous at the show, appearing in partner booths including Canon, FKS, HP, Kodak, Océ, Ultimate Technologies and Xerox.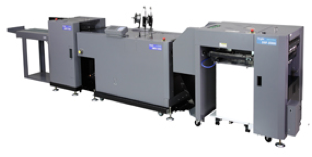 Duplo Digital System 5000 Pro, incorporating the new DSF-5000 sheet feeder.
GBC Commercial Laminating Solutions came to drupa with thermal laminating solutions for commercial, on-demand and wide-format finishing in tow and speed top-of-mind. The company put its new GBC 8500HS Cyclone laminating system and new GBC High-Bonding Strength film to the test by inviting the Guinness Book of World Records to adjudicate its challenge to laminate 100 square meters of paper in under one minute. Designed for single-sided lamination of high-volume print runs, the GBC 8500HS Cyclone runs at speeds up to 150 m (500 ft) per minute, and can cut production time by one-half or more without sacrificing accuracy, control and quality, the company claims. The Cyclone accomplished its goal in just over 40 seconds, becoming the machine to beat in its category. Also on display at GBC's stand were the GBC 7580 Voyager, capable of speeds to 200 fpm and said to be ideally suited to the medium- and high-volume finishing of books covers, folders, brochures and bags. GBC's 6200s and 5031TS systems both are dedicated to the finishing of narrow-format offset and digital output. Also on the GBC stand was the company's compact GBC 3052, dedicated to the commercial print finishing market and well-adapted to the handling of smaller digital jobs. According to the company, with its ability to change stock, size and film rapidly, the GBC 3052 improves efficiency on the production line, while a sheet-counter enables the user to set the machine to stop after laminating a pre-set number of sheets, reducing waste and increasing productivity.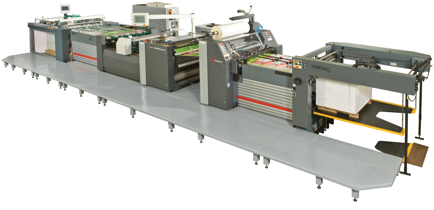 GBC's world record-holding GBC Cyclone commercial laminator
Standard Horizon's dedication to "Intelligent Automation" yielded a number of advances in the production of cut sheets, folded signatures, saddle-stitched and perfect-bound books that were displayed at drupa 2008. While some automated folders still require an operator to measure each panel and input the dimensions before the changeover can begin, Horizon AFC folders feature an icon-based color touchscreen that prompts the operator for sheet size and desired fold pattern, data the folder uses to calculate the necessary set-ups and perform a fully-automated changeover in under 30 seconds. Having their drupa debut were the AF-406T6A small-format, six-buckle folder with pile feed, suction head and optional six-buckle unit that can be added straight or cross-wise, making it ideal for the production of inserts and outserts, including pharmaceutical folding, and the AF-566F six-buckle folder with pile feeder, suction head and option four-buckle unit that also can be added straight or cross-wise for maximum flexibility. CCD camera options for Horizon AFC folders enable sheet-by-sheet verification reading from the top, bottom or both to insure the integrity of folded signatures inside and out. In addressing the needs of the short-run, POD market, Horizon added a large color touchscreen and ergonomically designed digital caliper to its BQ-270 single-clamp binder. The highly automated Standard Horizon BQ-470 four-clamp binder now features interchangeable EVA/PUR adhesive tanks, an SI-470 digital caliper to measure book thickness and automatically transfer this data to the binder for set-up, and the convenient new PM-470 pre-melt tank, which promotes longer runs between adhesive replenishment. The company also demonstrated the fully automated Stitchliner 6000, an enhancement of the Stitchliner 5500 that can stitch rather than folded sheets, as well as a new hardcover book system. Both are expected to be commercially available sometime in 2009. Horizon also brings intelligent control at the network level, with full JDF compliance via the i2i Bindery Control System. Job parameters can be entered at a central control console and then called-up by any Horizon finisher on the network.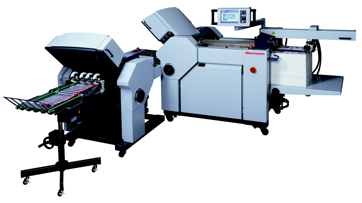 Standard Horizon's AF-566F folder.
C.P. Bourg unveiled a PUR version of its BB3002 single-clamp perfect binder designed for use with digitally printed work. The new machine features automatic set-up, an adjustable suction cover feeder and can handle book block thicknesses to 6cm. The manufacturer showed a BB3002 connected to a Challenge CMT330 three -knife trimmer, a configuration said to be capable of producing up to 400 finished books per hour.
The BB3502 online binder, with EVA or PUR glue systems and integrated cover creaser is well suited for the production of digitally printed covers. The company's fully automatic online BB4040 4-clamp binder features an integrated cooling tower and is available with three-knife trimmer, PUR glue and fully automatic setting. The manufacturer also introduced a new heavy-duty bookletmaker for use with its BST-d+ collator towers. The two-module BME consists of a stitch-fold unit and a front-trim unit.
Finally, the company also introduced a new feeding unit that can send collated sheets from a stacked pile into a BDFx or BCM bookletmaker.
Muller Martini not only announced a new generation of machines at drupa, it redesigned them to emphasize ergonomic principles and environmental protection, and painted them a striking laserblue. Design elements have been applied across the full product line. For example, a new curved cover concept makes all working processes accessible to the operator above and permits unrestricted leg movement below.Machine operation has been optimized across the product line with an easy-to-read, standard touchscreen menu on which navigation has been simplified by providing easy access to operating elements that are used frequently and concealing ones that are used infrequently. A highlight of the Muller Martini stand was the new Primera series of saddle stitchers, targeted to the mid-range performance market, with different levels of automation and speeds from 9,000 to 30,000 cycles per hour. Designed for small-to-mid-size runs, the fully automated Presto E90 saddle-stitcher runs at speeds to 9,000 cycles per hour., while the high-performance, modular Supra saddle-stitcher can produce up to 30,000 copies per hour, according to the manufacturer. The Supra line can be expanded with up to 30 feeders for selective binding applications. A new gathering machine (3697) has a new sheet separation feature, while the company's Pantera perfect binder is now offered with the AMRYS automatic makeready system. Other highlights include new servo-motor controls on the in-line Diamant 35 MC bookline and Ventura MC book sewing machine. Muller Martini's flagship SigmaLine for automatic digital book production has also been redesigned for operator safety and convenience, and now makes use of advantages offered by the new Connex workflow system, based on the continuous JDF/JMF workflow.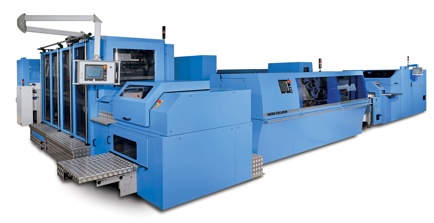 Muller Martini's Sigma Line
For space considerations, we'll stop here for now. On June 13, we'll summarize postpress and finishing innovations announced by Gietz, Goss, Heidelberg,Kama, Kluge, Kolbus and POLAR-Mohr, among many others. Stay tuned.