Press briefings by Heidelberg, KBA and MAN Roland during the opening two days of drupa 2008 served as the overture to a heavy metal magnum opus, during which each manufacturer played its own variations on a number of common themes, among them, innovation, integration, service and sustainability.
In Heidelberg's view, its twin taglines - HEI Value and HEI Performance - stand for the added value and technical know-how that create value for its customers across an extremely broad range of end-to-end solutions spanning all aspects of offset printing. As usual, the manufacturer has put its money where its mouth is, filling not one enormous hall but the entirety of Halls 1 and 2 – some 8,400 square feet of floor space in all - at the fairgrounds. We daresay this is among the most attractive and inviting setting Heidelberg has yet devised to showcase its daunting range of solutions: wide aisles between immaculate viewing areas and clearly marked "attractions" will surely aid in crowd control as trade show attendance builds. Who knew that an industrial hall could also be that clean, well-lighted place?
The trade press briefing took place, not in a generic conference room, but smack in the middle of the Heidelberg packaging exhibit in Hall 2, where editors sat literally in the imposing shadow of the company's hotly anticipated new VLF presses, the Speedmaster XL 145 and the Speedmaster XL 162, representing the most significant expansion of the company's press line in a number of years. According to Heidelberg, the Peak Performance class comprising the Speedmaster XL 75, XL 105, and XL 145/162 has been developed for industrial operations working multiple shifts. Heidelberg rounds out its VLF portfolio with special workflow components and a range of compatible platesetters. The company has also developed AutoPlate XL, an extension of its fully automatic plate-changing system to cover its new XL presses.
Heidelberg's new Speedmaster XL 145 and XL 162 represent the most significant expansion of the company's press line in a number of years.
Heidelberg is flexing plenty of additional muscle in the packaging arena, including the Peak Performance, 29" Speedmaster XL 75 and its 40" counterpart, the Speedmaster XL 105, now available as a perfecting model. The company also announced the Prinect Inspection Control / PDF solution for the Speedmaster XL 105, which extends the Prinect product portfolio to include inline inspection solutions developed specifically for printshops producing packaging and packaging inserts for the pharmaceutical industry.
But Heidelberg is out to demonstrate more than engineering prowess at drupa. In Heidelberg's book, end-to-end integration is no longer a theory. Instead, it is a demonstrable reality whose benefits can be quantified and proven beyond a reasonable doubt. Throughout Halls 1 and 2, therefore, from prepress to press to postpress, visitors may view the preparation and production of a diverse range of print jobs via integration with the various modules of Heidelberg's Prinect workflow software, which the company claims provides users with the integration, transparency and productivity they need to cope with escalating costs.
Heidelberg claims its Prinect workflow software provides users with the integration, transparency and productivity they need to cope with escalating costs."
Speaking of integration of a different sort, Heidelberg has woven environmental protection into the warp and woof of its drupa presence. Both halls have FSC certification, and statues of deer alert visitors to particular features of the equipment that underscore the company's commitment to the environment.
In a technology demonstration mounted in a separate area in Hall 2, Heidelberg is displaying a special unit of the Speedmaster XL 105 that can be used for coating or embossing and is aimed at folding carton and label printers producing premium packaging for cosmetics and cigarettes and high-quality labels. Because it is the last unit in the press before delivery, press operators can use a single pass for printing and embossing high-quality three-dimensional decorative elements and microstructures, or for applying an additional UV coating inline.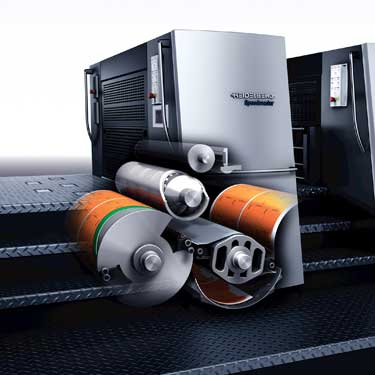 The unit of the Speedmaster XL 105 can be changed over to a coating unit or embossing unit in next to no time thanks to the innovative sleeve technology.
[We'll have much more to say about Heidelberg prepress and postpress innovations in subsequent articles.]
Newly rebranded MAN Roland, a member of the PrintCity Alliance, is also placing significant emphasis of networking and full automation at drupa 2008 with the aim of transcending the press-as-mere-machine and inspiring innovation. The company's exhibit is organized into five so-called "theme-parks" dedicated to its sheetfed and web offerings, in addition to its PRINTVALUE Park, Innovation Park and /Energy and Environmental Center. In addition, a "VAP (Value-Added Printing" Tunnel will highlight technical components for increasing efficiency and product value.
drupa 2008 also is the coming-out party for the new Roland 50 XXL press in 36/52 format, as well for the Roland 200, now with high-pile delivery, more efficient logistics and Inline Coater. On the Roland 500, the Inline Foiler Prindor cold foil transfer module creates more flexibility and additional value for the user and his customer. The Roland 700 HiPrint boasts the ROLAND In-lineInspector and the ROLAND In-lineSorter, together with new QuickChange features for reducing makeready time.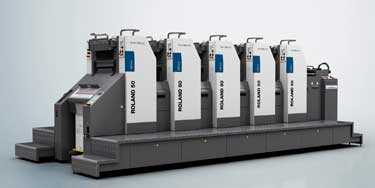 The Roland 50 XXL press in 36/52 format.
The company's new shop floor data collection solution for all MAN Roland web and sheetfed presses – DataCollect – updates the printnet Monitor and is designed to improve the quality of "cost-relevant and technical production data" like tasks performed, resources needed and press standstills. IntegrationPilot is a new scheduling tool that enables job sequencing to be automatically or manually changed so that makeready time is as short as possible. It also permits CIP3 data to be assigned to a job directly at the press. Precise, low-maintenance ColorPilot is the ideal tool for color control with sheetfed presses during production. Presetting takes place in the prepress operations, and the system reportedly needs only 14 seconds to measure a format 3B sheet. As part of the comprehensive MAN Roland quality management system, the device can also provide documentation and evaluation. okBalance supplements the solid ink density control of the ColorPilot system with gray balance control by calculating ink slide settings based on certain priorities, and even corrects process-inherent tone value changes caused by temperature variations.
MAN Roland is also using drupa to showcase an assortment of new products for its printservices portfolio, including LifeCycle Management, designed to reduce the operating costs of a press over its useful life; a practical Wireless Headset for use with the TelePresence service portal; and UpCode, a process that links printing and mobile phone technology to integrate spoken text, video, photos or music within printed products. The products can be combined with MAN Roland's ProServ service packages to provide sheetfed and web press customers with modular service levels.
Finally, MAN Roland is promoting "Economy through Ecology" by seeing to it that MAN Roland presses combine environmental protection with efficiency. Examples include the ink fountain system QuickChange Surface and SelectInkSupply, which facilitate quick ink changes and simplify the handling of ink residue on press.
At the outset of its international press conference on the second day of drupa, KBA president and CEO Albrecht Bolza-Schunemann made it plain that technological advances will ensure the survival of the print media industry. Citing the company's pioneering work with anilox inking, waterless printing, automation of newspaper processes and intelligent finishing capabilities based on hybrid processes, Bolza-Schunemann stressed the company's participation in mainstream markets, as well niche markets like security and UV printing.
Alongside its high-end medium- and large-format presses, KBA recently introduced a pair of highly automated presses suitable for price-sensitive printers. The 20x29" Rapida 75 will be available in up to 8 colors and with automatic 4/4 perfecting. At drupa, the company is showing a 23x29.5", 5-color version. The 28x41.5" 5-color Rapida 105 is available as a straight press with a maximum of 7 printing units plus a choice of coaters, and in a slightly larger (29x41.5") version. Features include a DriveTronic shaftless feeder, automatic or semi-automatic plate-changing and automatic washup. Options include ACR control, DensiTronic or DensiTronic Professional, and a DensiTronic PDF scanner.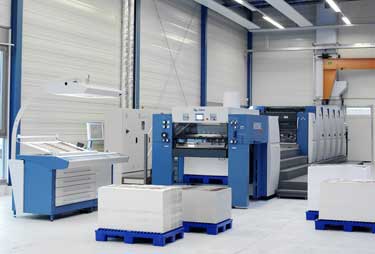 Best value in its class: the new Rapida 105, successor to the Rapida 105 universal.
On the large-format sheetfed side, KBA is also showing an 8-color Rapida 142 perfector, which it is targeting to high-volume sheetfed printers. According to the company, the new press boasts superior register accuracy and sheet travel, as well as a new commercial delivery and no more than five print-free corridors, modifications it claims deliver a huge boost in productivity. The maximum perfecting print length on the Rapida 162a has been increased to 1170mm, so it is now possible to use the full sheet size of 1200 x 1620mm when perfecting.
Alongside its high-end medium- and large-format presses, KBA recently introduced a pair of highly automated presses suitable for price-sensitive printers.
In its green printing center at drupa, the company exhibited three sheetfed presses and one newspaper web press with climate-friendly waterless, keyless inking capability: the Genius 52 UV, a UV version of the Rapida 74G, a 74 Karat, and a four-high tower of a 6/2 waterless Cortina.