When a printing company's telephone hold message boasts, as Colonial Press International's does, that all of our major equipment is less than two years old, it's reasonable to make a few assumptions about the business behind the recorded voice.
One hypothesisusually but not inevitably correctis that the company is doing well enough to support such an investment in added capacity. Another is that the principals see state-of-the-art-printing capability (as opposed, say, to solutions) as the core of their value proposition to customers.
A bit more of a stretch, but still arguable, is the surmise that major equipment means presses and that one vendor probably has been the beneficiary of most of the capital outlay.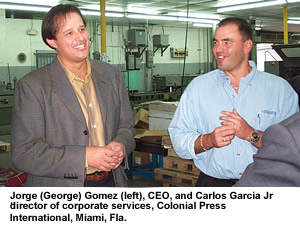 The answer is an unqualified yes to all of the above in the case of Colonial Press, a Miami, Fla., commercial printing firm with a rising job volume, a capability-focused sales pitch, and an apparently blissful partnership with MAN Roland, its press manufacturer of choice. Recently, the second-generation family business validated all of these assumptions in a MAN Roland-sponsored media tour of its 200,000-sq.-ft. plant on NW 50th Street near Miami International Airport. The focus of the tour, and clearly the apple of the owners' eyes, was a one-year-old MAN Roland Rotoman web press that is the centerpiece of the company's transition to computer-controlled manufacturing in an all-digital workflow.
Date with the Fourth Estate
About 30 journalists from the graphic arts trade media took part in the tour, an annual event that MAN Roland has staged in previous years at customer sites in New Jersey and Illinois. The reporters' hosts were Jorge (George) Gomez, Colonial's CEO, and Carlos Garcia Jr., director of corporate services. They are sons of the current owners, Jose Gomez and Carlos Garcia Sr., who acquired the business in 1988 and remain active in it as president and vice president respectively. The company was founded by its original owners in 1953.
Colonial Press employs 150 people and is, according to Yves Rogivue, CEO of MAN Roland North America, one of the largest private and minority-owned full service printing operation in the United States. Rogivue, also praised Colonial Press for being an early and successful adopter of MAN Roland technologies.
Making Colonial Press resemble a demo center for MAN Roland is its press department, which houses not only the Rotoman web but two MAN Roland 700 six-color, 40" sheetfed presses. All are highly automated and equipped with PECOM, MAN Roland's operating system for integrating print production equipment. The presses are the first in North America to use QuickStart II, a PECOM module for computer-controlled ink metering and ink-train cleanup between jobs. The 700s are further enhanced by PECOM's JobPilot feature, which stores and queues job data for off-line makereadies.
Installed at the end of 2002, Colonial Printing's six-color Rotoman is a 16-page web press in which the printing units are operated not by a common shaft but by synchronized direct-drive motors. According to MAN Roland, shaftless presses are not as prone to variations in web tension as shaft-driven presses and therefore deliver color printing faster and with less waste. Colonial's Rotoman also has an inline aqueous coating tower; a Megtec Dual-Dry III drying system with hot-air oven and chill rollers; automatic plate changers and blanket washers; closed-loop color control; and a combination sheeter/folder.
No Quality Calls To Make
During the tour, Rogivue said that Colonial Press regularly runs jobs with print quality as high as 175 lpi on the Rotoman and can print efficiently and profitably on it in the 10,000-impression range. George Gomez concurred, adding that because the Rotoman's print quality is so high, we never make a quality decision about running sheetfed vs. running web when weighing one option against the other. He also confirmed Rogivue's claim that the Rotoman enables Colonial to print its web jobs with dot gains very similar to what they get on sheetfed presses.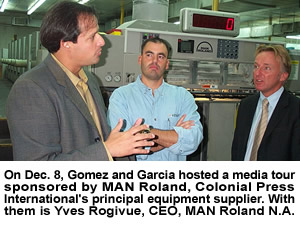 According to Gomez, many of the quality advantages of his MAN Roland equipment stem directly from PECOM, which the company began using in 1998 with the installation of its first 700 sheetfed. Broadly described, PECOM is MAN Roland's solution for connecting its presses to other production equipment in integrated networks. MAN Roland says that by digitally linking presses to prepress systems, finishing equipment, and printers' MIS (management information system) assets, PECOM can cut production time, increase accuracy, reduce costs, and boost productivity.
Gomez said that PECOM has been "working flawlessly" for Colonial Press ever since the company began working with it as "guinea pigs" more than five years ago. During the tour, a PECOM demonstration in the prep department showed the system's ability to turn digitally stored job parameters into instructions for fully automated press setup from a console outside the pressroom. After entry of job data including job number, color specs, sheet size, and paper type, the PECOM interface displayed diagrams of the printing units in each tower of the press, enabling the operator to adjust settings and functions remotely. PECOM also let the operator examine a color image of the form to be printed, complete with color bars.
MAN Roland says that with PECOM, users can perform automated or manual set-ups; select ink density for the type of paper being used; and preset ink keys from the PECOM console, eliminating the need for adjustments on press. Colonial Press gets the maximum benefit of PECOM automation on its 700 sheetfed machines, which can be made ready entirely off line from job data managed by the JobPilot module. According to Carlos Garcia Jr., all of Colonial's press operators and most of its prep department personnel have been trained to use JobPilot. Gomez said that overall, training production staff in PECOM and its modules was simple: Basically, it was just them learning how to use a mouse.
Good Thinking for Inking
At Colonial Press, a much-relied-on PECOM feature is QuickStart II, which the company was the first printer in North American to adopt. Operable on the 700 sheetfeds as well as on the Rotoman, QuickStart II is an ink-control system that cleans ductors after each job and digitally meters the precise amount of ink to each printing unit for the next job. Gomez explained that by starting a job without over- or under-inking from the ink profile of the previous job, the new job's come-up-to-color mark can be reached more quickly. Without QuickStart II, he said, printing a job with light coverage after one with heavy coverage would mean waiting for the ink in the ductors to run down sufficiently to match the new density. In such situations, Gomez said, QuickStart II's zero-based ink metering can save as many as 3,000 makeready sheets and the time it would take to run them.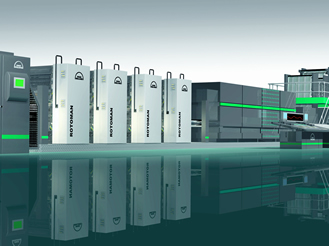 Above, a stylized image of the MAN Roland Rotoman web press; below, the Rotoman as installed at Colonial Press International. Colonial's Rotoman is a full-size (38" x 22.75"), six-color plus aqueous press said to be capable of printing 200-line screens at speeds up to 65,000 copies per hour (cph). Waste, according to Colonial, is minimal, and makereadies can be achieved in as little as 20 minutes. The numerical display (an optional accessory) indicates that the press was operating at a ramp-up speed of 19,800 cph when the photo was taken. MAN Roland says that the display can be an effective visual way to show clients and prospects the productivity of the system.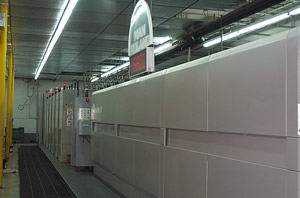 Gomez said that Colonial's success with its first 700 sheetfed press prompted the company to purchase a second one within two yearsa decision that not only improved printing quality but led higher productivity with fewer machines. He said that with four sheetfed presses, the company currently produces 20 percent more sheetfed volume than it did when it had six. Colonial's other two sheetfed machines also bear the MAN Roland logo: one is a two-color perfector, and the other is a four-color 600 used for two-, three-, and PMS-color work. Together the four presses produce from 300 to 350 jobs per month.
The better to feed its sophisticated pressroom, Colonial Press has made a corresponding investment in updating the prepress department for digital page assembly, digital proofing, and CTP. Garcia said that in its analog days, the company employed 18 strippers on the day shift, 10 at night, and another five part-time. Today, however, only one person is tasked with cutting what little film remains in the workflow; everyone else uses digital imposition software (Preps) to do what the old platoon of strippers used to do. Files are processed on 14 Macintosh G4 workstations and a smaller number of PC platforms. The prep department does its own digital imaging and is equipped for conventional as well as copydot scanning.
Registering Their Approval
Colonial's digital proofing capability includes Agfa Sherpa, HP DesignJet, Fuji PictroProof, Epson Stylus Pro, and Tekgraf Double Proof equipment, but the company's most-used proofing solution is its Kodak Approval XP-4 digital halftone proofer. The four-page contract proofer can represent process and spot colors on printing stocks and is, according to Gomez, the proofing method that most of Colonial's high-end customers specifically request. The GPO will accept nothing but digital Approval proofs, said Gomez, who added that we spend more on Approvals than we do on plates because of the great demand for them.
As practitioners of CTP, Colonial's managers warm quickly to the subject of thermal plate exposure. According to Garcia, Colonial regards thermal imaging as the high-end form of CTP, superior in quality to visible-light solutions and blessed with the added benefit of daylight-safe plate handling. Garcia said that the plate department can produce 20 plates per hour from its Screen PlateRite platesetter using Kodak Polychrome Graphics' Sword thermal plate material. Sword, said Garcia, is a long-haul plate that has yielded up to one million impressions in some jobs without needing preheating or post-baking.
Manufacturing efficiency after proofing and printing continues in the bindery, where Colonial's Muller-Martini Prima saddle stitchers finish booklets at speeds up to 15,000 pieces per hour with either traditional or loop stitching. An 18-pocket Muller-Martini perfect binder offers hot-glue binding for magazines of books; seven high-speed folders feature inline scoring and gluing and automatic packaging. Other in-line finishing capabilities include shrink-wrapping, hole punching, and plastic or wire spiraling.
The last bastion of traditionalism at Colonial Press is its scheduling department, where Gomez, Garcia, and their craftsmen still gather around a wall-mounted job board for a daily production meeting at 8:30 a.m. But this ritual will catch up to the rest of Colonial's digitally streamlined routines when the company finishes installing a computerized workflow control system that will incorporate scheduling, accounting, print production management, estimating, shipping, and Web-enabled job tracking. The system, developed by Pace Systems Group of Jacksonville, Fla., was on track to be in operation this month, Gomez said during the tour. He added that once the system was in place, work on integrating its MIS resources with PECOM would begin.
Tough Year? Not Here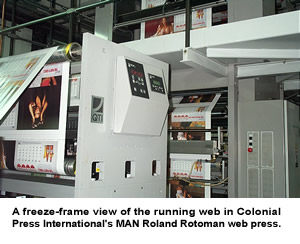 Colonial's capabilities are extensive, almost challengingly sobut to hear management tell it, there's little present danger of underutilization. Gomez, who put the company's annual sales in the $25-$30 million range, said that volume grew 35 percent in 2003 thanks to steady orders from a clientele that includes Fortune 500 companies, advertising agencies, the U.S. Government Printing Office (GPO), and Playbill Inc. (for editions of the theatre guide outside New York City and California). Colonial is particularly proud of being the 16th largest vendor of print services to the GPO, a spot to which it leaped from no. 50 last year, according to Gomez. He said that Colonial will aim to be among the top 10 print providers to the GPO, which accounts for about 15 percent of the company's total volume.
Happily in a position to equate capacity with growth, Colonial's management is pondering further options for expansion. Gomez said that one possibility was variable-data digital printing, perhaps within six months to a year. Another and probably stronger prospect is the acquisition of a second Rotoman, an opportunity that Gomez said is being discussed with MAN Roland. He noted that Colonial has run as many as 17 million impressions in a single month on the Rotoman it already has, and that 500,000 impressions in a 12-hour shift is not an unusual workload for the machine. Because the company owns additional plant and warehouse space on NW 50th Street and adjacent blocks, making room for a new web press would not be difficult.
The happy position that MAN Roland occupies consists of being able to flaunt Colonial Press as a customer that openly links its success to the reputation of the MAN Roland brand. Indeed, Gomez declared that Colonial's use of MAN Roland equipment was a selling point that carries weight with Colonial's customer base and stimulates sales growth.
MAN Roland is more expensive than its counterparts, Gomez said, but to us it's worth the extra cost. We're proud to tell our customers that we're running MAN Roland presses.