David Taylor (the smooth British accent on the other end of the phone line), president of Radius Solutions, was kind enough to take time out of his busy schedule to provide WTT with insight into his company. In a year when many printing companies AND software application providers are stretching to keep their heads above water, Radius has been successful.

At Graph Expo, their booth number is #4836.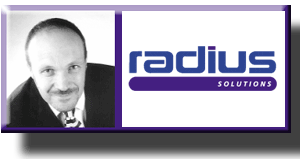 WTT: Since your company sells software, you won't have any "iron" on the floor to show booth visitors. How will you be demonstrating PECAS and what other products will highlight the Radius booth?

David Taylor: We will be demonstrating our core product, PECAS Vision II, the latest version of our fully integrated print management system. Attendees can walk up to the booth and receive a short demo. In addition to selling the entire PECAS system, we also sell stand-alone Estimating, Scheduling and Shop Floor Data Collection modules as well as an Internet enabled Supply Chain Management system called InterVision.

Since our product can be deployed on both Unix and NT platforms, we need nothing more than a powerful notebook to show-off our product features. Actually, for our shop floor system we are able to simulate running machines and provide a real-time view of the shop floor.


WTT: In late July, Radius announced it has moved to a modular format for PECAS. What are the benefits of using a modular format for a new customer and how does the move affect existing customers?

David Taylor: Although our system is fully integrated, new customers are not always ready or able to implement the entire system. Our modular approach allows customers to phase their projects by purchasing either our Estimating or Shop Floor system. Also, some customers don't need an entire system, but would like a more robust Estimating or Shop Floor System. Now, we're able to provide those customers with that option.

Another benefit of the modular format is that new customers can quite easily achieve a good ROI on these projects.

Existing customers are not affected by this approach.


WTT: Your company has always advocated using a customized approach to ERP. The move to modularity seems as though it might be a step away from that stance. How do you see the move?

David Taylor: Actually, we see the move to offering a modular format as another way to provide customized service to our clients, especially for those customers who cannot afford to purchase an entire system. It also helps our customers gain exposure to our products and industry expertise earlier on.

Quite simply, we have world-class solutions in these areas, which can be a stepping-stone to a fully integrated solution.


WTT: Recently your company announced a partnership with Mark Andy and Comco. Tell us about this partnership and how it will benefit your company.

David Taylor: The partnership began at the Mark Andy and Comco Flexo Open/Educator's Seminar in June of this year. We had heard about the show and wanted to be a part of it. So we offered to be one of the sponsor's of the Education Program. From that point on, we have been working with Mark Andy to leverage our relationship in the best way possible for our customers and theirs. We are now listed in the Mark Andy Source Book as the only supplier of Management Information Systems.


WTT: In this year of tough economic times, Radius has closed deals with several large companies. Tell us about those deals and how you got them to close!

David Taylor: The demand for our system is increasing and we expect to announce more new sales very shortly. We have had tremendous success at selling to the "educated" buyer; while the economy is slow, many companies are gathering information about MIS systems so that when they are ready/able to purchase they know which company they want to buy from.

Also, once a company has gone through a failed implementation they become highly aware of the potential issues surrounding the project. Having the right product is not enough; you need a good implementation methodology and an experienced implementation team. Fortunately, for Radius and our clients we have all three: Product, Plan and People!


WTT: In an interview with WhatTheyThink earlier this year, you said that you thought the United States economy was well poised for recovery and that 2002 would be one of Radius Solutions best years. Are you still on track for a good year and how does 2003 look?

David Taylor: Fortunately, for Radius I was right on one of two counts! This will be one of Radius Solutions best years' ever. Sadly, I'm still waiting for the economy to recover.

The outlook for Radius Solutions in 2003 is very positive. We have entered into a number of large corporate deals, which will secure our leading position in the marketplace and provide us with a secure financial future.


David, thanks for talking with us.