As a curtain-raiser to Komori America Corp.'s exhibit and presentations at Graph Expo, WhatTheyThink.com asked Stephan Carter, the company's president and chief operating officer, to comment on the state of Komori's business and on the outlook for the industry in general.

Mr. Carter, a graduate of Harvard University, held numerous senior management positions in sales and manufacturing with R.R. Donnelley before his appointment by Komori last January. He reports to Hirosuke Yanagida, chairman and chief executive officer of Komori America Corp.

Komori, which will occupy booth 1048 at McCormick Place, is scheduled to hold a preshow press conference in Chicago on Saturday, Oct. 5. Announcements from the briefing will be reported by WhatTheyThink.com.

Topics Include:
- Rising share of 40" market
- CIP3 and CIP4 trends
- Color Connection... included
- The only 40" DI press
- Web business & Toshiba Machine
- Opportunities in print-on-demand
- Excellent buying advice for printers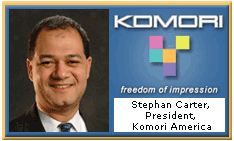 WTT: A Komori press release issued on April 30 of this year reported "26 Chicagoland press installations." Have there been any comparable success stories since then?

Stephan Carter: Press sales in 2002 have clearly been more difficult than the prior year due to the economic environment. However, Komori America has seen this time as an opportunity. We have actually increased our market share in the 40" market as the industry has come to realize the productivity and reliability of our equipment. This market share growth should accelerate with the introduction of our new LS 40, which will extend our technological lead on this platform in a market that some competitors say is dead. We have also sold over 100 used presses around the country since the beginning the year, which has helped printers with a low-cost way to upgrade their capabilities. . (Note: the LS 40 will make its North American debut at Graph Expo—ed.)


WTT: What is the most encouraging trend or development that you see in the industry right now?

Stephan Carter: One of the most important trends in printing today is the adoption of industry-wide standards for data interchange such as CIP3 and CIP4. These standards are giving printers the ability to adopt modern, integrated manufacturing techniques to improve productivity, reduce costs, and enhance customer satisfaction. As the advantages of this new connectivity combined with high-speed, quick make-ready presses are becoming apparent, some companies are starting to investigate total pressroom replacement programs to allow implementation of these new capabilities. The incremental upgrades of the past may not be enough for printers to succeed in the future.


WTT: Speaking of standardized data interchange, please talk about what has happened with Komori's Color Connection digital workflow since its announcement at Print 01.

Stephan Carter: Color Connection is our suite of digital software tools to streamline production from prepress to press. It includes, Bladesetter, our CIP4-compliant ink key presetting software; KHS, which uses the ink key data to pre-ink the press; and KcolorProfiler, Komori's tool for pressroom color management. This software suite combined with PDCS, our closed-loop scanning spectrophotodensitometer, significantly reduces makeready time and spoilage, ensuring color consistency throughout the run and from job to job.

While we have been selling parts of this suite since 1993, it was Print 01 where all of this came together as the industry's most advanced color management system. Customers who have adopted it attest to the way it has streamlined their production workflow and how it has significantly reduced their cost. The value of Color Connection is so clear that is now bundled as a standard part for all of our new LS 40 presses.


WTT: The flagship of the LS 40 series, the Lithrone 40 Super Perfector, also had its premiere at Print 01. Can you give an update on its installations to date?

Stephan Carter: The SuperPerfector is a unique press design ideally suited for high quality perfecting work without the hassles of operating a convertible perfector. We currently have four installations in the U.S. and over 150 worldwide.


WTT: At Graph Expo, there is certain to be curiosity about Komori's LS 40 with D option direct-imaging press. What kinds of graphics businesses are likely purchasers of a 40" DI press?

Stephan Carter: The LS 40 "D" option combines the quality and efficiency of offset printing with digital plate imaging on press. Komori offers the only 40" DI press in the marketplace. I believe that this press is best suited for printers with strong prepress and digital printing backgrounds, who have developed a market niche for on-demand printing. The LS 40 "D" represents the high end of what these printers typically offer.


WTT: Does Komori have any plans to develop a smaller-format DI press, or do you prefer to leave that market to Heidelberg, Ryobi, etc.?

Stephan Carter: Komori constantly looks for ways to expand its product lines in new and innovative ways. We are not interested in introducing "me too" products. That is why we introduced a full-size format DI press. When we are able to introduce something that significantly improves on what is available in the market today, we will do so.


WTT: Last year Komori acquired the web press business of Toshiba Machine and incorporated some of that technology into Komori's System series web presses. What else is there to report about the growth of Komori's web press business?

Stephan Carter: Obviously, Komori's acquisition of the Toshiba web business signals a desire to be a significant player in the commercial web business. Currently, the U.S. organization is primarily focused on our half-size web press, the System 20. I would not be surprised to see new products that are focused on the high-quality commercial printing market being developed over the next couple of years.


WTT: What is Komori doing to take advantage of the predicted boom in digital print-on-demand? To put it another way, will Komori have an "answer" to Heidelberg's NexPress and Xerox's DocuColor iGen3?

Stephan Carter: Komori currently does not have an offering for this marketplace, although we will continue to look very carefully at the opportunity as the technology matures. As is typical of Komori, we would come to market with a product that represents an improvement over what already has been introduced. We don't necessarily want to be first. Our interest in digital print-on-demand technology is considerable, but we have no plans to announce a product in the category at this time.


WTT: Speaking as former senior executive of R.R. Donnelley, what would you say is the best reason for a printer to invest in a new press? How can the printer know that the time is really right?

Stephan Carter: New press investment is the biggest decision any printer can face. What is becoming apparent is that only the most efficient printers, who are taking advantage of the newest technology to increase their productivity and customer satisfaction, will survive. The severe economic situation in our industry today will no longer allow printers to get by with old, tired, slow, and labor-intensive equipment.

Linking modern and productive presses to prepress workflows and job management systems to allow for seamless data interchange will be the key to future success. While reinvestment today seems risky, the pricing and financing rates available in the marketplace today will not likely be seen again.


WTT: What's the biggest mistake a printer can make in planning a capital-equipment investment?

Stephan Carter: There are three areas of caution that a printer should watch in making a major capital investment.

First, investment should be focused on where your business is going and not where it has been.

Second, which is a corollary to the first, work with equipment manufacturers that provide as much flexibility as possible in interconnecting the disparate processes and equipment that are usually found in a printing environment.

Third, focus on the full cost of ownership, not just the cost of the equipment.

Understand the impact of new productivity on your cost of production and understand the reliability and the cost of maintenance of the equipment down the road. These are three areas that Komori is and has been focused on for a long time.


WTT: What's the single biggest challenge currently faced by printers? Pressure on profit margins? Overcapacity? Competition from the Internet?

Stephan Carter: Now that their sales volumes seem to be coming back, the major issue confronting printers is their profit margins. Printers are managing to fill their capacities, but at prices much lower than historically for their businesses. Most of them have gone as far as they can go in terms of cost reduction. This is why they are beginning to realize that they must upgrade their platforms in order to reach a new level of productivity. The old adage, "I'll survive because I've got a press that's paid off," doesn't work anymore. Printers must be willing to look at the systematic replacement of their pressrooms if they are serious about expanding their capabilities and returning to profitability.


WTT: What is the most important message to communicate about Komori at Graph Expo?

Stephan Carter: Komori is wholly dedicated to the printing industry. We are building a brand- new manufacturing plant just outside Tokyo. This sort of investment in the business demonstrates our commitment to being a leader in the industry. This same level of energy and financial wherewithal will be focused on constantly upgrading and expanding our product line to allow printers to be successful.


Thank you Stephan for sharing your views with our members.