After one physical event (2019), one virtual event (2020), and several attempts at a second physical event, PRINTING United is finally going to happen on October 19 to 21 at the Las Vegas Convention Center. As you may recall from past events, the emphasis of PRINTING United is on the "united" part, as it has been designed to be the venue where all the disparate "silos" of the industry—commercial, wide format, packaging and labels, textiles, industrial—come together under one very large roof. The following round-up is a sampling of the kinds of things you'll find on the show floor.
Agfa (booth # C8130) will be showing some of the new features of its Jeti Tauro H3300 LED 3.3m heavy-duty hybrid inkjet printer: master roll-to-roll (MRTR) and backup cameras for completely unattended double-sided printing on single or dual rolls for 24/7 operation. Two easy-sliding cameras are attached to the left and right sides of the MRTR, for front and back printing of the same or different images. The software automatically adds unique QR codes read by the cameras and the print position is adjusted automatically at the start of each job. This approach identifies the exact location of the image on both sides of the media ensuring front-to-back accuracy of +/-3mm over 300 feet. The Jeti Tauro H3300 HS LED also offers producers of corrugated cardboard displays the option to add a layer of glossy or matte varnish—either across entire surface (flood varnish) or selected spots (spot varnish). Agfa is also showing its 3.2m Avinci CX3200 high-performance transfer paper-based or direct-to-fabric dye-sublimation printer, as well as its recently acquired Inca Onset X3 HS, now integrated with Agfa's Thin Ink technology and driven by Agfa's Asanti workflow.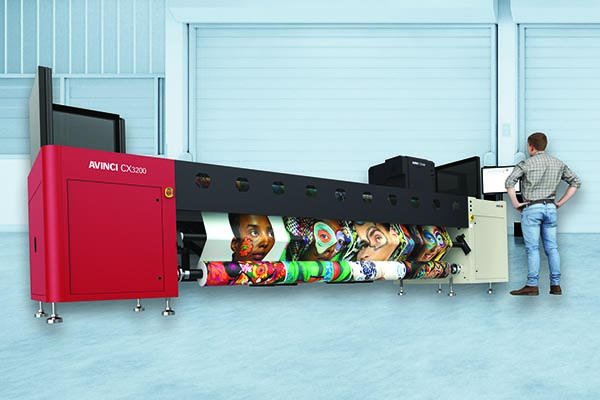 Agfa Avinci CX3200 dye-sublimation printer.
Durst (booth #N1043) will be showing, for the first time in North America, the Durst P5 Double 4 development and latest evolution for the successful P5 series of printers (the option is available on the P5 350/HS and P5 210/HS). The company will also be demonstrating the new Durst P5 500 superwide roll-to-roll printing system. Building on the success of the reliable and trusted Rho series, and with a printing width of 5.25m and 900 x 1200-dpi resolution, the P5 500 is designed for efficient and unattended production.
Vanguard Digital Printing Systems (owned by Durst)(booth #N843) will be showing—also for the first time—two new digital printing systems. The VR6D-HS Flatbed UV-LED printer combines the latest Ricoh Gen 6 printhead technology and high-speed magnetic drive offering improved speed, resolution, and quality. The VKH900-HS Hybrid UV-LED printing system combines Vanguard's award-winning VK300D-HS flatbed printer with the capabilities of its VKR3200-HS roll-to-roll printer, thus expanding the machine's application potential. The new hybrid model uses Kyocera's KJ4A printheads to print on either rigid or roll substrates.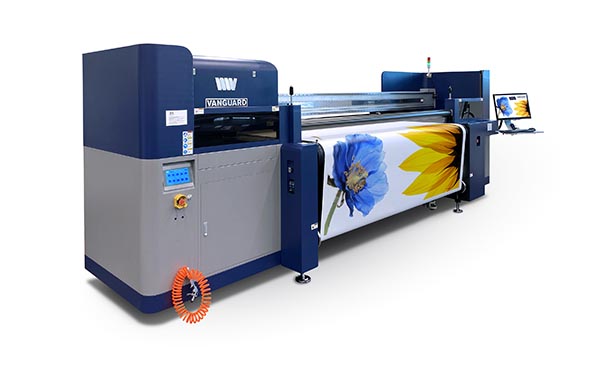 The latest wide-format unit from EFI (booths #C8107 and N2220) is the EFI Pro 30h, a 126-in. hybrid flatbed/roll-to-roll UV LED printer that prints up to 2,477 sq. ft./hr. and is targeted to businesses that see high-volume production of display graphics as a growth opportunity.
One perennial challenge for wide-format workflows has been color management, and to help assuage those problems, Epson (booth #C7730)recently announced—and will be showing for the first time at PRINTING United—its first spectrophotometer, the Epson SD-10, designed to give its SureColor printer owners a means of accurately measuring color. It's a compact, battery-powered device that can be used standalone via the built-in LCD display or wirelessly connected to a smartphone through the mobile app. Epson also has one of the most comprehensive printer portfolios going, and their eco-solvent, UV, dye-sub, and resin (latex-esque) units will be on display.
Epson SD-10 spectrophotometer.
Although Fujifilm's (booth #N825) first true hybrid made its worldwide debut at FESPA last spring, the Acuity Ultra Hybrid LED is making its North American debut in Vegas. It is a high-end 3.3m printer that prints on both rigid and flexible substrates at speeds of up to 218 sq. m/h (in RTR mode). Fujifilm has also developed a new ink range for this machine, the Uvijet UH, which offers six colors standard (CMYK, Lm, Lc) available with white ink available as an option. The new ink has both Greenguard Gold and AgBB certification.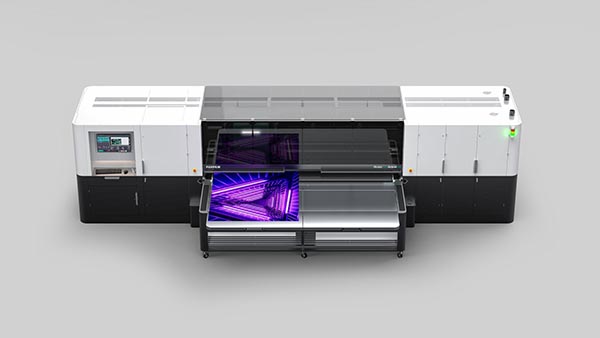 Fujifilm Acuity Ultra Hybrid LED.
On the software front, OneVision (booth #N2415) will be showing its modular solutions for end-to-end automation from file input to printing, embellishment, and finishing. Look for demonstration of its smart finishing process with partner Kongsberg Precision Cutting Systems.
Onyx Graphics (booth #N1235) recently announced ONYX 22, the newest version release of its wide-format RIP and print workflow software. ONYX 22 introduces a new drag-and-drop user experience for file management and Quick Set automation, smart job submission from design to print, artwork placement controls for flatbed and DTG printing, and easy-to-use tools for everyday automation. ONYX 22 also introduces color tools for increased color output accuracy and an all-new ONYX Color Reference Library to easily match color for any printer. This dynamic reference library highlights in-and-out of gamut colors and can be printed or used in ONYX software to know what colors are possible on each device and media combination.
Ricoh (booth #N1928) will be showing its RICOH Pro TF6251 wide-format UV LED flatbed printer, which was introduced in late 2021. There is also a rollfed option, allowing the TF6251 ti print on a wide range of flexible and rigid substrates up to 4.3 inches thick. Ricoh will also be talking about its Wide Format Elite Access vendor-agnostic workflow support team that connects wide-format print professionals with production workflow experts who can assist with things like optimizing workflows or design file setup for specialty print applications. Last August, Ricoh also announced its Ricoh Advanced Career Education (ACE), an industry training program that helps educators train students for careers in the commercial printing and sign and display graphics industries. Graduates of the program earn the Certified Sign and Graphic Production Specialist certification.
Roland (booth #C8930) has many new products it will be bringing to Vegas: the brand new third-generation TrueVIS VG3 and SG3 wide-format printer/cutters including the 64-in. VG3-640 and the 54-in. VG3-540. They offer six ink configurations, and an eight-color (CMYK+Lc+Lm+Or+Gr) option. The 54-in. SG3-540 and 30-in. SG3-300 are entry-level versions of these machines. The VersaUV LEC2 S-Series UV flatbed ups the thickness of materials/objects it can print on to 7.87 in. The version Roland will be showing is the new "belt-driven" hybrid model, the LEC2-330S B-200. Also on display at PRINTING United, but not new, will be the VersaUV LEF2-200 benchtop UV flatbed printer and IU-1000F high-volume UV flatbed printer.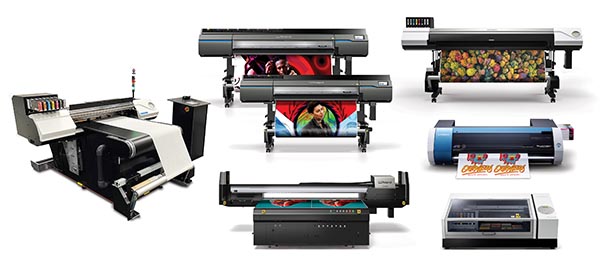 They're gonna need a bigger booth. Roland's vast line-up is coming to PRINTING United.
swissQprint (booth #C6415) will be showing its Kudu UV wide-format printer for the first time in North America. Kudu is the first swissQprint UV unit to feature 10 color channels, and can print up to 300 sq. m/h (3,229 sq. ft./h). The flatbed Kudu also features a roll-to-roll option. The company will also be showing its dedicated roll to roll printer, the Karibu. This model packs unique features aimed at efficient, top-quality roll to roll printing. swissQprint says it will be making further announcements at the show, so be sure to follow WhatTheyThink's PRINTING United coverage.
Kudos to Kudu: swissQprint's new UV flatbed is making its North American debut in Vegas.
This is just a handful of new and noteworthy wide-format products that will be shown at PRINTING United. We'll be covering the show in words, images, and videos at whattheythink.com and printingnews.com.