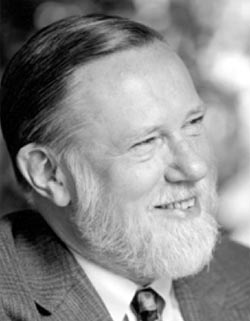 I am sad to report the passing of Adobe's co-founder, Dr. Charles "Chuck" Geschke who passed away on Friday, surrounded by his family.
Dr. Geschke co-founded Adobe in 1982 with Dr. John Warnock, a colleague from Xerox. Their first product was Adobe PostScript, a groundbreaking technology that sparked the desktop publishing revolution that changed the printing and communications industries forever.
Dr. Geschke was chief operating officer of Adobe from 1986 to 1994 and president from 1989 until his retirement in 2000. He served as chairman of the board with Dr. Warnock from 1997 to 2017 and a member of the board until April 2020, when he transitioned to become emeritus board member. In recognition of his technical achievements, Dr. Geschke was awarded the prestigious National Medal of Technology and Innovation, the Computer Entrepreneur Award from the IEEE Computer Society, and the American Electronics Association Medal of Honor.
Dr. Warnock, Adobe co-founder, former CEO and Chairman of the Board, shared the following: "I could never have imagined having a better, more likable, or more capable business partner. Not having Chuck in our lives will leave a huge hole and those who knew him will all agree."
Chuck and John Warnock developed software that revolutionized how people create and communicate. Their first product was Adobe PostScript, an innovative technology that provided a radical new way to print typographic text and images on paper and sparked the desktop publishing revolution. Chuck instilled a relentless drive for innovation in the company, resulting in some of the most transformative software inventions, including the ubiquitous PDF, Acrobat, Illustrator, Premiere Pro, InDesign, and Photoshop.
John Warnock had a five-decade partnership with Chuck: "In 1982, Chuck and I agreed that we should leave Xerox and start our own company. That was the beginning of Adobe. I could never have imagined having a better, more likable, or more capable business partner. Not having Chuck in our lives will leave a huge hole and those who knew him will all agree."
In 1996, RIT awarded Geschke and Warnock the Cary Award. It was physically a work of art, fabricated in copper and printed by screen printing. John accepted the award at a jam-packed ceremony in Chicago. Years later, Chuck called me and said he really should visit RIT because he missed that ceremony. He made the trek to Rochester and I was his host for a day. Along the way, he shared many stories about the company.
He recalled that I was one of the first visitors when they were starting in 1983. They were originally going to build a typesetting front end with PostScript as the output module. Steve Jobs would convince them to drop the front end and concentrate on PostScript.
I will never forget the speech he gave to the International Prepress Association at the Chicago Palmer House. He told the audience that his father, who was a printing plate engraver, brought him to a convention in that very hotel. There was not a dry eye in the room.
When I later visited Adobe in the first of their new towers in San Jose, he was wearing an apron and serving ice cream to employees.
Although John did most of the public speaking, they worked well together. John would tell me that Chuck was his boss at Xerox but was a great partner. He supported John's wandering among employees to see what they were working on. One trip led to the idea behind Acrobat. He and John supported me and the four students who wrote the first book on PDF for printing in 1997.
Although Illustrator and Photoshop were unique; PDF was revolutionary and I dare say that every reader uses it at least once a day. PDF was the essential element that fostered computer-to-plate and digital printing workflows.
It was my honor to know Chuck Geschke. He and his company truly made a difference. I will miss him.
He is survived by his wife Nancy ("Nan") Geschke and his three children.