By Randy Vandagriff, President, Digital Print, Kodak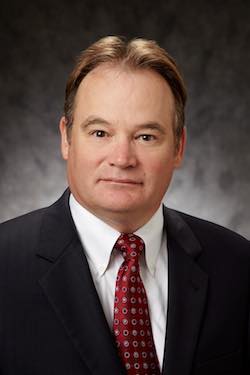 Printers know the benchmark for quality, paper choice, and operating cost has historically been the offset printing process. That's where Kodak's ULTRASTREAM Inkjet Technology comes in, which is redefining what's possible with inkjet in terms of productivity, output quality, flexibility, and customization.
Kodak invented a new inkjet technology and leveraged it to build a revolutionary inkjet web press—the PROSPER ULTRA 520—that closes the gap with offset. Now printers can achieve offset quality on glossy papers, with high ink coverage at a speed of 500 feet per minute—all with lower ink costs. The new press is perfect for any print service provider producing books and manuals, brochures and marketing collateral, catalogs, direct mail, or transactional and transpromo documents.
Kodak could have used drop on demand (DOD) like everyone else. But based on its more than 50 years expertise in inkjet technology, Kodak understood that closing the gap with offset required reimagining inkjet. The KODAK PROSPER ULTRA 520 Press—powered by Kodak's proprietary ULTRASTREAM Inkjet Technology—does just that, offering new levels of quality, speed, and reliability, as well as low running cost.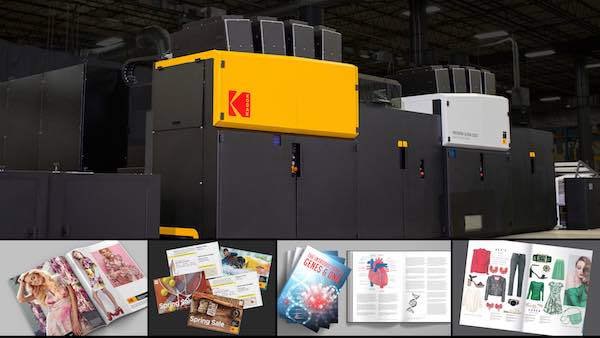 The new press can deliver 2,020 A4 pages per minute (2,148 letter size) printing 2-up. The press accepts paper web widths from 203 mm (8 inches) to 533 mm (21 inches). The maximum print width is 520 mm (20.5 inches), which allows for a wide variety of imposition formats consistent with traditional offset presses. PROSPER ULTRA 520prints at a resolution of 600 x 1800 dpi (200 lpi offset quality equivalent) on 42–270 gsm papers, including glossy and standard offset stock (with an optional precoating station).
KODAK ULTRASTREAM Inkjet Technology overcomes the limitations of DOD for maximum productivity and print consistency
Kodak ULTRASTREAM provides the ultimate in line straightness, highlights, detail, and color fidelity and consistency over long runs. It offers numerous advantages over other inkjet technologies. Ink drops are created faster than DOD and this allows just one array of printheads to print the full 520 mm width at 500 fpm, unlike DOD systems that must slow down and/or add extra printheads.
Drops travel to the paper faster than DOD and this targets them exactly for better quality. Moreover, drops are round and precise, unlike DOD that has misshapen drops and extra satellite drops, which lead to jagged edges on text and lines and less sharp images. And unlike some rival presses, PROSPER ULTRA 520 does not need to print spit bars and color lines between jobs. This means there is no ink and paper waste from printhead maintenance required by DOD presses to prevent nozzle clogging.
Inks That Make a Difference
PROSPER ULTRA 520 runs eco-friendly nanoparticulate aqueous KODAK pigment CMYK inks for the lowest cost and highest quality available today. One low-cost ink is used for all papers, even glossy—unlike some competing systems. Kodak's proprietary ink pigment milling process means the press delivers a 95% larger gamut than SWOP offset and can match 93% of Pantone colors (within 4 dE). This enables the PROSPER ULTRA 520 to print vivid images with vibrant colors, match brand colors, and exceed customer expectations.
For maintaining consistently high quality and highly efficient throughput, the press employs Kodak's patented Intelligent Print System which continuously monitors and optimizes stitching, color-to-color, and front-to-back registration. This automated feature also helps avoid costly waste.
Small Footprint, Huge Capabilities
The KODAK PROSPER ULTRA 520 Press has a compact and robustpress design. Thanks to its small footprint and range of specifications, it can be installed in most any production facility without extra expenses for establishing a special digital pressroom. PROSPER ULTRA 520's open architecture allows printers to work with a variety of vendors for unwinders, rewinders, precoat and postcoat units, and finishing equipment.
PROSPER ULTRA 520 is available in two versions: PROSPER ULTRA P520 is targeted at publishing applications and commercial print up to moderate ink coverage. The P520 model has two dryers per side of the web—four in the complete press. Then there's PROSPER ULTRA C520, the perfect choice for commercial printers producing direct mailers, inserts, catalogs, and books—even those with high ink coverage on coated papers. The C520 has four dryers per side, and eight in the complete press. PROSPER ULTRA 520 features a proprietary intelligent drying system using near infrared technology. The innovative drying solution combined with Kodak's low humectant pigment inks are the key to printing heavy ink coverage on glossy papers at the press's top speed.
Press controls and job management are handled by the new KODAK 900 Print Manager which is based on an extremely efficient hardware configuration. The compact digital front end employs the state-of-the-art ADOBE APPE 5 RIP and runs the press at peak performance with easy set-up, make-ready, and a sophisticated job queuing system. The system accepts all the leading file formats such as PDF, PDF/VT, and AFP and supports connectivity to JDF/JMF compatible prepress and finishing devices. These features ensure an optimum compatibility and integration of the PROSPER ULTRA 520 Press in today's connected production environments.
A Press in a Class of its Own
With offset-comparable output and exceptional productivity, the PROSPER ULTRA 520 Press represents a true revolution in inkjet production printing, closing the gap with offset. At 2x to 3x faster than competing systems in its highest quality mode, it delivers unrivalled productivity and efficiency. Thanks to these unique capabilities, printers can transition more work from higher cost offset or toner devices to grow their business. That's why the KODAK PROSPER ULTRA 520 Press is truly inkjet reimagined.
Let us prove it to you with print samples comparing the PROSPER ULTRA 520 to offset. Or we can even arrange a virtual demonstration for you, click here for more information: https://www.kodak.com/go/prosper520.