By Keren Yakolev, Head of Global Market Development, HP Indigo
Commercial printing has been in decline for the last decade,yet it is still a huge, multi-billion-dollar industry. While the total commercial print volume will continue to slide, digital printing's share of the pie will continue to grow both in terms of volume and value.
Savvy print business owners understand this—and are readying for the growing increase in share of digital print. For those print businesses with a mixed fleet of analog and digital equipment, transitioning some of their offset jobs to digital can be exactly the panacea they need to deliver shorter runs with fast turnaround times. By analyzing job baskets and calculating TCO, one can build an optimal coexistence between analog and digital technologies, maximizing end-to-end floor efficiencies and boosting the overall bottom line.
Even before the crisis, shorter run lengths with faster delivery times were becoming the norm, and print service providers have been increasingly asked to respond with speed and agility. This has made digital printing primed for the moment, and more printing companies are moving offset jobs to digital and embracing new digital printing and workflow technologies.
Ecommerce overall has accelerated to unprecedented levels. According to the US Department of Commerce, it took 10 years for e-commerce to grow 10% (2009–2019) and a mere eight weeks to grow another 10% during the Spring of 2020. The recent long stay-at-home days have bolstered consumer demand for products such as family photobooks and personalized greeting cards. Convenient web-to-print storefronts offer 24/7 availability, but the challenge these days is being able to deliver products within Amazon-like timeframes that consumers have learned to expect.
Bennett Graphics
Bennett Graphics, located near Atlanta, recently installed the new HP Indigo 100K Digital Press. The press is capable of continuous printing of tens of thousands of duplex B2 sheets every day, setting a new benchmark in digital sheetfed productivity. With increased digital power, Bennett has more flexibility to capture business opportunities for last-minute orders in high quantities, driving growth in their direct mail business.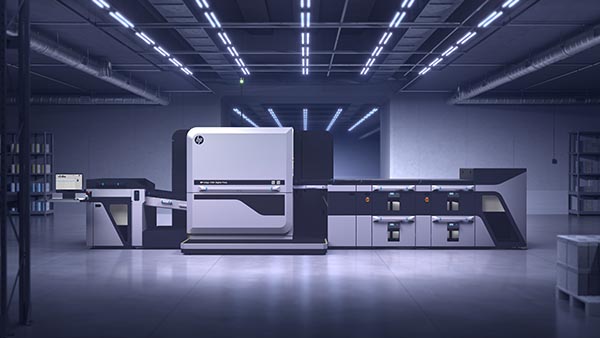 HP Indigo 100K
"The ability to run jobs digitally saves makeready time and reduces waste associated with offset printing, while the 30% increase in process speed impacts everything; so the more digital volume that we can push towards the Indigo 100K, the better we are as a plant, the more efficient we are, and the more money we save," said Adam Seiz, VP of Operations at Bennett Graphics."The press helps to free up our offset presses for the longer runs and does a really good job of delivering outstanding quality at amazing productivity levels."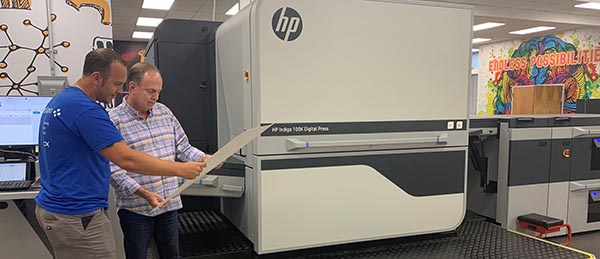 David Bennett (right), owner of Bennett Graphics, stands in front of the new HP Indigo 100K digital press with a Bennett Graphics press operator.
ONLINEPRINTERS Group
ONLINEPRINTERS Group, based in Germany, is one of the leading online printing companies in Europe and one of the largest offset houses in Germany, owning HP Indigo presses and extensively using PrintOSX—HP Indigo's cloud-based, production automation and management system that is helping to shape the smart print factory of the future.
With more than 1,600 employees, ONLINEPRINTERS sells approximately 5,000 printed products ranging from business cards, stationery and flyers to catalogs and brochures to more than 1,000,000 customers across 30 European countries. Many of their print products are sold and marketed through 22 online shops in 10 different languages.
Onlineprinters was the first beta site for the HP Indigo 100K and has expanded their digital printing footprint with HP Indigo presses over the years to adapt to the changing behavior of customers. The ability to print on a variety of different substrates without interrupting production was an essential requirement so they could efficiently process many different orders with maximum flexibility.
"Customers are changing their behaviors, ordering smaller runs for a few years now, but ordering them more frequently. Nobody wants to keep an annual supply of brochures in the warehouse anymore," said Roland Keppler, CEO, ONLINEPRINTERS. "We assume that by 2021, almost half of all print orders will be produced digitally."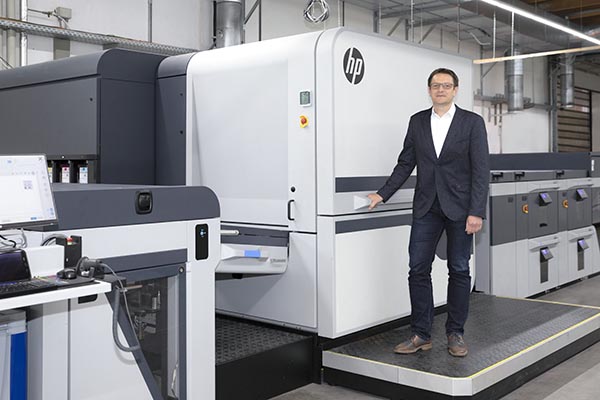 Wihabo
Wihabo, another long time HP Indigo customer based in The Netherlands, recently decided to add an HP Indigo 100K Digital Press to their current fleet. Wihabo, a family owned business founded in 1986, is known for printing unique and personalized high-volume prints for local and international customers, including Tony's Chocolonely.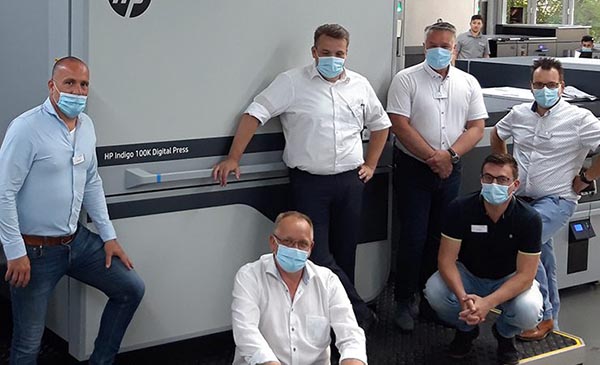 Dutch commercial printer Wihabo will use their HP Indigo 100K digital press to deliver mass production printing.
Their new HP Indigo 100K replaces the current HP Indigo 10000 to deliver mass production printing while their three other HP Indigo presses—one HP Indigo 12000 and two HP Indigo 7900s—that Wihabo also has in its printing fleet will focus primarily on specialty prints.
"We are very happy with the energy and resource savings we will achieve with the HP Indigo 100K. Due to the speed and quality of the EPM mode on the digital press, we can migrate an even larger part of our offset volume to digital. Together with HP PrintOSx, we can use real-time data to improve our workflow and efficiency so that we can adapt more quickly to the needs of our customers," said Joris Bosch, Technical Director at Wihabo.
Engineered with offset users in mind, the HP Indigo 100K offers striking print quality that matches an offset look-and-feel and prints at speeds that, until now, have been unheard of in the B2 digital print space.
Although it's not known how long the disruptions of the global pandemic will continue, the ability to be agile and efficient won't be going away any time soon—or ever. Automation will be paramount in keeping labor costs at bay and productivity up to snuff.
Growth in AI, Industry 4.0, and e-commerce along with the expanded bandwidth of 5G communications will continue to speed us towards a new age in digital printing. The crisis has magnified the far-reaching effects of these technologies, and not being adequately prepared might make it harder to pivot as the "new norm" continues to play out.
As with most disruptions, those with a vision and can-do attitude will see this difficult time as a window of opportunity for innovation and growth and will take steps to push their businesses forward, even as they are dealing with the effects of the pandemic. This may be the best time ever to take a step towards building that future. As author William Arthur Ward said, "Opportunities are like sunrises. If you wait too long, you miss them."