Even on the last day of the show, the crowds queuing up to await the opening of the expo floor reminded me of a rock concert or sporting event, eager fans keen to get inside. By all accounts, the Expo was a rousing success, with this year's Atlanta show boasting the largest attendance at an East Coast show, and even close to matching that of a Vegas show. If you have followed our coverage last week, you know about some of the educational sessions and keynote presentations, and Frank's roaming videos give you a sense of the show floor. Textiles and fabric printing had a much larger presence than at previous shows, while at the other end of the spectrum, printing on rigid and three-dimensional materials and objects also retained a very strong presence (yes, all substrates, even paper, are technically three-dimensional, but here I use the term to refer to things like golf balls, pens, awards, plaques, etc.). So, printing on very soft and very hard things are the two extremes well-represented at the show.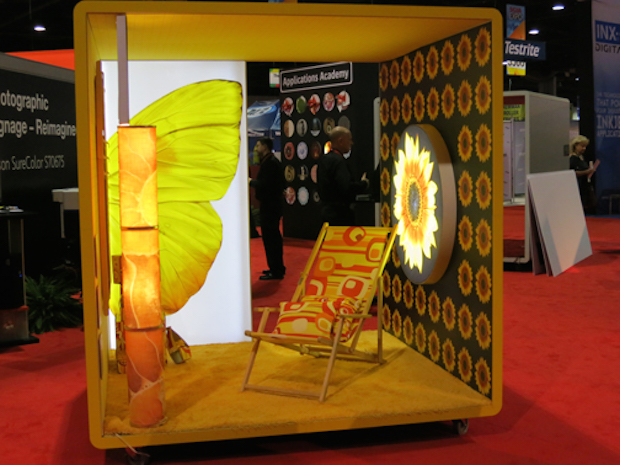 "Application Galleries"—such as Agfa's—show the bewildering number of different materials that can be printed using wide-format equipment.
There were also, near as I can recall, an unprecedented number of major new product introductions. To recap some of the major ones:
EFI unveiled the 3.2m, hybrid roll/flatbed VUTEk HS125 Pro, which the company says is the fastest VUTEk product ever developed (up to 125 boards per hour, although, as always, your mileage will vary); the 3.2m hybrid VUTEk GS3LX Pro LED high-end printer; the 1.65m hybrid EFI H1625-SD entry-level UV printer. The latter comes with EFI SuperDraw UV ink for near-photographic imaging on thermoformable substrates. EFI also launched EFI Armor, a new line of UV coatings that impart three- to five-year weather and chemical protection on inkjet output. EFI also showcased the first fruits of its acquisition of Reggiani Maschine, the 1.8m EFI Reggiani ONE 180 soft signage, designed for either direct-to-textile or transfer paper printing.
Fujifilm launched the brand-new 3.2m Uvistar Hybrid 320, said to be capable of producing high-quality output at speeds of up to 2,100 square feet per hour; the new Acuity LED 1600 II, said to print up to 355 square feet per hour; and a new model in the Acuity F series, a seven-color (including white) UV printer that can print at speeds up to 1,668 square feet per hour.
Fujifilm is also the distributor for Inca Digital's line of flatbed UV presses, and the new Inca Onset X Series made its worldwide debut in Atlanta. The series consists of three models—the X1, X2, and X3, each of which includes progressively more features, functionality, and productivity. The basic Onset X1 features eight ink channels, four using CMYK, and the rest configured as needed, with some combination of light magenta, light cyan, white, and orange. Users buying an X1 and later realizing they need the features of an X2 or X3 can easily upgrade. The Onset X Series also features a new 25-zone vacuum table that eliminates the need for bed masking for substrates of any size.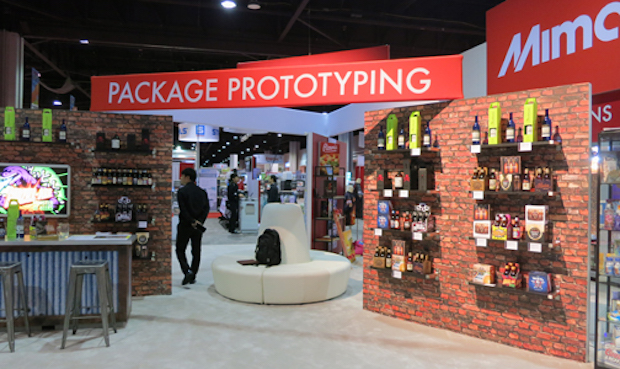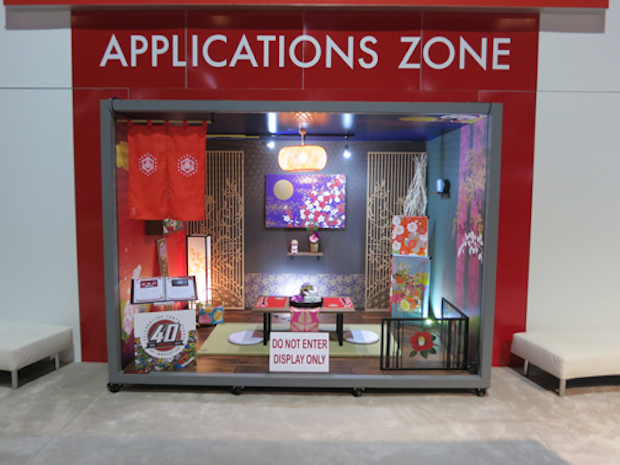 Whether it be labels, packaging, and package prototyping (above) or all the furniture and décor for, say, a tea service (below) Mimaki was demonstrating all the capabilities of its extensive portfolio.
Mimaki—celebrating its 40th anniversary this year—introduced the UJF-7151 flatbed printer, designed for sign, specialty graphics, awards, and personalization applications. The new model can print on media up to 28 x 20 inches and on materials up to six inches thick. Mimaki also offers a "Kebab" option, which allows for printing on cylindrical objects like bottles and cans. The new printer also is compatible with several inksets suitable for banners and vehicle graphics, thermoforming applications, and more. At the other end of the hardness spectrum, Mimaki was showing its latest dye-sublimation printer, the 1.8m roll-to-roll TS300P, a dedicated transfer paper printer designed for textile printing. The company was also previewing the TX300P, a direct-to-fabric printer.
OKI Data recently acquired Seiko's ColorPainter wide-format printer line, and also just introduced the C942, a five-color, toner-based, tabloid-size printer with single pass CMYK plus white printing, expansive media handling capabilities and impressive output speed. The killer app for the C942, says OKI, is white printing on a wide variety of substrates, especially non-white materials.
Roland launched its new SOLJET EJ-640, a 64-inch eco-solvent printer available in four- or seven-color ink cartridge configurations; and the 64-inch Texart XT-640, a high-volume dye-sublimation printer designed for textile printing. The XT-640 prints on transfer paper which then transfers the image to polyester textiles or polymer-coated rigid substrates; the XT-640 is said to be well-suited for creating fashion and sports apparel. Roland was also showing an add-on accessory for its VersaUV LEF benchtop UV printers, designed for printing specialty objects, that rotates an object so that users can print on cylindrical objects like cans, bottles, or even candles.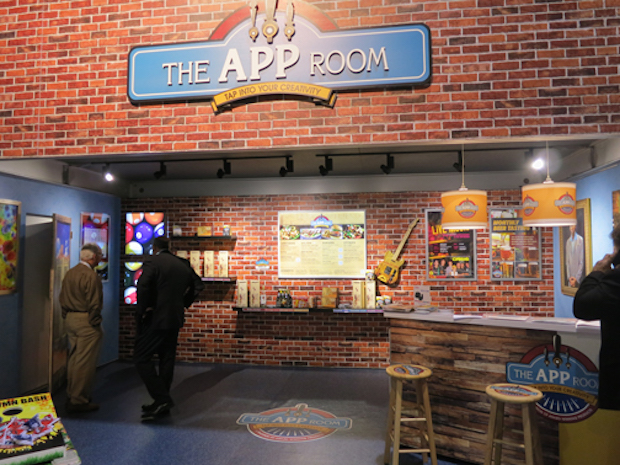 Canon Solutions America likewise offered an "App Room" in which virtually everything was printed on Canon equipment.
Although wide-format hardware gets the bulk of the attention, software is an increasingly important element in specialty graphics printing. To that end, Agfa was demonstrating the latest features of Asanti, its PDF-based workflow software designed for sign and display producers, and StoreFront, Agfa's web-to-print solution. Asanti 2.0 features automation via layout templates and hot tickets, and includes other new tools and enhancements. StoreFront v3.0.6 features new design options for increasing customer engagement, production enhancements for easier administration, and business logic updates for optimal cost coverage and profitability.
Enfocus was showcasing its complete line of quality control and automation solutions, highlighting automation for wide-format production workflow, especially in the context of the Caldera Nexio configurator, used to connect to Enfocus Switch automation, as well as the just-announced new Switch configurator for Tilia Labs' Phoenix imposition and job planning application.
Esko launched its newest version (14.1.1) of ArtiosCAD its structural design editor for packaging and displays. The notable new feature of the update is Canvas Design, which significantly improves the workflow for anyone designing and producing multi-component displays and packaging.
This is but the merest handful of new announcements.
One of the best parts of the SGIA Expo is seeing exhibitors' "application galleries," all the unique things they—and/or their customers—have created. An interesting consequence, a couple of exhibitors were telling me, is that as equipment portfolios get larger—and the machines themselves get bigger—there is less and less booth space for elaborate printed product showcases. (It would solve a number of space problems if someone could develop a flatbed printer that could be oriented vertically, but I expect that would be quite the engineering challenge, given the gravity of the situation…)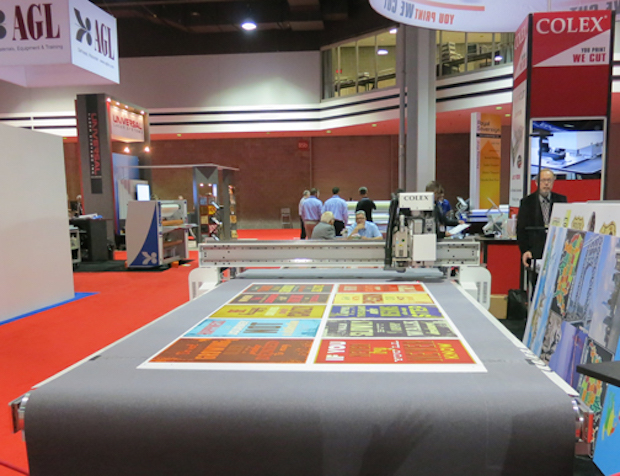 Finishing will be the next great adventure for wide format, whether it be large cutting tables and routers such as those from Colex (above) or sewing, seaming, and welding capabilities such as those from Miller Weldmaster (below).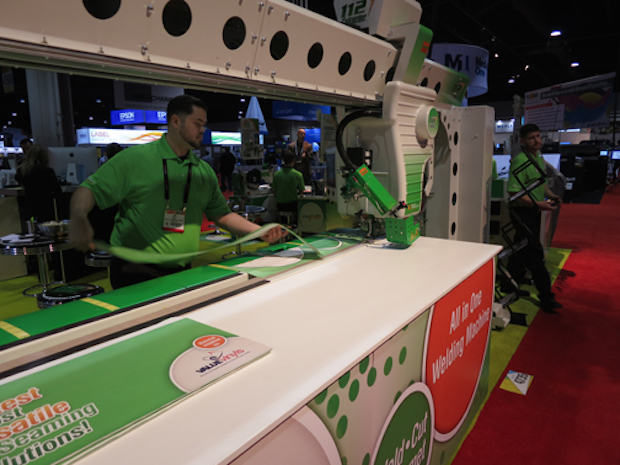 So there you have it. As the lights dim on another SGIA Expo, I offer this modest prediction for 2016: as printing equipment proliferates, two areas to keep a special eye on are software and finishing—prepress and postpress. Automation came to commercial printing and is poised to become an issue for wide-format. And as more printers get involved in specialty printing, they're going to need ways to finish the output, in a variety of ways. Stay tuned.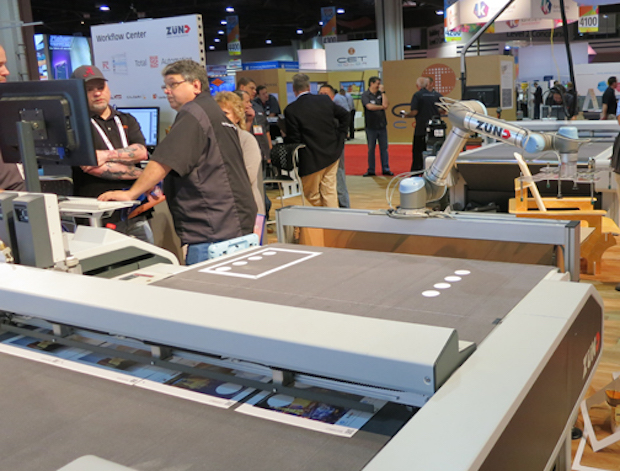 The next generation of automation: robotics? This Zünd cutting table features a robotic off-load arm