John Cassavetes (1929–1989) was one of the pioneers of American independent film, writing, directing, acting in, and at times even self-financing more than a dozen movies, including A Woman Under the Influence (1974), Opening Night (1977), and Gloria (1980), the latter starring Gena Rowlands in the Oscar-nominated title role. Cassavetes was also active in the theater, and in 1981, he staged simultaneous productions of three plays—called "Three Plays of Love and Hate"—at the Center Theater in L.A.
Present during rehearsals was an aspiring actor and photographer named Steve Reisch, who ended up not only co-starring in one of the plays, but also documenting the six-month run of the productions on his Canon AE-1 35mm camera. He took upwards of 3,000 candid and intimate photographs of Cassavetes and his stock company, which included Gena Rowlands, Jon Voight, Peter Falk, and Cassavetes' son Nick. (Also hanging out backstage was Jon Voight's daughter, a very young Angelina Jolie.)
Unseen for 34 years, these images are the focus of a new exhibition being staged at the Canon Hollywood Professional Technology & Support Center. The Cassavetes Project comprises 28 black-and-white photographs, enlarged to 24 x 34 inches, output on a Canon imagePROGRAF 6450 wide-format printer, and framed. The exhibition opened on September 20 and will run for eight weeks at Canon Hollywood.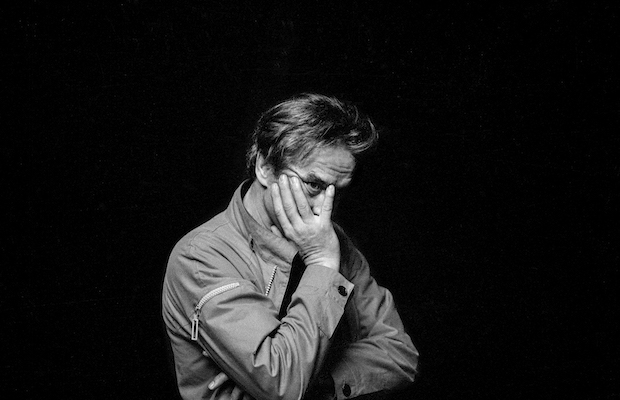 A Portrait of the Artist…John Cassavetes (Photo by Steve Reisch)
Although Reisch never quite became a household name as an actor—he was a regular on the late-70s TV series B.J. and the Bear and appeared in bit parts on TV throughout the 1980s—he found his true calling as a professional photographer. Reisch was a great admirer of Cassavetes when he was starting as an actor in New York, and had fallen in love with his movies.
"His films just ignited me," said Reisch. "When I came out here [to Hollywood], I really wanted to work with him."
Reisch had heard that Cassavetes was starting an experimental theater group, so he showed up at the theater, introduced himself to a remarkably accessible Cassavetes, and was told to report for work at 9:00 the next morning. "It was pretty incredible," reflected Reisch. "Without looking at a resumé or seeing any of my work, he just said 'come on aboard,' which was spectacular for me."
That period of working with Cassavetes remains a very emotional time for Reisch, and he still has fond memories of being invited over to Cassavetes' house to watch Opening Night and Woman Under the Influence sitting between the director and Gena Rowlands. "I couldn't believe it, ," he said. "It was just a phenomenal moment in time for me that I'll never forget." And he has nothing but praise for Cassavetes. "He was an open guy. He related to everybody."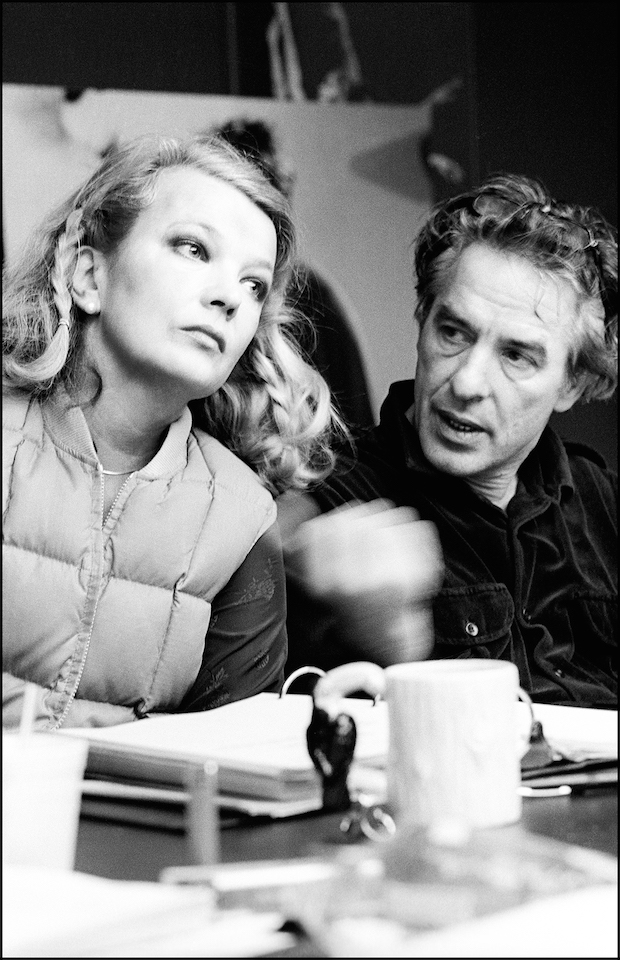 Gena Rowlands and John Cassavetes (Photo by Steve Reisch)
The myriad images languished in Reisch's archive for more than 30 years, until a friend urged him to make them public in some form. Reisch started making some inquiries—the Academy of Motion Pictures Arts and Sciences had expressed interest in the images and perhaps hosting an exhibition—but he eventually turned to a company with whom he had had a close working relationship as a photographer.
"I had known Amy [Kawadler, who runs Canon Hollywood] for years," said Reisch. "I was using a Canon [camera] in 1981 and was still using a Canon." He also liked the idea that Canon had a line of motion picture equipment that was affordable for independent filmmakers—like Cassavetes had been.
"Amy picked up on the connection," said Reisch, "and after two years, it came together."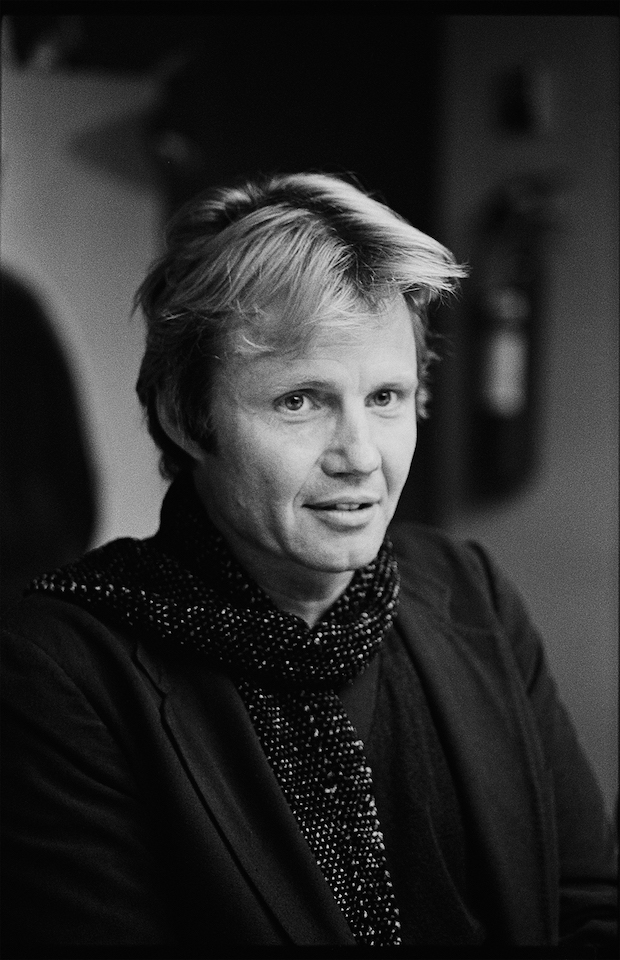 Jon Voight (Photo by Steve Reisch)
Reisch has also been working for a long time with Freestyle Photographic Supplies, an L.A.-based Canon reseller. "They have tremendous expertise when it comes to inkjet and media," said Rich Reamer, Director of Product Marketing for Canon USA. Through Freestyle, Reisch and Canon began collaborating on educational and other events, leading up to the present project. "Steve's been printing on the imagePROGRAF for some time, and what he captured of John Cassavetes is a great story," said Reamer. "It's a great combination."
The first step was winnowing the 3,000 images down to a manageable quantity. Given the nature of the shoot—a hand-held camera in low light, shot on-the-fly—a lot of the editing was fairly easy. "There were a thousand images that were not good at all," said Reisch, "and 2,000 images of which 35 or 40 might be exhibition-quality." The size of the exhibit space required further cutting, and the final exhibition includes 28 photos.
Reisch had long worked with Eric Joseph at Freestyle, and together they produced the output from scans of the original negatives using printing profiles created by Paul Greenfield. One key question: what substrate to use?
"We printed on a variety of different papers and the one that seemed to hold up the best was Canson Platine," said Reisch. "The images just jumped off the paper."
Reisch said that after that point, printing the final images was a smooth, trouble-free process, and he takes great pride in the final results.
"I think the shots of Jon and Gena working together are insightful," he said. "I think they'll inspire artists and filmmakers to see that kind of commitment and dedication to the work. I am really excited about people who aren't familiar with Cassavetes coming in and seeing what he was about, and the images inspiring them."
Looking beyond the current show, Reisch finds new printing technologies a boon to professional photographers.
"The imagePROGRAF is opening up a whole other world for photographers," he said. "Most photographers do not do their own printing. They send their work to a lab, and everything is very generic. Once I saw what the PROGRAF can do, and the quality of the work, I gave up using labs entirely. It was night and day."
Originally launched in the early 2000s to serve the AEC market, Canon's imagePROGRAF line of wide-format printers has evolved and grown to include the 12-color 8400 (44-inch) and 9400 (60-inch) families, as well as the older 24-inch 6400 series. The 12-color machines have been geared specifically for the photographic and fine arts community. "Those products with their 12 colors are really going to give you tremendous quality," said Reamer. "They offer wide gamut, and the pigment inks allow you to get prints that will last for more than 100 years. When you're looking for the highest-end quality print, something that's fine art, something to put in a gallery, something to sell, our 12-color devices are able to do that."
Black-and-white photography like The Cassavetes Project has long been a challenge for digital printing devices that are designed to print color, as they struggled to reproduce the needed number of gray levels, and often fine shadow details were lost. But that was then.
"We've come a long way," said Reamer. "The black-and-white quality now is tremendous. We're coming out with a much deeper black. From an industry standpoint, we have the deepest black that's out there, and we're able to pick out the detail that in the past you'd lose in those darkest areas."
Reisch believes that the new generation of photo-quality printers will bring print back to photography. "Most people are producing images for computer screens or the Internet and they couldn't care less about enlarging them into wall portraits," he said. "All of a sudden, that has been revived."
Reisch also hopes that more photographers will have a greater understanding what these printers can do especially, he said, "in combination with some of the wonderful paper that's out there.
"I think there's a change in the air and this show is part of it."
The Cassavetes Project opened September 20, and will run for eight weeks at Canon Hollywood (6060 Sunset Blvd., Los Angeles, 9 a.m.–5 p.m.). More information at http://cassavetesproject.splashthat.com.