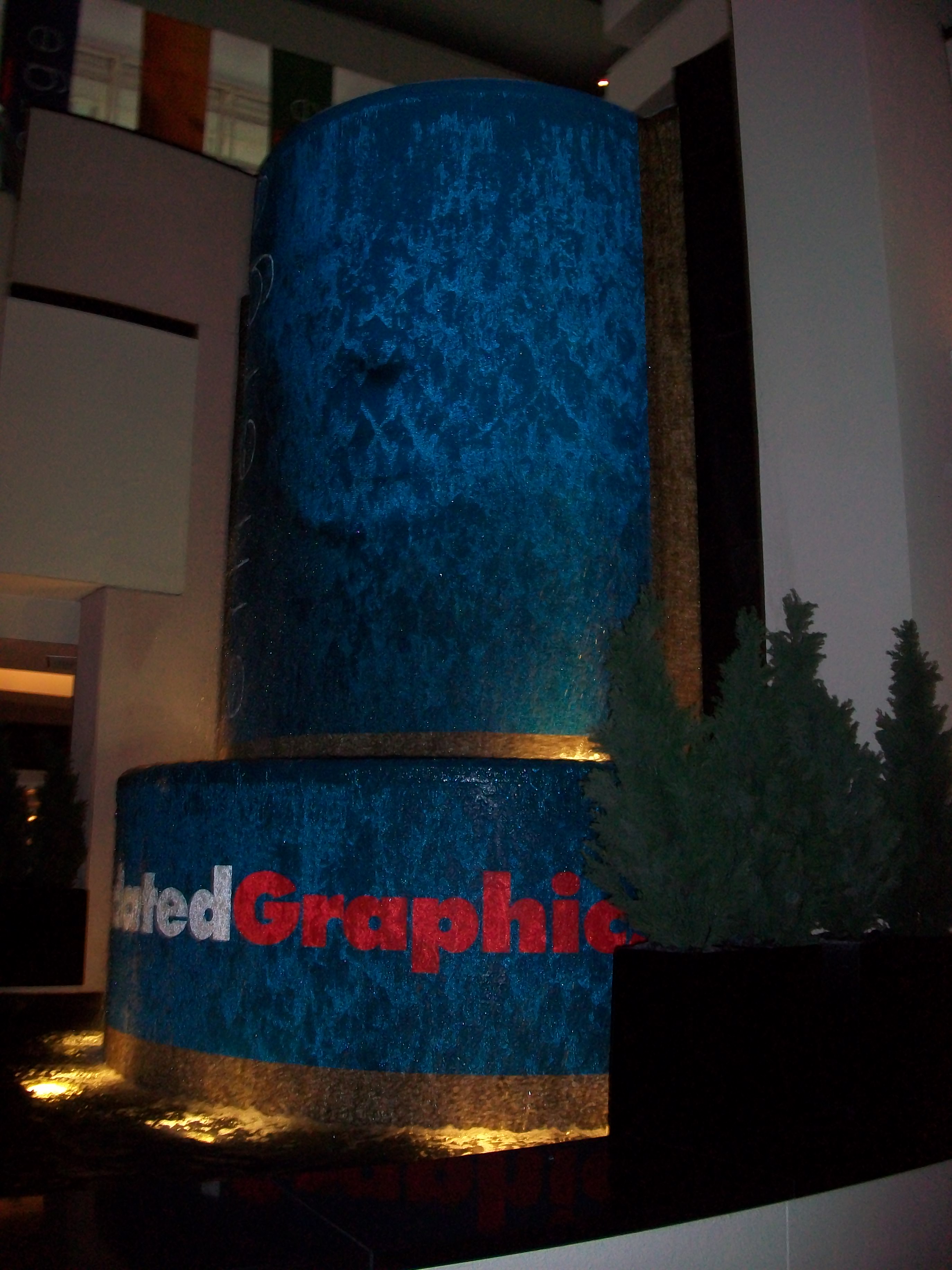 CGX emerge was held at the Downtown Dallas Hyatt Regency and was attended by 460 CGX customers, 245 sales reps hosting their customers, all 70 CGX Presidents, 75 suppliers and 75 CGX Associates, including Associates that are going through CGX's 3-year training program. The latter were easy to spot, especially the first day, when they were all attired in bright orange shirts.

Simply entering the hotel lobby was an experience in itself. CGX literally took over the entire hotel. Signage was everywhere, subtly (or perhaps not so subtly!) demonstrating CGX capabilities. This began with decorative window film on the sliding glass doors announcing CGX emerge, floor signage in front of registration, signage covering elevator doors and floors, including the glass elevators, decorated columns, and signage renaming the two major hotel ballrooms. But the most spectacular project was the wrapping of a huge waterfall in the lobby. According to Aaron Grohs, Executive Vice President of Sales & Marketing, the waterfall, which is constructed of cement, was turned off for two days to allow the surface to dry. Then the CGX team came in with a bucket lift and began their work, with hotel staff looking on nervously. It took 9 hours to wrap the waterfall, and the effect was stunning. Let's just hope the material was easier to remove once the event was concluded! Room key cards were customized as well. Each attendee was provided with a personalized meeting guide based on attendee selections when they registered for the event. The meeting guide included contact information for all 70 CGX presidents.

Grohs, who acted as emcee for the event, welcomed everyone by saying, "emerge is where change happens. Creatives, print buyers, print providers, and marketers have the opportunity to share ideas, learn from each other, challenge each other and collaborate."

And so they did over the next two days, with four keynotes, 49 educational breakout sessions and numerous networking opportunities with CGX folks, suppliers and each other. Of course, CEO Joe Davis also welcomed the crowd and was introduced as WhatTheyThink's first Print CEO of the Year.

At the event, CGX introduced its WorkSmart Suite (part of an end-to-end solution for creating, distributing and managing break-through marketing campaigns). and announced the opening on June 1 of a new top-tier data center in Houston. The WorkSmart Suite consists of three modules: Streamline (order entry), Organize (digital asset management), and Connect (cross media). Most of the solution was internally developed by the CGX IT staff (125 strong), although it does contain some supplier-created software elements.

The first keynote certainly did not disappoint. Eileen Gittens, Founder and CEO of Blurb, spoke about the growth of her business and her four-year partnership with CGX. Last year, Blurb fulfilled 500,000 orders, many of them photo books. She said, "Last year in our peak season, we produced more titles in two minutes than your average publisher would do in a year." Blurb is a change agent and its success is an indicator of the dramatic change the book publishing industry is undergoing as it struggles to change a business model that has been in place since the Great Depression. Gittens calls the current environment the New Entertainment Economy, where it is easier than ever before for content owners to create and share that content, and the creation is the entertainment. Blurb has shipped 1.4 million books to 74 countries via 6 print locations, and paid out $2 million in author profits to date.

Today, Blurb is asking itself what business it is really in. Gittens said, "Books are not just text, not just image; they are rich media with video, audio and more. Blurb is a media platform that enables people to creatively express themselves. This is a new day, about publishing yourself to the world, about living out loud."

Another outstanding keynote was delivered by John Sabel, an EVP at Disney who has responsibility for creating the print/in theater/outdoor promotions for a number of Disney films, including Cars2 and Pirates of the Caribbean 4. The graphics were terrific! He said, "If you are not right on the edge of being fired, you are not doing it right." And his stories of doing what he knew would make the promotions the best, in spite of resistance from corporate, demonstrated he loves living on the edge. And he is still employed. There is a message there!

The final two keynotes, from Don Pettit, CEO of Mally Beauty, a break-out company in the cosmetics industry trends; and Jamey Rootes, the President of the Houston Texans, were also exceptional. CGX chose keynote speakers wisely. They all bore messages to the audience about how to deal with the rapidly-changing, and often confusing, world that we live in. In addition to being entertaining, these fabulous speakers surely left everyone in the audience with multiple take-aways that have the potential to make their businesses better.

Based on feedback from last year, CGX established a hashtag for the event (#cgxemerge) and had live Twitter feeds running on several screens throughout the event.

Another highlight of the event were the Encore Awards, which featured some fantastic examples of printed products of all types. Entries in nine categories were judged, and winners received Crystal Awards. To engage attendees more, everyone had an opportunity to vote for their favorite overall piece, and that piece was awarded the People's Encore Award at the awards dinner held during the event.

Of course, CGX blended fun into the event. On the final night, CGX took over Cowboys Stadium, with party on the field that included some of the Cowboys' famed cheerleaders and their mascot. Food, fun and activities were the name of the game being played that evening.

CGX should be applauded for the investment the company is making in this unique customer event. Of course, not every printing company can afford to conduct an event on this scale, but it provides insight and ideas about what a smaller company could do to bring extreme value to its customers. Emerge is, in effect, CGX's user group. Significant benefits accrue to both the company and its customers. And the customers I spoke to especially appreciated the fact that this was an educational event well worth taking a few days away from the office, and not a CGX sales pitch. Everyone wins.

I look forward to attending the event next year, which will be held April 17-20 in New Orleans.