American Litho has come a long way since its inception in 1994 with one press in a small plant. Today, the company occupies more than 360,000 square feet of space and employs 350 people full-time. "In peak periods," explains CEO Mike Fontana, "we can add as many as 600 temporary workers to our 24/7 operation." American Litho generates in excess of $100 million in annual revenue and will produce more than a billion pieces of mail this year. The company produces direct marketing campaigns, including both printed and electronic components, for financial services, healthcare and retail, among others. Also important to the business model is Amerilytics, its proprietary data analytics suite that helps target and measure direct marketing campaigns.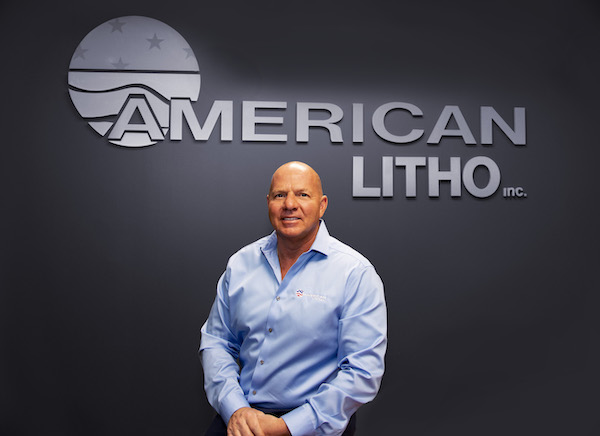 American Litho CEO Mike Fontana in the company's Boardroom.
American Litho has been a conventional offset printer for the majority of its history. The company has eight web offset presses, two sheetfed offset presses, and a full bindery that includes 30 inserters, 20 folders, 10 stitchers, and much more.
"Variable data is an important element of direct mail," Fontana says. "We added inkjet printheads to our web offset presses some time ago, and that is serving us well. However, the more inkjet heads used for a job, the higher the probability for problems and thus inefficiencies. That's one of the reasons we began investigating production inkjet." He points out that while the estimates on the conventional web press might look more efficient than running a job on a production inkjet press, in actuality it can be hard to meet those numbers on a consistent basis when utilizing many inkjet heads.
After watching the market for some time and digging into various possible solutions, including running test jobs on presses from a number of different manufacturers, American Litho chose to work with HP. Two years ago, the company installed its first HP PageWide production inkjet press, an HP PageWide Web Press T240 HD, adding a T250 with HP Brilliant Ink in 2020. They found that HP won in all of the areas that were important to them—quality, speed, and support.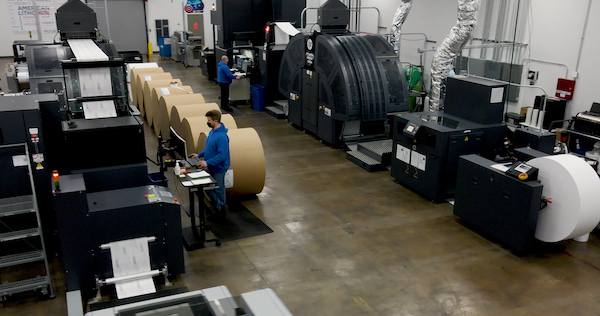 American Litho's Digital Pressroom.
"We run the PageWide presses 20 hours a day," Fontana explains. "They just run! Our print runs range from in the thousands to well into the millions. And our customers are thrilled with the quality and lead times we can deliver using inkjet, as well. We're already in the market for our third PageWide press, which will likely be a 40-inch. Obviously, with eight web offset presses, the majority of our production is still conventional. But our goal is to get to 50/50 offset/digital, and we are on our way to achieving that with our PageWide presses."
American Litho CEO Mike Fontana with digital press operator Sam Ferruzza. Getting up to speed on the HP PageWide web presses has been intuitive for the company's talented operations team.
American Litho is also able to print on just about any substrate with its HP PageWide Web Presses. "Not only can we print on high gloss, matte and silk stocks, but offset stocks as well," Fontana notes. "We installed the world's first Harris & Bruno coater that uses both aqueous and UV coatings, and now we can print UV gloss soft touch as well. So we can meet even the most unique requirements from our direct mail customers."
In addition to its HP PageWide production inkjet presses, American Litho also has an HP Indigo 12000 which was acquired to produce variable data and conventional short run work that it could not cost-effectively produce on its sheetfed offset presses.
"HP has been awesome to work with," Fontana concludes. "In addition to the quality and reliability of the presses and their responsiveness to any issues we might have, we have received excellent training from them as well, in both sales and operations. The quality these presses are delivering is much better than I thought it would be—exceeding customer expectations for brand image—and they are working out well for us. Adding PageWide presses and partnering with HP was a great decision for the future of our business!"