Commentary & Analysis
Product Spotlight: Konica Minolta's AccurioJet KM-1 LED-UV Inkjet Press Delivers 90% Uptime for Franklin Direct Marketing
Senior Editor Cary Sherburne interviewed Craig Chumney, Vice President of Baton Rouge-based Franklin Direct Marketing, to gain insight into how the acquisition of a Konica Minolta AccurioJet KM-1 UV inkjet press has enhanced his business.
By Cary Sherburne
Published: November 27, 2019
This article is sponsored by Konica Minolta as part of WhatTheyThink's Product Spotlight series. In preparing this article, WhatTheyThink conducted an interview with Franklin Direct Marketing about its experience with the Konica Minolta AccurioJet KM-1 digital press. This Product Spotlight highlights how this press has benefited the company. Konica Minolta reviewed the final article for accuracy but had no editorial control over the content.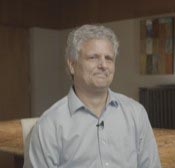 Craig Chumney, Vice President of Baton Rouge-based Franklin Direct Marketing, states that the company is a big fan of UV inks. "About 60% to 70% of our work is postcards or self-mailers," he says, "and UV inks stand up well in the mail without the need for coating. Since we acquired our Konica Minolta AccurioJet KM-1 digital press about year ago, we have moved more of that work from offset to digital."
The company also runs a Komori offset press with UV inks. "Customers can't tell if you have run a job on offset or on the KM-1," Chumney says. "Sometimes even we have trouble telling. The AccurioJet KM-1 is a dead-on match to our Komori offset press, both in color and ink density."
When Franklin determined it needed to add more digital capacity, the Konica Minolta AccurioJet KM-1 UV inkjet press made the most sense. "We also have a liquid toner digital press from another vendor," Chumney notes, "and the two work well together. We liked the expansive and strategically placed service footprint Konica Minolta offers, and its UV ink prices are more favorable than some of the other offerings on the market."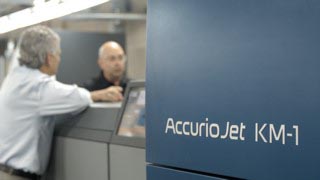 Chumney has also found the AccurioJet KM-1 to be very reliable. "While we appreciate the fact that Konica Minolta can have a technical representative on site quickly," he says, "the truth is, we haven't had to use them much with only five service calls in the first year. We also only replaced four or five printheads in the first year which is great for the volume and number of sheets we are running."
Franklin is a multi-shift operation. "Our expert operator, Chris Reine, who has extensive offset and digital experience, is our go-to person on the KM-1 Press," Chumney explains. "He has trained the operators for our second and third shifts. Because the KM-1 is so reliable, we have second and third shift operators running more than one press. Plus, we just installed a digital high-speed laser die-cutter and the KM-1 operators will run that as well."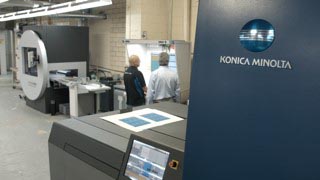 Franklin benefits from all the traditional advantages of digital printing with its AccurioJet KM-1, including virtually no makeready waste, product off the press that is ready to immediately go to finishing and into the mail stream, and the ability to easily version or personalize printed materials. "In addition," Chumney comments, "we have had great success with higher-margin synthetics, and that has opened up new opportunities outside of traditional mail. We've used styrene, repositionable vinyl, and adhesive-based materials for point-of-purchase products and signage. For a small sign, this press competes well with wide format."
Franklin still has plenty of capacity and room for growth on its Konica Minolta AccurioJet KM-1. It is at about 60% capacity, according to Chumney. "We are working toward doing more of what we are currently doing with the press," he says. "We know what our niche is, and we are focused on that. We love the press. It's great for color and color matching, and very reliable with 90% uptime. It was absolutely a good investment!"