Virtual Tour of the HP PageWide Web Press T250 HD & HP Brilliant Ink
Filmed on location at HP Inc., San Diego, Solutions Architect Max Raver and PageWide Product Manager Heath Ponstein will take you on a virtual tour of the HP PageWide Web Press T250 HD and HP Brilliant Ink, showing you what's new in the latest edition of the T2XX series.
HP PageWide Web Press T250 HD & HP Brilliant Ink Overview
HP PageWide Web Press T250 HD with HP Brilliant Ink, the new standard for high-volume production inkjet web presses. It's here to power your aspirations with uncompromising offset-class quality and impressive ROI. The new HP Brilliant Ink delivers a more vivid color gamut and gloss with outstanding results across a broad range of substrates, including offset coated and uncoated media. Enjoy the benefit of one press that enables all applications--commercial, direct mail, publishing, and transactional. This versatility allows you to meet your customers' demands. And it's upgradable to keep you on track to deliver every new trend for many years to come.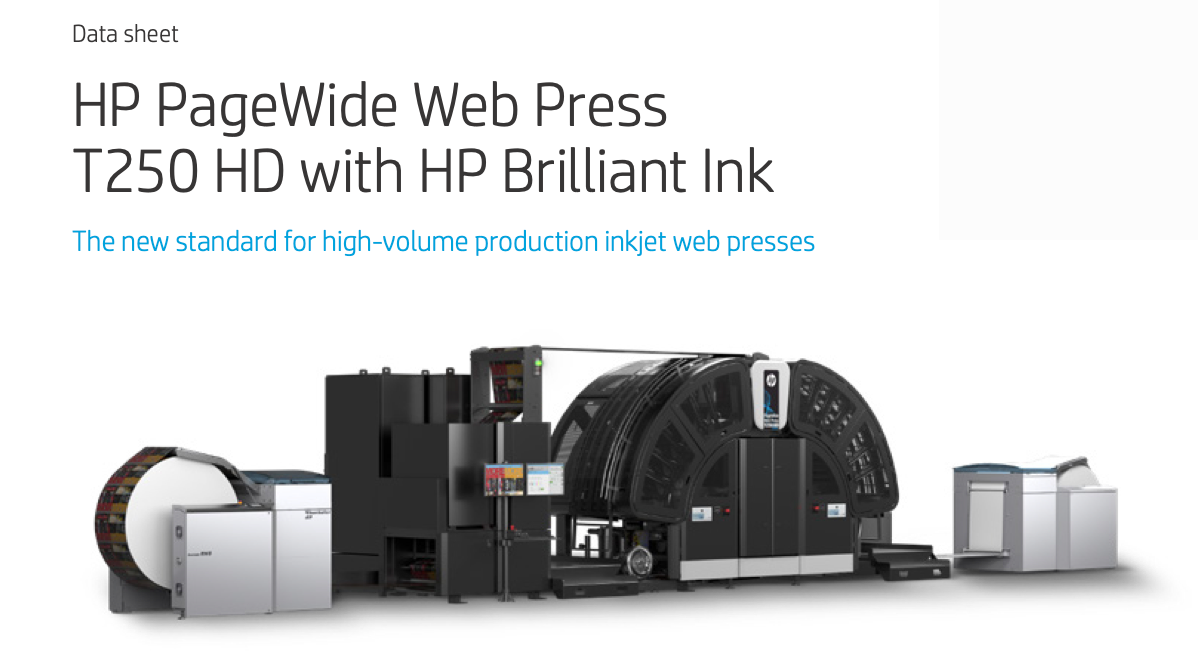 The strength of our leadership is demonstrated in the HP PageWide Industrial Web Press portfolio as a proven press platform with over 10 years in production environments worldwide and over $2 billion inkjet technology R&D. HP's unique vertical integration gives you one source for accountability, harmonious components, faster development of innovative features, and confidence in future roadmaps.
- Up to 500 ft (152 m) per minute
- High-quality, full-color printing
- Up to 22-in (55.8 cm) web width
HP Pagewide Web Press Portfolio
Only HP PageWide Web Presses can boast "vertical integration" with HP as the sole source supplier of components, technologies, ink, services, and future enhancements. Only PageWide is engineered with a "true Industrial design" from 6 tons – up to 30 tons and duty cycles from 62M up to 210M for US letter size image/month. And only PageWide has an "upgrade pathway" to keep your press current to support your customers' demands and technology enhancements; no forklift upgrades here!
Request More Info
Request more information about these products and technology solutions.
By clicking above, I acknowledge and agree to WhatTheyThink's Terms of Service and to WhatTheyThink's use of my contact information to communicate with me about offerings by WhatTheyThink, its brands, affiliates and/or third-party partners. In addition, I understand that my personal information will be shared with any sponsor(s) of the resource, so they can contact me directly about their products or services. Please refer to the privacy policies of such sponsor(s) for more details on how your information will be used by them.