Together with technology partner Canon Production Printing (booth 7-A60) and on its own booth 7-A61, printing workflow specialist OneVision Software presents an automated end-to-end workflow from data input to finishing. Thanks to the perfect interplay of press, finishing equipment and automation software, numerous wide format, signage and screen printers benefit from shorter throughput times, reduced waste and higher profitability.

Regensburg / Madrid – It takes fast lap times to be the first to head towards the finishing flag at the end of the race. Above all, the right equipment is decisive. Consistently fast printing speeds are guaranteed with high-speed inkjet printers such as the Canon Colorado or the Canon Arizona for example. Now, the challenge is to get maximum use of the machinery. With increasing numbers of jobs the prepress department can't keep up with the speeds of the printing machines. In order to reduce the preparation times per print job and to synchronize prepress with production, a high degree of automation is required in prepress.

Prepress must be able to keep up with the high printing speeds of machines
With its comprehensive functionalities, the Wide Format Automation Suite helps print service providers to achieve minimal production times: time-consuming preflighting, nesting, creation of cut lines or tiling is done automatically by the Wide Format Automation Suite.
The software solution is based on a flexible, easy-to-use workflow management system that can be seamlessly integrated into the existing system landscape (e.g. MIS, web shop, RIP, cutter). The workflow management system downloads print data from FTP, web or e-mail servers and processes the files through defined workflows for automated print data preparation. The integrated prepress package (preflight, color management, transparency flattening, file normalization etc.) creates error-free, print-ready files, normalized to the specific machine profile. A nesting function specially developed for wide format printers automatically places print subjects that require the same substrate in a space-saving manner. The result: fewer print runs, lower material consumption and significant time savings.
Further finishing and embellishment is also part of the automation process. An integrated Cut Line Manager – taking into account functions such as cut line merging and optimized cutting paths – generates a separate cutting file and sends it to the further finishing process. This allows jobs that have been printed across customers to be cut and assigned to specific jobs.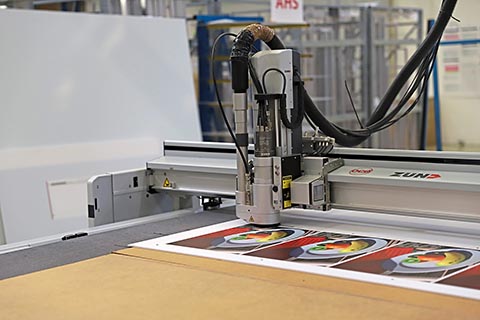 The Wide Format Automation Suite also prepares jobs for the finishing process by automatically generating separate cut line PDFs.

Synchronization of production for print products with different production times
Large format printers such as posterXXL benefit from an end-to-end workflow from order entry and print data creation to finishing preparation. The Wide Format Automation Suite also proves to be very valuable when it comes to synchronizing an on-time production of products with different long production times: "Different products have all different production times – managing everything that way that it gets out the door at the same time is the crux. And that's exactly what we're doing much better now with OneVision." That is the conclusion of Susanne Feller, Head of Production at posterXXL, one of Germany's leading providers of photo services in digital printing. To keep the pole position with growing incoming orders of individual products and fluctuating order rhythms, posterXXL relies on automated production processes with the Wide Format Automation Suite.

More efficient production processes increase throughput and profitability
How software, printing machines and finishing systems work together to achieve the highest level of automation is demonstrated live at OneVision's booth at the FESPA Global Print Expo in Madrid, Spain, March 24-27. Printed products from a wide variety of materials prepared and nested with the Wide Format Automation Suite and printed with Canon's Arizona flatbed printer are cut on site with the Zünd S3 L-1200 cutter.

Meet the OneVision Software team at booth 7-A61 and at the booth of cooperation partner Canon Europe 7-A60.