Printer of 160 million books a year, Suffolk-based Clays has seen Fujifilm's Jet Press 750S take on a hugely significant role for its short-run book cover production since installation in mid-2019 Established over 200 years ago, Clays is recognised as a market leading book production specialist. Its 14 acre Bungay site employs 700 staff and processes an extraordinary 50,000 orders a year for 160 million books from some of the best known publishers in the UK. In July 2019, the company became the second in the UK to invest in Fujifilm's Jet Press 750S to further enhance its digital printing operations.
"Working with such high-profile authors and publishers means we must have equipment that satisfies their requirements," says Paul Hulley, Managing Director at Clays. "The book industry has seen a marked changed from where it was 10-15 years ago; rather than being printed in bulk, books can be printed on demand and in response to retail sale requests. It is vital therefore, that we have technology to produce outstanding quality quickly and efficiently. Uptime is constant at our facilities, so we must also ensure that we have products that allow for seamless job changeovers and generate as little a waste as possible."
"We use a wide range of litho and digital presses, and each offer significant advantages in their own way," adds Ian Smith, Clays' Operations Director. "We are always looking for ways in which we can streamline our processes and also improve the quality of our work. Fujifilm's Jet Press 750S has certainly offered that and more.
"It can print on a wide range of substrates without us needing to use any particular coating, and from a business point of view, it brings short-run, self-colours and a wide range of pantone colours. In fact, the machine stores any colour we create for one job, so we can use it again and again and be in no doubt it will produce the same quality every time."
Hulley is clear on the gaps the Jet Press has filled within the business: "There were times in the past when we had to use litho presses for more complex work that our existing digital presses struggled to complete to the necessary quality. That gap in our capabilities has now been filled with the Jet Press – it's extremely capable – not only in doing some things that we were unable to do digitally until now, but it's also fulfilling other roles as well. As a solution, it adds to an already impressive arsenal of equipment and the abilities we have as a business."
As the company continues to evolve to meet the needs of an ever-changing market, Smith explains how Fujifilm's Jet Press is helping them on that journey: "The Jet Press gives us the ability to produce a wider range of short run work, more cost effectively than before. We understand our customers' desire to have varied, colourful and impactful covers – so being able to produce such a wide variety of products with no make-ready, and at ever-lower run lengths, provides us with a platform to greater satisfy the needs of our customers now and in the future."
The Jet Press is also helping Clays to meet the high environmental standards it sets itself. Smith explains: "Sustainability is something people are becoming more and more aware of across the printing industry, so the fact we now have a zero make ready press, using far less paper and reducing our overall wastage, helps us meet those obligations.
"Ultimately, we see the Jet Press as having simplified our workplace – there is little wastage and the transition of work off our other presses and onto the Jet Press has been completely seamless. We expect the highest quality from our equipment, as do our customers, and we've had nothing but positive feedback on the work we've done on the Jet Press."
Smith also has high praise for Fujifilm's support team: "Relationships are incredibly important – you must get along with whoever you are working with and the team at Fujifilm have been great since day one. For the machine to hit the floor here and achieve what it has in such a short space of time has truly demonstrated how well we were able to work with them, and gives us a great platform to work from in the future."
Andy Kent, Divisional Manager at Fujifilm Graphic Systems UK says: "Clays has responded to changes in the book printing market and acted to make sure it can now deliver on short run requests more efficiently than ever. As one of the biggest and historically significant book printers in the UK, producing millions of books every year, we're delighted that they've been able to enhance their offering still further with the Jet Press 750S."
To learn more about the Jet Press 750S, visit: www.fujifilmjetpress.com.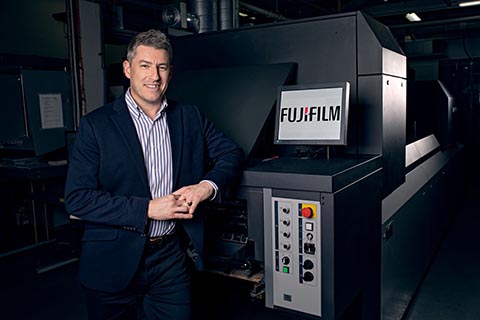 Ian Smith, Operations Director, Clays.