A skilled craftswoman has made history by becoming the first female die-maker at a Stockport manufacturing firm.

Georgina Daniel, aged 20, is helping to shift the gender balance in the male-dominated manufacturing sector after becoming the first ever female die-maker at Arden Dies.

Arden Dies, which was established in 1964, manufactures dies and tooling for the packaging sector from its purpose-built factory site in Marple, but Georgina admits she knew little about the industry before she joined the company in 2017.

She said: "When I first joined Arden, I hadn't even heard of die-making. At the time I'd been working as a customer service apprentice in a warehouse, but I wasn't enjoying it and needed a change.

"I always knew that I wanted to do a physical job and work with my hands. Growing up, I actually wanted to be in the military, but I had asthma, so it didn't work out. Manufacturing and engineering really appealed to me and I wanted to learn a skilled trade. I just knew I didn't want to be stuck behind a desk all day."

Georgina, from Marple in Stockport, joined Arden in the Rubbering Department, but eager to advance her career has recently begun her training as a die-maker on the shop floor.

Die-making is a highly-skilled craft, and involves the construction of precision tools, or dies, which at Arden will be used to cut out boxes and cartons for packaging.

Georgina added: "To be a die-maker, you need to be technically minded, physically fit as it involves swinging a hammer all day, and have good hand eye co-ordination, but women can have these skills too.

"I'm really proud to be Arden's first female die-maker. It's a great title to have and I'm really enjoying the role. The best bit about it is the feeling of satisfaction you get when you finish a job."

Currently, women make up just 8% of the workforce of people working in skilled trades roles and less than 15% of people working in the STEM industries, (science, technology, engineering and maths) but Georgina says she'd encourage more women to consider a career in these male-dominated sectors.

She added: "It'd be great to see more women in these sorts of roles and it's not as daunting as they may perhaps think. I don't feel like the odd one out, I just feel like one of the lads – we have a good laugh.

"As a woman, I had struggled to get a job learning a skilled trade, but times are changing and employers are recognising that women have got the right sorts of skills too, so I'd urge anyone who is considering this career path to just keep trying and not give up."

March 2 – 7 is National Careers Week and March 8 is International Women's Day – a world-wide campaign to celebrate the achievements of women and promote equality, and Arden is proud to be flying the flag for women in manufacturing.

Martin Poynter, Managing Director at the Arden Group which comprises of Arden Dies, Arden Engraving and Arden Software, said: "Historically, manufacturing, particularly within the packaging sector, has been seen as a male-dominated industry, but that means that companies are missing out on the qualities and skills that women can bring.

"Attracting more female talent into these sorts of skilled trade roles, such as die-making, is vital for economic growth and for the sustainability of the packaging industry going forward.

"We are glad to see that times are changing and we're incredibly proud to have our first female die-maker in Georgina, who is proving a real asset to our workforce, and we hope she will inspire others to consider a career in this industry."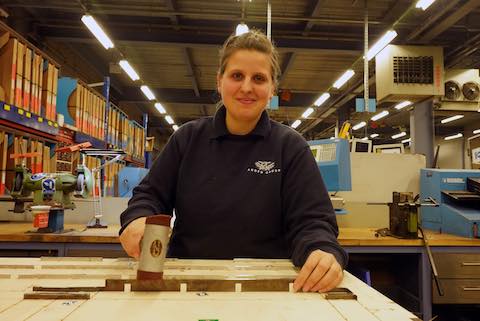 Georgina Daniel is the first ever female die-maker at Arden Dies.