West Caldwell, N.J. – Smith-Edwards-Dunlap in Philadelphia has built quite a reputation since opening its doors 140 years ago in 1880. Among the city's leading commercial printing companies, management has deftly combined leading edge equipment purchases with a skilled workforce to drive customer satisfaction. A new 45-inch SABER® X-15 paper cutter with Microcut from Colter & Peterson was a recent Christmas gift that made the finishing department workers happy.
Adding the SABER to its equipment mix resulted in it replacing a 30-year-old Polar paper cutter. Two other units, a Polar from 2004 and a 40-year-old Seybold digital cutter, also are being utilized but the SABER is handling at least half of all the work being finished.
"A trusted source at McCormick Bindery recommended that we should take a look at the SABER and pointed us in the direction of Colter & Peterson. We found the SABER to be a better value than any Polar," explained Jonathan Shapiro, President of Smith-Edwards-Dunlap.
Shapiro has been with the company longer than the Seybold paper cutter. Upon finishing his studies at Temple University in Philadelphia, he joined the company 42 years ago. He rose through the ranks and took over the helm as president in 2005. Six years later, Shapiro was instrumental when family-owned Smith-Edwards-Dunlap merged with another local area company, Graphic Arts Inc.
Today, the regional company employs 89 people and occupies 120,000 square feet of space in the Port Richmond neighborhood of Philadelphia. Shapiro indicated Smith-Edwards-Dunlap is one of the largest and most comprehensive graphic arts companies serving the eastern seaboard, with established roots in the Baltimore-Washington D.C. metropolis, and in Boston and New York to the north. They also have major accounts in the Keystone state in Allentown and Scranton.
The SABER is cutting an interesting array of work. Ninety percent of the jobs produced at Smith-Edwards-Dunlap is offset work. In addition to the regular routine of printing brochures, catalogs, newsletters, posters and sell sheets, Shapiro says it being an election year will keep his staff busy throughout 2020.
"We do a significant amount of direct mail and political printing for local, regional and national candidates," he said. "On the pharmaceutical side, we print sales and marketing materials, PI's and kits. We also have educational clients that need printing for communication vehicles, marketing materials and collateral for schools and colleges. For the educational market, we also print confidential assessment exams."
Building their success brick by brick includes a pressroom of riches featuring the latest technology. Three 28 by 40-inch presses include a 6-color Mitsubishi Diamond 3000 with aqueous coating, plus a pair of 6-color Heidelberg Speedmasters. Additionally, Smith-Edwards-Dunlap runs a Heidelberg 4-unit perfector and two, 11 by 17-inch AB Dick's.
Most of these machines run two, 8-hour shifts five days a week, and all of them feed work to the SABER, says Shapiro. The paper cutter has a Microcut PLUS electronics package featuring a colorful 15-inch wide format touch screen, enhanced graphics, and automatic programming for the instant recall of cutting sequences. Shapiro says a bonus is the improved productivity his six cross-trained operators have experienced since installation took place two months ago.
"This machine is a significant upgrade in technology for us and all of our operators are quite pleased with it. We are only cutting paper but the SABER helps in other areas such as our digital press room," he remarked, indicating it saves workflow prep time as they now have the ability to convert JDF files. It helps especially with more stringent and complex work. So does having adjustable clamp pressure, allowing for the cutting of more material per lift with the push of a button.
"From a productivity standpoint, we have experienced a 20-25 percent increase," confirms Shapiro. "So far so good. I hope we can improve on it in the coming months."
For more information, call (800) 932-0780 or visit www.papercutters.com.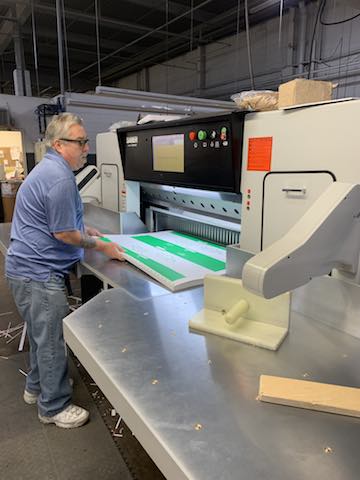 Bindery foreman Phil Capanna works on the new 45-inch SABER paper cutter.