Toronto, Canada – When Scodix first started delivering digital enhancement systems, many users were the first in their geographic region to own such an advantage. But some 10 years later, in many areas, Scodix is the must-have system in a very competitive environment. One such printing market is Toronto, where industry leaders such as PBI - Printing By Innovation is based. PBI is a 15-year old printing service provider that has already made a prominent name for themselves in the North American direct mail and packaging markets. So much so that now they're beginning to make significant in-roads into European markets as well.

The industry is taking notice. In early November, Toronto hosted the 14th annual Canadian Printing Awards (CPAs) at the Palais Royal to a sold out crowd of 250+ attendees. Awards were chosen from a record 319 submissions in the Print Design and Printing categories (an increase of nearly 100 from last year, many of which came from first-time entrants). One of those first time entrants was PBI. Barely six months after installing their Scodix Ultra 101 press in May, the company was rewarded three times -- a Gold in the Marketing Collateral category and then two Silvers, in the Self Promotion, Printing Company category, and then again in the Specialty Effects category.

"At PBI, as our motto emphasizes, 'We are committed to going the extra mile, continuously delivering above and beyond expectations… always!' And to meet these high standards, we have fused the best people with the most sophisticated and productive tools," notes PBI President and CEO Len Larose. "When we first saw the Scodix systems in action last spring at DSCOOP, it became apparent their quality, reliability and capabilities were in-line with our production requirements.

"Since May, we've not only developed award-winning projects (including our own marketing materials to promote our new-found abilities), we've converted jobs that were traditionally outsourced into internal profit generators, and again as advertised, we're exceeding expectations. Our clients are very excited about Scodix digital enhancements, especially the foiling and raised embossed print, and it's constantly attracting new business. I also credit our staff who have injected unparalleled creativity into each project. And, as for quality, we've yet to have to offer even one reprint since we added Scodix."

The Scodix Ultra 101 is an affordable digital enhancement press designed for commercial offset and HP Indigo presses. This dynamic press produces unmatched quality – on time and on budget. The Scodix Ultra 101 press also supports up to six different Scodix applications including variable data, foiling, Scodix Metallic™, Scodix Cast&Cure™, Scodix Glitter™ and Scodix Sense™ raised printing enhancements, adding exponential digital value to standard 2-D prints.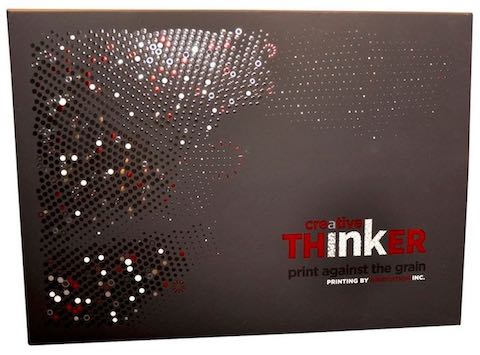 Equipped with their Scodix Ultra 101 digital enhancement press, Printing By Innovation (PBI) won Gold at the Canadian Printing Awards with their 'Print Against the Grain' entry in the Marketing Collateral category.