Carrollton, Tex. – FASTSIGNS® franchisees and their employees, vendors and FASTSIGNS International, Inc. corporate staff participated in a "FASTSIGNS Community Giveback" by assembling 20,000 meals for local children and their families with the organization, Feeding Children Everywhere. This event occurred during the 2020 FASTSIGNS International Convention held January 15-18 in Phoenix, Arizona.
"Through our FASTSIGNS Community Giveback Projects, our meeting attendees and vendors come together to support a local cause and make a positive impact in the cities that host our events," said Tracy Lake, Director of Events at FASTSIGNS International, Inc. "We are so grateful for organizations that work to end hunger. With the help of our partners in giving, we were honored to join Feeding Children Everywhere to help make a dent in hunger for Phoenix and the surrounding areas."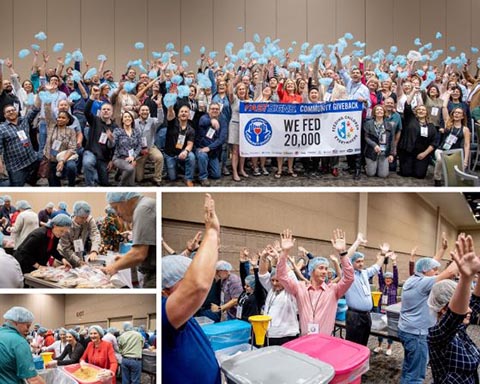 Under the direction of Feeding Children Everywhere leadership, attendees measured, weighed, packaged and boxed 20,000 meals by forming 16 assembly lines. This was accomplished in 45 minutes during the FASTSIGNS Community Giveback Breakfast with a Purpose event.
"Our partners are Hunger Heroes," said Sarah Davila, Public Relations Manager at Feeding Children Everywhere. "Our partnership with FASTSIGNS creates the opportunity to impact thousands of families struggling with hunger. Together we are able to provide over 20,000 meals to children and families in need."
This event was also made possible by the generous support of the FASTSIGNS Community Giveback sponsors including Avery Dennison, Click2Sell, CoreBridge Software, Faces, Grimco, GSG, Ornamental Post & Panel, Pocket Folders Fast, Ricoh, Sign Source, Steel Art, Vision Engraving and Routing Systems, Window Film Depot, Summa and JDS.