West Caldwell, N.J. – Northern Illinois commercial printer Graphic Partners has a history of making good decisions. In business for over 100 years, the company recognized the productivity value of Microcut® electronics and how it has enhanced its paper cutters output for nearly 40 years. When Kirk Larsen looked for replacements prior to the PRINT 19 show four months ago, he purchased a new 45-inch SABER® X-15 paper cutter and a reconditioned 30-inch Challenge from Colter & Peterson since both machines are equipped with Microcut.
"We've had Colter & Peterson do some repair work for us in the past, and we have used Microcut software since the early 1980s," recalled Larsen, one of the company's four partners. "We had them in the bidding mix and we also looked at Eco and Perfecta paper cutters. But we had good reports on the SABER and all of the cutters were in the same price range.
"The SABER replaced a 42-inch Seybold legacy cutter that we installed 49 years ago in 1971. It had Microcut and our operators were familiar with how the software worked. We decided to replace two other paper cutters with the Challenge because with Microcut, we could program it and the SABER together."
Larsen said his finishing department also includes a 54-inch Polar 137 paper cutter, but the SABER is handling the bulk of the work. It usually runs two, 8 to 12 hour shifts at least five days a week, and on weekends as needed. That's because business continues to be good and steady.
More than a century of success
Graphic Partners is a premier commercial printer in Zion, Illinois. Located about four miles from the Wisconsin border and two miles from Lake Michigan, it took advantage of the many corporations that migrated from Chicago to Lake County starting in the 1980s. That fueled growth in the I-94 corridor that connects Chicago with Milwaukee, including the spread of companies that found cheaper land values and lower taxes in southern Wisconsin. Today, they have 58 employees who work at two locations that total more than 40,000 square feet.
Over time, Graphic Partners has built its clientele and added more equipment. Larsen says the work they do for large retail and Fortune 500 companies is split evenly between digital and offset. The paper cutters are fed with offset work by a pair of Komori presses, one 6-color and a 5-color, both with coaters. On the digital side, they use HP Indigos, a Ricoh Pro C9210, and Konica Minolta 1250s.
"We print personalized direct mail, employee communications materials and other type of work that you'll find in the retail space. The Challenge paper cutter does primarily offset work and the SABER handles a combination of digital and offset," said Larsen. 'We have four operators who can handle the SABER. They all like it because both machines have updated electronics and everyone likes the new car smell."
With four months of results, Larsen acknowledges the SABER is a little faster than what he had previously and the accuracy of Microcut is very good. The difference is this machine has a Microcut PLUS package, which comes with a 12-inch wide format touch screen and enhanced graphics package. In addition to memorizing cut sequences for instant recall and faster productivity, it also saves a significant amount of workflow time by converting JDF files.
"We are able to transfer data from the cut files in prepress. This is a really nice added benefit for our more complex jobs, and something we could not do with the other paper cutters we were considering," said Larsen.
"We are cutting two or three inches of material per lift and can easily adjust the clamp pressure percentage when needed. It's like scooping vanilla ice cream. With paper cutters, it's only a problem if they are not working. You have to have one and with the SABER and Challenge, we have two solid and reliable machines."
For more information, call (800) 932-0780 or visit www.papercutters.com.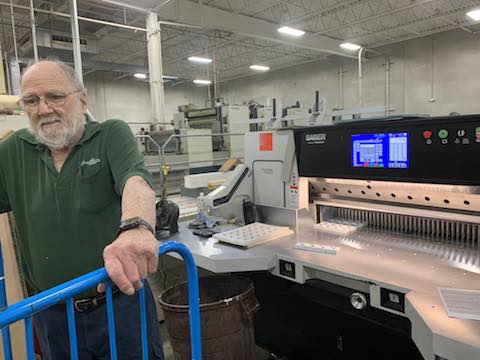 Ken Alter is one of four operators who work with the new SABER paper cutter.