Kinna – Automation House Sweden AB, the holding company of DCOS Sweden AB, Tensor International LLC and Amal Webline AB has acquired a majority of shares in IGA Plauen GmbH Ingenieurgemeinshaft Automatisierung based in Plauen Germany. The acquisition follows many years of successful cooperation between DCOS and IGA and the company will be renamed to DCOS IGA Automation GmbH.

IGA is an automation company with roots in the former Manroland Plauen operation specializing in electrical design, software development, machine safety and project management. IGA is well established as a solution provider to printers and partners in the global market.

DCOS has in recent years developed a global leadership position in closed-loop density control for offset printing. Combined with its retrofit solutions, DCOS is unique in being a single-source, brand-independent automation provider for the printing industry.

DCOS has a proven record of success in the seamless integration of press drives, controls, and closed loop density, register and cut-off control equipment to all existing OEM offset presses. The acquisition of IGA further enhances our capabilities.

DCOS completed its first retrofit project in the DACH region (Germany, Austria and Switzerland) back in 2011 and several presses in this market have been equipped with DCOS automation. However, it has always been obvious that a local organization would be advantageous to support sales, project and service efforts, not least due to language.

"This acquisition and partnership with IGA is a strategic step for DCOS. I see an excellent growth potential in the DACH market for our automation solutions and being able to run projects, service and support from our Plauen office will certainly strengthen our position. Secondly, partnering with IGA not only helps us grow our organization with qualified and experienced engineers, it also adds new competences to our group that gives edge to our offer." says Mattias Andersson, CEO DCOS.

Stefan Leissner, founder and MD at IGA adds; "After working together with DCOS for many years I´m pleased that we have taken the decision to become part of DCOS. With this acquisition we want to merge the strengths of each individual company to further improve our capability and capacity in our projects to the benefit for our new and existing customer base."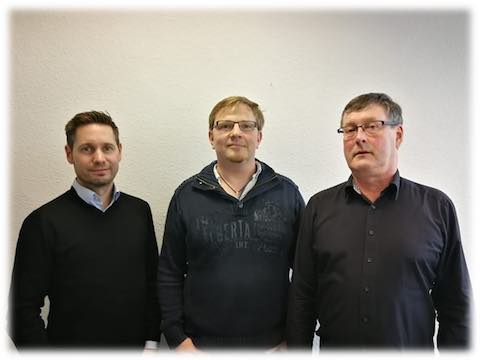 Left-to-Right: DCOS IGA Automation GmbH´s Managing Directors; Mattias Andersson, Uwe Zeh & Stefan Leissner.