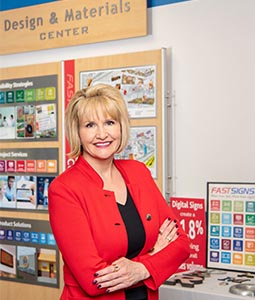 Carrollton, Tex. – Catherine Monson, Incoming Chair of the International Franchise Association and CEO at FASTSIGNS International, Inc. will deliver the opening keynote session at the European Master and Multi-Unit Franchising Conference held in Vienna January 28 - 29 on the "State of Franchising: U.S. & Global Perspectives."
Catherine Monson 2020 Keynote_In CenterAlong with over 50 speakers who are Franchisors, Master Franchisees, multi-unit and multi-brand franchisees and insiders, Monson will enlighten attendees about broadening their brands' footprints globally and share strategies for brand growth and the best opportunities for success in new countries.
Monson will also be delivering an inspirational and informative keynote address at the Franchise Awards Gala Dinner in Budapest on January 30, 2020 at the New York Palace. Last year's keynote speaker was Reed Nyffeler, CEO and Co-founder of Signal 88.
Hosted by Boscolo Budapest, the awards dinner is the most significant event of the Hungarian Franchise Association. They are expecting 250 attendees during this event with representatives of the major franchise brands and multi-unit franchisees in Eastern Europe.
This celebratory evening will include honoring high-performing franchise networks in addition to members of the alliance that are represented in large numbers. Prizes will be awarded in various categories including Franchise Network of the Year, Most Dynamically Developing Franchise Network of the Year, Successfully Expanding Domestic Network Abroad, Marketing Award, Young Successful Franchisee and more.
"It is an honor to be speaking at both the European Master and Multi-Unit Franchising Conference in Vienna and the Franchise Alliance Awards Gala in Hungary," said Monson. "I am happy to help contribute to these events that highlight and recognize the brands and businesses driving the growth of franchising in Hungary, Eastern Europe, Vienna and the world at large."
Learn more about sign and visual graphic solutions or find a location at fastsigns.com. Follow the brand on LinkedIn at linkedin.com/company/fastsigns, Twitter @FASTSIGNS or Facebook at facebook.com/FASTSIGNS. For information about the FASTSIGNS franchise opportunity, contact Mark Jameson ([email protected] or call 214.346.5679).