DIS blasts into the new decade with recognition of consultancy-style approach supported by industrial-level productivity and ultimate print quality
CMYUK, Shrewsbury – CMYUK has installed an EFI-VUTEK h3 digital printer at DIS in Wolverhampton. The new printer will support this multi-award winning company with industrial-level productivity, superlative print quality, rock solid reliability and greatly expanded capacity.
The h3 is a significant addition to DIS replacing a 2m wide, EFI VUTEk H2000 Pro, and an EFI Quantum 3+ UV printer. Its arrival coincides with the company being voted 'Small Business of the Year' at the annual prestigious Black Country Chamber of Commerce Awards, renowned for its competitiveness and extensive judging process.
"We were really delighted with the Small Business Award win because it endorses our approach," said DIS MD Mark Bradley. "We deliver so much more than just a sign company – we're unique because we act as partners working in collaboration with agencies and clients. Our customers have the creative vision and we guide the application. We bring as much as we can to the equation. Whether its huge wall wraps, anamorphic graphics, projected imagery or digital screen installations, we want to create the best job without compromise, always meeting the tightest of budgets to deliver unique impactful work. The addition of the EFI VUTEk h3 complements our values exactly."
Instant impact
The h3 is an upgradeable, 3.2m wide, hybrid LED printer with the highest quality print resolution and a 9-layer print capacity in a single pass. It is designed using 'cool cure' LED technology allowing owners to output more for less. According to a recent Fogra study, the EFI VUTEk h3 significantly reduces operating costs with up to 82 per cent less energy consumption and fewer consumable parts.
The printer has been immediately impactful. "The first job we did on this machine was for a huge interior project in the City of London. The imagery coming off the printer was so vibrant, with such a high print quality that it almost looked 3D," said Bradley.
"We've had numerous machines but never once have we stood back and said, 'Wow, this is something different'. When clients were walking past the installation, they were literally stopping in their tracks. The output on the h3 is amazing," he added.
Long term VUTEk user
DIS has been a long-term user of EFI VUTEk technology. It was one of the first print service providers in the UK to install an EFI VUTEk PressVU UV 180 flatbed printer. "CMYUK is a great company, and always great to work with. Like us, they enjoy what they do, and that really comes across. Robin (East) understands our ethos, our production values and our drive for quality. He knows what to bring to the table, and what we would be interested in," said Bradley.
Robin East, Group Director, CMYUK said, "The EFI VUTEk h3 has been reimagined and reengineered from the ground-up and the results are stunning in terms of productivity, quality and capability. This quality will be well received by the high calibre clients DIS service."
"It is extremely reliable, easy to use and is proven to increase profitability. What's more the H3 offers several environmental benefits. As a hybrid, LED printer, this printer is in a class of its own," said Sue Hayward, Senior Digital Sales Consultant at CMYUK.
Increased Growth
The newly installed EFI VUTEk h3 will assist the company in its ambitions for growth this year. "We are looking to increase turnover and maximise profits through the new printer," said Bradley. "The H3 is more efficient, faster and more economical to run. We're taking our business to another level. We're very realistic about hitting £5 million turnover by late 2022."
Historically DIS works with agencies 60 per cent of the time, and the rest directly with clients including Rolls Royce, VW, D&AD Awards and Virgin Active. And with the H3 able to offer blistering production speeds of over 220 sq.m per hour at ultra high resolution as standard, DIS will now be adding trade services to its roster.
"We've never done much trade work," said Bradley. "We've never run our machines 24/7 flat out. We look after our printers, as they are very important assets to us. On the other hand the EFI VUTEk h3 has so much capacity we will be looking for trade work. It's opened up so much more volume, and greater flexibility as far as the wide range of materials you can run on it. We've future-proofed ourselves," he said.
The PONGS® factor
Another area DIS wants to champion is environmentally-friendly textiles such as the recycled polyester made waste plastic bottle yarn, which it is currently testing for its events clients. DIS is an accredited fitter and authorised supplier for the German-made PONGS® DESCOR® range of acoustic solutions, exclusively distributed in the UK and Ireland by CMYUK, and is already developing in-roads into the architectural/interiors/decor markets.
Said Bradley: "The capacity of the EFI VUTEk h3 enables us to push for more volume of work, whether it's fabric or whether it's more traditional. We are growing in all areas, so we are outputting fabric-based backdrops and we are also printing Foamex, Dibond hoardings and signage fabrications. As our website demonstrates, we can create whatever you can imagine, and with the h3 we have the capacity to create so much more."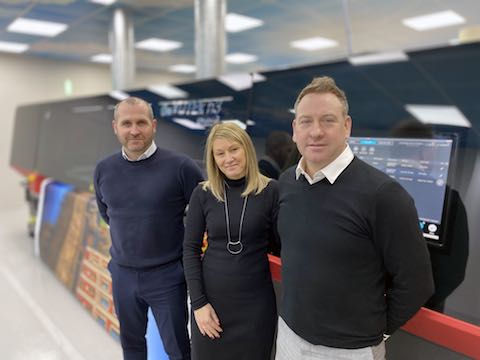 L-to-R: Dave Purcell, DIS Sales Director, Sue Hayward – CMYUK Senior Digital Sales, Mark Bradley, DIS, Managing Director.