Premium US dye-sublimation media solutions portfolio offered by the UK's premier digital textile hub
CMYUK, Shrewsbury – Beaver Paper, the leading global manufacturer of sublimation media to the dye-sublimation and digital print industry, has appointed CMYUK as a strategic distributor for its premium dye sublimation papers in the UK and Ireland.
CMYUK, the UK's largest independent supplier of digital wide format printers, cutters and materials will initially be supplying three-premium dye-sublimation products from Beaver Paper. However, as the relationship continues, CMYUK expects to further expand this specialist portfolio offering with additional dye-sublimation papers for its fashion and interiors range.
As of now, CMYUK is offering the following dye-sublimation products from Beaver Paper:
ProTexTM Protection Tissue (25 gsm): A high-yield, protective tissue specifically manufactured for grand format, dye-sublimation, and rotary heat calenders at 3.2m wide. The tissue is made from high-density, highly formed natural eucalyptus fibre providing highly robust barrier properties. It is recyclable and the formaldehyde-free formulation prevents yellowing of white synthetic textiles. ProTex™ extends the life of the calender belt and its heat resistant properties prevent web tear outs. Longer roll lengths are designed to aid productivity by reducing the amount of roll changes.
TexPrint®UT: A utility textile grade digital dye-sublimation print paper, which is not only economical with ink usage but offers highest colour yields. Designed for cost-conscious, high volume textile printing environments, it allows heat to migrate through the print sheet quicker, allowing lower calendar dwell times and faster transfer speeds, while deposing the richest and deepest dye-gas penetration. This paper boasts super lay-flatness that resists cockling even under heavier ink loads. A specially developed binder applied to the non-print side controls fiber-contamination of sticky-belt platens on high-speed digital textile printers.
CMYUK will be supplying two weights of the TexPrint®UT print paper. TexPrint®UT/92 is a middleweight 92gsm paper suitable for soft signage, décor and tradeshow exhibits, while TexPrint®UT/72 is a lightweight 72gsm applicable for soft signage, trade show exhibits, banners and blinds.
"We are excited about our new partnership with CMYUK, one of the premier distributors in the region, said Philip Prieur, CEO and Director of Beaver Paper. "Through this partnership, we will be able to extend our reach and offer our customers in the UK and Ireland superior service."
Joel Willcock, Textile Business Development Specialist at CMYUK said, "Beaver Paper is a prestigious global company that manufactures superior products for the professional, dye sublimation market. Partnering with them for the UK and Ireland is a perfect fit, since we are regarded as the premier hub for the facilitation of digitally printed textiles. CMYUK is delighted to stock and supply these initial papers. In the near future we expect to add lighter papers for the highest of production speeds, as well as additional products orientated towards fashion, décor and interiors."
This year marks Beaver Papers 40th year in business. To celebrate, it has unveiled new branding and released a number of new products. It has also developed a brand-new interactive website to further support its distributors.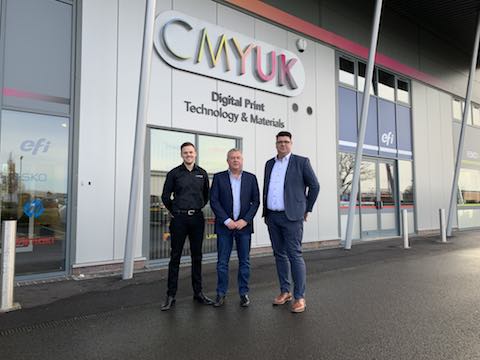 L to R: Joel Willcock, CMYUK Key Accounts & Textile Business Development; Robin East, CMYUK Group Director; Alexander van Es, Beaver Area Sales North West Europe.